90's Beauty Trends That Are Here To Stay.
They say history repeats itself. But exactly how true is that in the fashion world? Today, fashion trends are getting more and more unpredictable with many styles from the 90's beauty trends once again resurfacing. Which of them are here to stay? Continue reading to find out!
The Best 90's Beauty Trends which are Trending Today
1. Brown Lippies
We probably owe a large chunk of the gratitude for putting brown and nude lip colors back to the forefront of makeup to Kylie Jenner. Thanks to her and other celebrities, brown lips are becoming a trend again. With its popularity nowadays, we could even say it's the lip color of the era.
Nudes and browns on the lips are a little bit rebellious from the conventional or we can call "normal" lip colors like reds and pinks. It gives a natural, chic, yet classic mysterious look that reminds us of the 90's makeup style.
Dark brown shades with smooth and glossy textures give you that vibe of a grunge queen. It suits most skin colors and makes a statement without being too overpowering. Women use it for "no makeup" makeup looks, just for casual wear, or at formal events.
You can also wear nude lips under sheer lip gloss or creamy matte lipsticks for a completely different effect. It also enhances the shape of the lips and gives you that appearance of Kardashian-style pouty lips.
It's nice because the neutrality allows you to play with eyeshadow colors and clothes to pair it with. It's stylish, trendy, yet does not remove a mysterious aura. I don't know about you, but browns and nudes are now at the top of my go-to lip colors list.
2. Pastel Everything
We see a lot of pastel-colored bags, shoes, clothes, and hair today, but what's most reminiscent of 90s makeup trends is the high fashion pastel makeup. It brings us back to the times when major magazines are filled with pastel-painted faces of models that give a sweet, subtle, and angelic effect.
With more and more people getting hooked into the unicorn craze, rainbow or pastel hair and makeup is surely something many of us won't want to go away. The same goes for rainbow filters, drinks, and food!
3. Glitter, Shimmer, And Sparkle!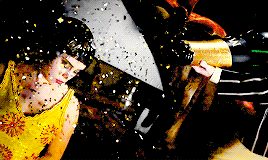 Probably my most memorable moment as a youngster in the 90's was wanting to add sparkles and glitters from my hair to my toes! Who am I kidding? I still crave for my whole body to shine like a disco ball, honestly.
Today, body shimmer, glitter gloss, sparkly eye makeup, sequined clothes and shoes, and glitter nails are definitely back under the spotlight! Even slime and food are now getting glammed up with reflective bits of fairy dust.
Nothing short of fun and fabulous, glitter makeup is seen with renewed love, sparkling (pun intended) the interest of many beauty gurus and enthusiasts. Music festivals, photo shoots, and runway shows now feature a variety of avant garde makeup that screams glitter at every angle.
In addition to this, decorative bindi gems and facial jewels are also back, and so are shimmery lotions, colognes, and face powder!
We also love highlights using metallic powder in various fun shades. What can we say? A little bit of sparkle never fails to give us that ready-to-party thrill!
4. Blue Nails
Your grandmother or mother probably did not approve of this almost two decades ago, but nails that range from baby blue to midnight blue are now getting back on the scene! Thanks to nail polish manufacturers and designers, there are now tons more of shades we can choose from.
We still don't know why, but cobalt-tipped fingers seem to never lose their appeal!
5. Dark Lips
Basic red, pink, and orange hues that have been so popular for a while now also include dark reds and deeper shades. Borderline grunge, goth, and sophisticated, dark lips are now another way to make a statement. Think almost-black blues, deep reds, plums, and purples.
No wonder Revlon's lipstick shade "Rum Raisin" which was made famous by Cindy Crawford is still available today!
6. Blue Eye Shadow
Aside from blue nails, blue eye shadow also completed the iconic 90s makeup look around the age of Britney Spears' Toxic. Around that time, no female celebrity was able to escape the hands of the bold, blue eye shadow look.
Be it muted, bright, dark, glittery, or pale, blue was definitely the hue of the 90's. And just when we thought this is already forever outdated, fashion favorites Kendall Jenner and Gigi Hadid rocked sparkly blue eyelids that blew our minds off.
It's certainly time to find that old, bright palette with bright blues or stock up with new ones because we are now finally remembering why we loved the color so much.
7. Grunge
The grunge was also a very popular 90s makeup style that is now part of so many throwbacks we might be *slightly* obsessed with it again.
Ever since Miley Cyrus rocked the very 90s mini buns recently, it has become more common nowadays. In addition to colorful grunge hair colors of every shade, this style is certainly back!
Sport both with your best grunge outfit and makeup and you would certainly feel like an alluring 90s beauty star. It's cute, it's fun, it's bizarrely addictive, and it's not disappearing anytime soon!
Related:- LATEST BEAUTY TRENDS THAT YOU'LL SURELY GONNA LOVE THIS SEASON
8. Drawn Eyebrows
We must admit, eyebrow drawing is now a thing, but millennials surely can't claim all the glory for it. Drew Barrymore with her pencil thin brows and Linda Evangelista with bushy, heavy brows have started this a long time ago.
Sure, we'd all rather forget the too-high, too-thin, fake-looking pencil-drawn brows of the 90s, but the ones Liz Taylor and Audrey Horne have popularized are being adopted by modern artists like Megan Fox, and we're not complaining!
Okay, we're not really sure on who began this trend, but we're sure it's definitely back! Stars like Cara Delevingne have inspired so many to draw and fill their eyebrows darkly and boldly to make a statement.
9. Frosty Lips
Lipstick is still arguably the most important and easiest way to express yourself through makeup. In the 90s, unique, iridescent colors, and smooth, shimmery finishes were super trendy.
For a while, matte lips and creams threatened to bury this forever, but it's now slowly rising from the deep again.
You probably never thought how people can take you seriously with sparkly lips, but new techniques and products today make for that perfect "lacquered lip" that appears like a toned down frost and is undeniably pretty.
10. Big, Moussed Up Supermodel Hair
One thing I remember distinctly from pictures of my mom during the 90's are the big, fluffy hairstyles. Today, it's not very surprising to see this trend once again gaining popularity.
Big, bouncy, volumized and teased hair has this beautiful, classic vibe to it. Many artists and gurus are also giving tutorials on recreating hairstyles that remind us of when Cindy Crawford starred in famous Pepsi commercials.
Fashion trends are so fluid and ever-changing. Some emerge and stay, while some do not last very long. What we're thankful for, however, is for those that seemingly disappeared but made powerful comebacks, proving once and for all that everything deserves a second chance!
"Hope you find the post helpful and we are excited to hear what you think of it!"