Don't Let Your Honeymoon Destination To Be Just Another Place
Best Honeymoon Destinations
Do you wish to have a perfect honeymoon? If that is the case, you have to make sure that your honeymoon destination will not just be another regular place!
It is true that there are many honeymoon destinations in the world today and finding the perfect one can be quite overwhelming. Don't worry! We are here to help you out. Here are some of the details you need to know about the popular honeymoon destinations of today.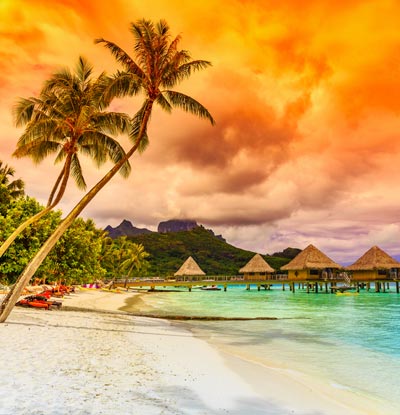 1
Bora, Bora (French Polynesia)
Why to go: The crystal clear waters, picturesque background, colorful fishes and gorgeous villas and rooms will surely make a perfect honeymoon getaway.
What to do: Go on a helicopter ride over the Mount Otemanu and go on a vanilla bean or black pearl farm tour.
Where to stay: The best place to stay is at the Four Seasons Resort Bora Bora which is found inside a coral reef enclosed in a turquoise lagoon.
When to go: November and April
2
Santorini (Greece)
Why to go: Its sandy beaches, white and blue landscape, clear waters & inviting climate and romantic beach resorts make up the perfect Greek honeymoon.
What to do: Go diving and get to see the most amazing underwater life and scenery.
Where to stay: Stay in the A-class Hotel Atlantis that offers the best rooms, caldera views, and affordable rates.
When to visit: Mid-April to mid-June
3
Serengeti National Park (Tanzania)
Why to go: Its adventurous activities, amazing wildlife, and exciting safaris are perfect for the adventure loving couple.
What to do: Visit the Maasai Village and enjoy a night game drive.
Where to stay: Stay in the Four Seasons Safari Lodge Serengeti where you can get a nice view of the elephants upon waking up.
When to visit: June-October
4
Bali (Indonesia)
Why to go: The active arts scene, beautiful temples, and enchanting mountain vistas are just a few reasons why it is called "Isle of The Gods".
What to do: Head to the Pura Luhur Uluwatu Temple to enjoy the most amazing sunset view that you can ever see.
Where to stay: Stay at The Mulia, Mulia Resorts Villas and enjoy the magnificent Nusa Dua coastline view.
When to visit: May, June, and July
5
Mauritius (East Africa)
Why to go: It is often described as "Heaven on Earth" because of its serene blue waters, balmy weather, sandy beaches, and luxury romantic hotels.
What to do: Take a private cruise, go parasailing off the East Coast and have a picnic at the Pamplemousses Botanical Garden.
Where to stay: Stay at the Paradise Cove Hotel where everything is designed for intimacy.
When to visit: May to December
6
Paris (France)
Why to go: The food, art, and architecture are some reasons why it is called the "City of Love".
What to do: Visit the Louvre and Eiffel Tower and do not forget to tie a couple ribbon at the Pont des Art bridge.
Where to stay: Stay in Hotel Plaza Athéneé where you can enjoy exceptional service and 5-star luxury.
When to visit: June to August
7
Savannah (Georgia)
Why to go: The slow pace life and serene towns in Georgia will be a breath of fresh air from the stressful wedding planning shenanigans that you have gone through.
What to do: Go on an old school horse-drawn carriage tour or kayak together with the dolphins at Tybee Island.
Where to stay: Stay in Andaz Savannah and enjoy its relaxed urban vibe and sophisticated décor.
When to visit: March to July
Whichever of these honeymoon destinations you will choose, you are bound to enjoy the most memorable vacation of your life!