Best Manicure Ideas: Trendy Astrological Signs Manicure You Should Try
Are you a big believer of astrology? Do you always read your horoscopes every single day? Or maybe you believe in it, but you don't let your whole life revolve around it? Regardless of what your deal is with horoscopes, astrology and zodiac signs, you cannot deny the fact that the horoscopes that you read have some truth in it. Or at the very least, the characteristics of your zodiac sign come too close to your personality.
So even if you do not put your life at stake in it, you can still find a way to make use of your zodiac sign. What is it? You can use it to find beautiful nail designs that will surely suit your personality. With the particular traits that each sign has, you can easily customize zodiac nail art based on the preferences of your zodiac sign.
With that in mind, here are the best manicure ideas based on your zodiac sign:
1. Aries (March 21- April 19)
Aries are recognizable by their bold leadership abilities (and sometimes, stubborn persuasiveness) and their irresistible charm. They are also risk-takers with an incredible energy and confidence that many people would love to be a part of your projects and endeavors.
The perfect nail art for you: With all these traits, you are definitely meant to stand out with big and bold nail arts like golden stars, red hearts, or Chevron design in sunset shades.
2. Taurus (April 20- May 20)
The zodiac with a bull sign-Taurus is known for their stubbornness and dependability. But these traits are also combined with a romantic side and amazing personal taste.
The perfect nail art for you: With your good taste, the best design for you are the intricately designed nail arts like marbled nails, tiny arrows or flowers, and striped nail art.
3. Gemini (May 21- June 20)
You are probably one of the most quick-witted people in your group plus your undeniable charm makes you a sociable person (but a bit moody at times). Lastly, you are one intelligent person and artistic one, at that!
The perfect nail art for you: Your double-sided personality also gives you that trendy taste, so the best designs for you are pop art in bold colors, one metallic silver or gold design combined with pastel colors and amoeba designs.

Related Article :- LET YOUR HANDS DO THE TALKING! MANICURE GUIDE
4. Cancer (June 21- July 22)
Signified by the protective claws of the crab, Cancers are guarded and terribly sensitive. You are an introvert who prioritizes family and close relationships. Aside from your nurturing side, you are also highly regarded for your creativity.
The perfect nail art for you: Put your artsy side to good use with the following designs: Maneki Necos, Cacti Designs, and Commes de Garcon Hearts.
5. Leo (July 23 – August 22)
Leos are known for their boldness, confidence and their flair for drama. You are a charismatic extrovert who is always the life of the party.
The perfect nail art design for you: To match your high self-confidence, you should opt for bright and colorful nail designs like Rainbow plaid, Pastel-colored stripes, and colorful flowers.
6. Virgo (August 23- September 22)
You work hard, and you always aim for perfection which is both advantageous (you do great work) and disadvantageous (you are hard on yourself) for you. You pay incredible attention to detail and is an excellent communicator.
The perfect nail art design for you: Go for nail art designs with soft yet intricate details like opalescent white, watercolor design with soft colors and pastel shades with glitter stripes in the middle.
7. Libra (September 22 – October 22)
They are known for their indecisiveness which is balanced by their love for harmony and balance which makes them amazing team players. Beautiful and luxurious items have a special space in your heart.
The perfect nail art design for you: You love beautiful accessories so you should opt for eye-catching nail designs like nail jewelry, Amethyst and Gold designs and gold embellishments.
8. Scorpio (October 23 – November 21)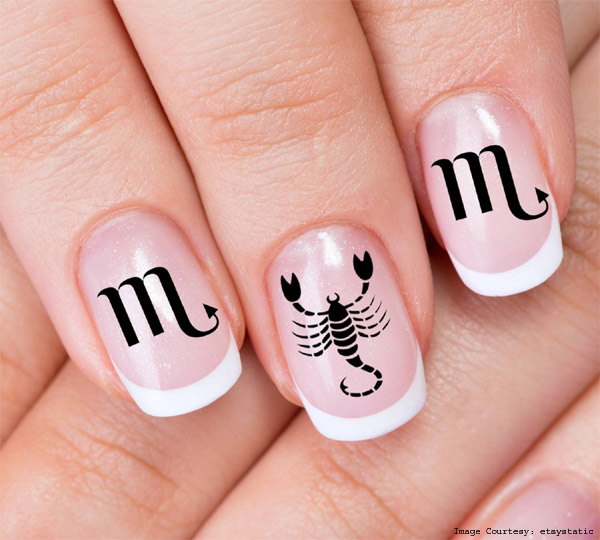 Considered to be the sexiest of all the signs, Scorpios are mysterious and intense. But your dark side reveals that you can also sometimes get too possessive, jealous and obsessive.
The perfect nail art design: Red nails are sexy, but they can get sexier with these nail art designs: black nails with red outline, ombre red and different shades of red.
9. Sagittarius (November 22- December 20)
Sagittariuses are brutally honest, and they can be too straightforward at times. But your enthusiasm and amazing sense of humor makes you lovable for many.
The perfect nail art design: Let your amazing sense of humor show through these incredibly goofy nail art designs: Pandas Doing Yoga, Sushi rolls, and Flamingos.
10. Capricorn (December 21- January 19)
This is the most serious zodiac sign there is, and they tend to be ambitious, professional and sometimes, single-minded, making them an amazing leader.
The perfect nail art design for you: Of course, you will only enjoy a no-nonsense design like gold and red French tips, color blocks and red and white stripes.
11. Aquarius (January 20- February 18)
You are a walking contradiction-shy and energetic and an amazing curiosity to match. Your mind is always at work, making you a great visionary.
The perfect nail art design for you: With your vision, you should go for futuristic and ultra modern designs like Silver with Pink Dots, Metallic outlines, and Iridescent triangles.
12. Pisces (February 19 – March 20)
With your easy going and lovable personality, it does not come as surprise that you are a people person. You are in touch with your emotions and can be a bit creative too.
The perfect nail art design for you: Let your dreamy side run wild with these nail designs: under the sea, rain drops and white and blue grid.
Whatever your zodiac sign is, it is indeed your lucky day! After all, it is not all the time that you get to determine which designer nail art would be perfect for your personality!
So try out these designs and let your nail reflect the real you!
"Hope you find the post helpful and we excited to hear what you think of it!"