Celebrities Who Do Their Own Makeup
We might think that having your own glam squad to doll you up defines celebrity life, if you're anything like me, that is. However, that's not always the case! Some of our beloved faces in the movies and limelight actually do their own makeup and have developed serious skills at that.
It kind of makes sense now, anyway, because most artists nowadays have started from scratch and of course had to do their own makeup without the help of the experts. It just shows that they're just like us, and have probably watched hours worth of Youtube tutorials to perfect their craft.
Here are the celebrities who do their own makeup and have mastered their own celebrity makeup looks.We'll also be looking into their reasons and some helpful celebrity makeup tips
1. Bella Thorne
The first and most recent celebrity on our list is Bella Thorne who recently told Yahoo Style that anytime she's wearing makeup; there's no other one involved other than herself.
According to her, she got dermatitis from working on a movie and is determined never to let the same thing happen again. She added that makeup artists, especially for movies, usually don't use the right products and her skin is allergic to some stuff.
On that note, we know Bella is not very into contour, but rather only wants a natural glow. What she absolutely loves, however, is glitter! She loves using shimmers on her eyes and hair.
A tip from Bella is to try searching for makeup tutorials from Instagram, blogs, Pinterest, or Tumblr, and then trying to recreate the looks. This way, you also keep learning new stuff and techniques.
2. Zendaya
Sure, Zendaya has a contract with CoverGirl, but more often than not, we see her whipping up her own makeup looks for red carpet events and award shows, like that one time she glammed up for the AMAs. She even does it better than most makeup artists could!
And without a doubt, this young popstar sure got major makeup skills. Just recently, she made a declaration on an Instagram post captioned "I need to start doing makeup tutorials, " and fans are screaming "YES, PLEASE!" as we're all convinced she'd also slay being a beauty guru.
Zendaya's main reason for doing her makeup is that she enjoys the craft, but also, as she said in one video, "you don't have to pay extra!". We love her attitude and her expert hand in non-touring and smokey eyes!
The first rule in her rule book is that there are no rules! According to her, you really can't define beauty, and if you can, it's always changing. She also encourages learning your way with makeup, mix-matching products and exploring.
She also believes that it's a process and you have to take your time trying to learn from others. Like us, she also admitted that she's gone through many makeup mishaps with times it would turn awful and give her an orange color. She stresses that it's really about having fun.
3. Diane Kruger
Then, we have Diane Kruger, who blesses us constantly with her no-makeup-selfie looks on Instagram. She's actually super cool because she does her own makeup for the red carpet. She also told Violet Grey that while modeling, she had worked many great makeup artists from whom she learned a lot.
According to the star, she tries not to overdo it and let her dress do all the talking for her, a tip we could all follow. She's also not a fan of heavy foundation and contour and is thankful for her naturally thick eyebrows that give her a lot of character.
From her years of doing makeup, she advises us to avoid, if not completely quit smoking and drinking wine. According to her, she noticed her skin looked so much better after she quit and doesn't drink, plus she sleeps better.
She also swears by sunscreen of SPF 50 or 60 for keeping her skin spotless. What's even more impressive is that she also colors her own hair!
Related: WHICH FAMOUS CELEBRITY INSTAGRAM ACCOUNTS YOU SHOULD FOLLOW DAILY
4. Taylor Swift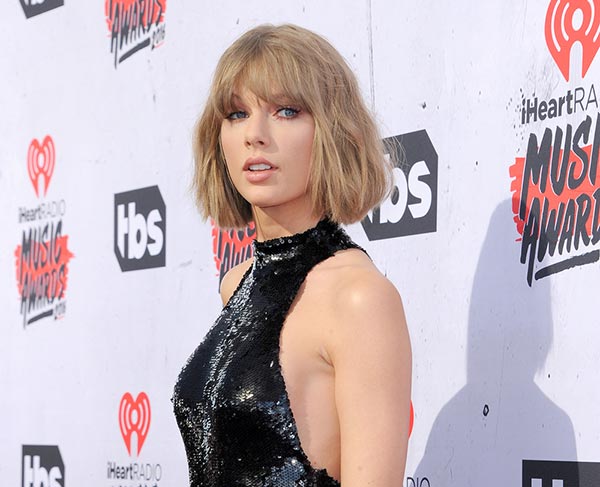 We always see Taylor rock black eyeliner and bold lipstick colors, and that gives us a clue that she's probably responsible for both, and not anyone else.
Remember that time she was flying to Japan, and she used a Sharpie for an eyeliner when she forgot to bring hers? Yep. She's also nothing short of creativity in coming up with makeup tricks and techniques.
She also makes makeup mistakes like the rest of us, and of course, that's just another reason we all love her for who she is.
5. Kate Hudson
Kate told the Beauty Editor that she has always done her makeup ever since she was a little girl, and even used to joke that if she didn't make the cut to be an actress, doing makeup is her plan B. So, we're not really surprised to know that she does her friends' makeup too!
6. Blake Lively
Another loved actress who enjoys challenging herself to occasionally doll herself up for the red carpet is Blake Lively. She told Cut that she likes doing her own hair and makeup for most events and she finds it to be fun.
We're really not that surprised, given that she's also her own fashion stylist. However, what makes her different is that she learned her makeup skills by herself with no online help! She said working with so many amazing makeup artists and hairstylists during photo shoots were her own version of Youtube.
She also gave us permission to hate her because she didn't even know there are makeup tutorials on Youtube, but we totally forgive her.
7. Shakira
In an interview with Instyle, the Colombian singing beauty admitted she does her own makeup and absolutely lives by a less-is-more attitude for doing it. Honestly, that face doesn't even need any makeup at all!
She also confirmed that she does her makeup for her concerts and red carpet appearances. When asked why, she said "Because I'm good. I'm cheap. I'm fast." And there's no arguing with that.
These celebrities who do their own makeup are certainly inspirational especially for makeup lovers who are working on how to do own makeup techniques and hacks! This only proves that celebrities or not, we all deserve to look and feel beautiful in our own way.
"Hope you find the post helpful and we are excited to hear what you think of it!"