Checkout The Celebrity Eyebrow Transformation That Will Surprise You!
Through the years, we have seen the rise and fall of various eyebrow trends. Some trends are quite acceptable, but there are some that look completely horrendous that you would not want to go down the memory lane and relive it ever again.
One of the eyebrow trends that you would like to shy away from is no other than the thin eyebrows that have been all the rage before. Take a look at your albums, and you will surely see those times when you have thin and very sparse brows.
Don't feel ashamed though; even the celebs did not have the best eyebrow shape before. They also once had the same thin brows as you. Lucky for us, women, Cara Delevingne came to the picture and popularized the thick eyebrow trend that we have nowadays.
If you wish to see how far the eyebrow trends have come, let us a take a look at these celebrity eyebrow transformations that will surely shock you!
One of the most shocking eyebrow transformation of a celebrity is that of Gwen Stefani's. In 2000, we have seen her rocking an almost invisible brow. In fact, it seems like she is just drawing a single line on her eyebrows. Thankfully, she has gotten over such trend and can now be seen full and beautifully arched brows.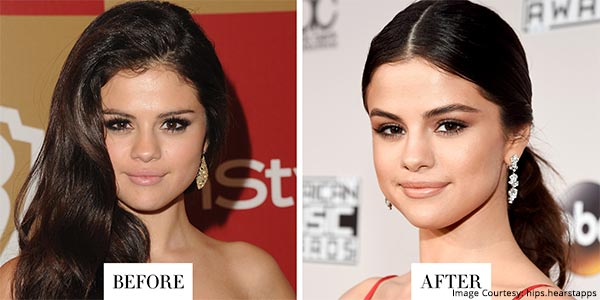 Well, to be honest, Selena's previous brows weren't as bad as that of Gwen Stefani's but still, it is a far cry from the natural looking brows that she has today. Hers used to be a bit thin with no arch at all. Looks like dumping Bieber isn't the only wise move Selena did for the past years.
Here is another case of an invisible eyebrow. Taylor's brows used to be so thin and light in color that it seems as if she has no brows at all. But come 2014, we were able to finally see her brows as it becomes darker. However, it is still thin but it is already a vast improvement than her previous brow style.
Related Article :- TOP 9 HOLLYWOOD'S HOTTEST BIKINI BODIES
It looks like 2000 was not a good year for celebrities and their brows. As can be seen here, Jenifer's brows has a higher arch during that year, But now, her brows are more natural looking which you must admit is a much better look for her.
We are no eyebrow Nazi but even, the most clueless woman in the world when it comes to brow can say that Jennifer's brows look a lot better now! Before, her brows have too much arch and are a bit short on the ends. Now, she is embracing the natural look with her softer and more balanced brows. This eyebrow transformation has made her look more youthful and beautiful, don't you agree?
Even this beautiful goddess is not immune to having thin and ugly eyebrows (you can now feel better about having your old brows). While her brows have always arched at the same angle, her brows now have a much fuller shape which adds a touch of softness to her appearance (and might we say, she is more beautiful now more than ever!).
Even supermodels have fallen for the thin eyebrows but luckily, Tyra Banks rose to the occasion and has made a switch to more natural looking brows. Now, Tyra is harnessing the power of having bold and eye-catching brows. The transformation is mind-blowing! We could certainly learn a thing or two from this model!
Related Article :- WHICH CELEBRITY INSTAGRAM ACCOUNTS YOU SHOULD FOLLOW FOR DAILY
This fashion mogul is not the type of person who will be left behind by the trends, and that explains why she was sporting thin brows in 2007. Lucky for her, she was also able to catch up with the latest beauty trend of bold, thick and natural looking brows!
It is true that eyebrows have now become thicker and more shapely. But while this trend looks better, achieving the perfect eyebrow shape has now become a lot more difficult. The celebs have let their brows grow out, and everyone is doing the same too! But if you want to achieve natural looking brows, it will require plenty of time and a whole lot of eyebrow shaping tips. But be patient—you'll get to perfect this look in no time!
"Hope you find the post helpful and we are excited to hear what you think of it!"