Best And Most Famous Celebrity Wedding Dresses Of All The Time
Some celebrity wedding dresses have been short, some very long, and others very wide. Celebrity wedding gowns have come in every guise and style. It is hard to forget the likes of Grace Kelly, Duchess of Cambridge, Catherine, and the Princes of Wales, Diana in their gowns.
1. Pippa Middleton
Pippa Middleton's wedding dress was designed by Giles Deacon, a British couturier. Deacon designed an excellent celebrity wedding dress that was elegant and stately in equal measure. The celebrity gown was entirely constructed of a tulle-filled train with lace. Teaming the dress was a Stephen Jones studded-pearl veil, a Manolo Blahnik and Maidenhair Fern tiara shoes.
2. Solange Knowles
This celebrity puzzled many with her traditional wedding elements when she was marrying Alan Ferguson, her long-term lover. The marriage ceremony was held in New Orleans, where the bride arrived on a bike. She wore a Stephane Rolland jumpsuit and later switched into an Humberto Leon Kenzo gown.
3. Queen Elizabeth II
Prince Phillip married Queen Elizabeth II in 1946 when she was only 21 years. The two had met when Queen Elizabeth II was 13 years at his cousin's wedding, Princess Marina of Greece. Queen Elizabeth famously saved for ration cards to buy the material that was needed. The wedding gown was created with ivory duchess satin. Additionally, it was decorated with silver thread, 10,000 imported white pearls, and tulle embroidery. Queen Elizabeth II's bridal ensemble included a patterned full court train approximately 15-feet attached at the shoulders. Moreover, a silk tulle veil was held in position by a tiara, which the mother had lent to the princess.
4. Kate Moss
Kate Moss wore a John Galliano wedding gown when she was marrying Jamie Hince in Southrop at St Peter's church in July 2011. She wore a personalized John Galliano gown. The celebrity gown was exhibited in 2014 at the Albert & Victoria Museum as part of its wedding dresses exhibition. Speaking about the wedding dress, Kate later stated that she wanted " a classic Galliano, with the thirties kind Chiffon."
5. The Duchess of Cambridge
Prince William met Kate Middleton met at the University, and ten years later they got married on April 29, 2011, at Westminster Abbey. Following their marriage, they became The Duchess and Duke of Cambridge. Kate Middleton's engagement lasted six months, and the designer of her wedding gown remained a secret all this time, and this led to intense worldwide speculation. Finally, the designer, Alexander McQueen was revealed. However, this didn't happen until the last moments when Kate was entering the Abbey.
6. Jacqueline Kennedy
Jacqueline wore a memorable full-skirted dress designed by Ann Lowe, a New York designer. She got married to John F Kennedy in Newport, Rhode Island, at Hammersmith Farm in the September of 1953. To complete her look, she wore a full veil and little white gloves. Kennedy later became president of the U.S. and was assassinated in November 1963 in Dallas, Texas. Jacqueline later got married to Aristotle Onassis, a Greek shipping magnate in 1968.
7. Kim Kardashian
The celebrity gown worn by Kim when marrying Kanye West is still fresh on the minds of many. The bride called on Tisci Riccardo to customize her Givenchy white lace wedding gown. Kanye West and Kim Kardashian got married in Florence, Italy at the Forte di Belvedere.
8. Audrey Hepburn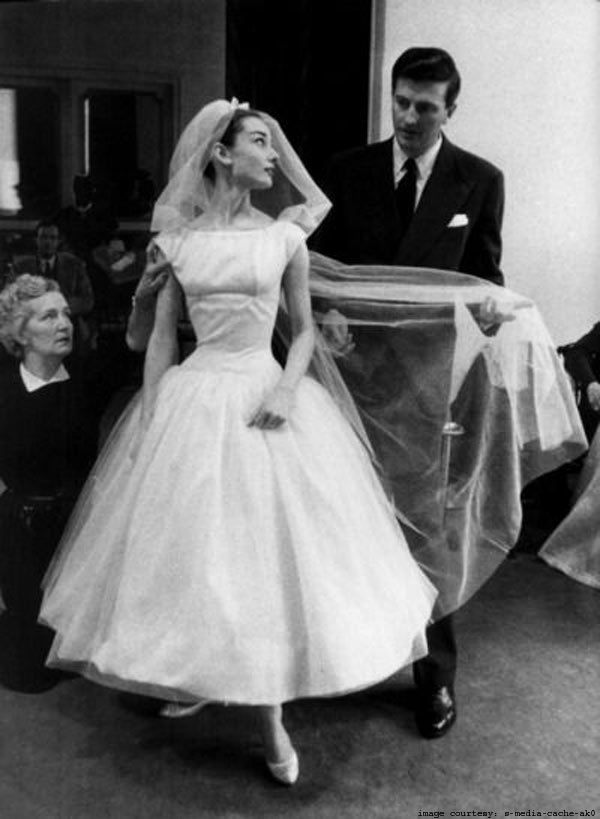 Actor Mel Ferrer married Audrey Hepburn in the September of 1954. This happened when the bride starred with him in the play Ondine, on Broadway. On the wedding, she wore a fifties full-skirted ballerina-length style with roses in hair designed by Pierre Balmain. The marriage lasted for 14 years until the December of 1968. Audrey then wedded Andrea Dotti, an Italian psychiatrist in 1969.
9. Princess of Wales, Diana
The Princess of Wales, Diana wore a celebrity wedding makeup designed by Elizabeth and David Emanuel. She married Prince Charles in the July of 1981. In the history of royal weddings, Diana's 25-foot train wedding gown is the longest. In 1996, the couple divorced and Diana tragically died in a car crash in August 1997.
10. Gwen Stefani
Gwen Stefani wore a pink celebrity gown on her wedding designed by John Galliano. She married Gavin Rossdale in the September of 2002, in Covent Garden. Once the wedding was over, Stefani decided to donate her wedding gown to Albert & Victoria referring it as "a piece of art". In 2004, the dress was displayed in the museum's Wedding Dresses exhibition. Stefani and her husband have three sons, Zuma, Apollo, and Kingston.
11. Bianca Jagger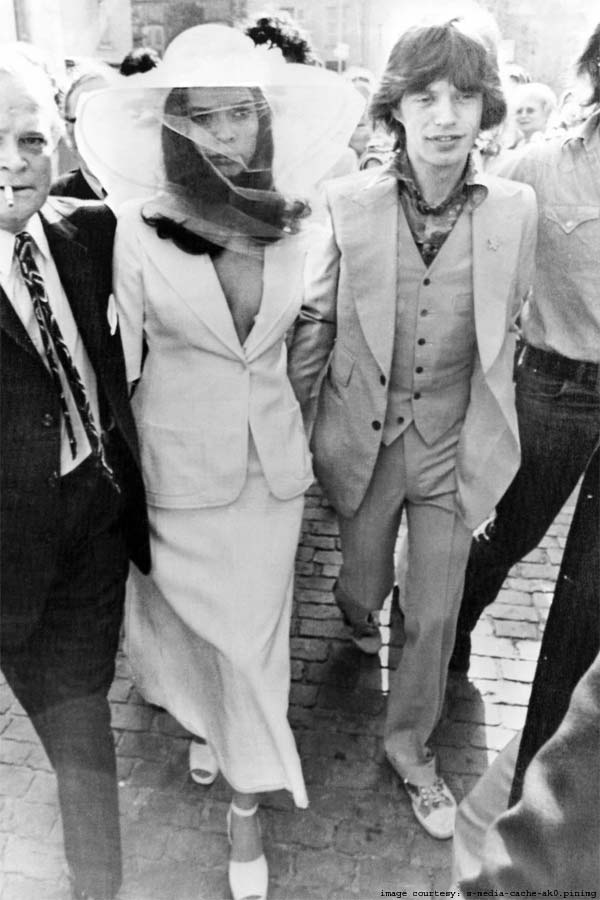 Bianca Jagger opted against a traditional wedding gown when she was marrying Mick Jagger, in May 1971. Instead, she opted for a white skirt designed by Tommy Nutter Savile Row tailor. Previously, the designer had customized suits for Yoko Ono, Elton John, and Rolling Stones. The designer had also created a shirt for Bianca for wearing beneath her jacket, but it couldn't fit her since she was pregnant. She didn't wear anything underneath. Her wide-brimmed hat helped keep her Riviera sunshine off. The couple remained married up to 1978 and had a daughter together.
12. Marilyn Monroe
Joe DiMaggio, a retired baseball player, married Marilyn Monroe in January 1954 in San Francisco. The Hollywood starlet was previously married to James Dougherty, a police officer. For her second wedding, she wore a black skirt suit designed with some white fur collar. She also carried some white orchids. The marriage only lasted 274 days. Later Marilyn married Arthur Miller, a playwright before dying in 1962.
13. Kate Bosworth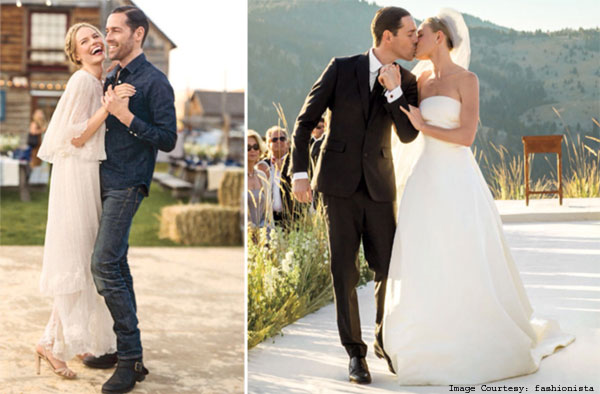 Michael Polish married Kate Bosworth in a colorful wedding ceremony that was attended by about 50 family members and close friends. The ceremony was held in Philipsburg, Montana. She came at the wedding in a stagecoach and wore a full-skirted, strapless Oscar de la Renta wedding gown. The gown had a 16-ft-wide, 8-ft-long train and teamed it with a veil. She changed into a tulle floral embroidered dress with scalloped cap sleeves and an illusion neckline.
Conclusion
Royal weddings have provided the most memorable bridal moments. However, most celebrity wedding looks have been anticipated such as the ethereal John Galliano design on Kate Moss.
"We Hope you find the post helpful and excited to hear what you think of it!"