Disney Look Alikes: 15 Celebs Who Look Like Disney Characters [Photos]
What if the princes from Disney, you dreamed of as a child have grown into a real life person? Check out our 15 Disney character look alikes from celebrities that you'll definitely want to see in live action movies! Featuring 7 famous Disney series and all their main characters.
1. Cinderella And Annasophia Robb
The once child actress is now 24 and is worth to be called a full-fledged princess. We've decided that Anna can be called celeb doppelganger of the iconic Disney character, Cinderella in her dark red colored hair. The girl that played Race to Witch Mountain is able to portray both the princess version and housemaid look that Cinderella had.
2. Prince Charming And Zac Efron
As for Cinderella's prince charming, Zac Efron has that lady killer's look that makes anyone calls him a prince naturally. Cinderella fell in love when they first met in the forest without knowing he was a real prince. A real life Disney character like this is guilty of being too hot and real. We fell in love with our TV screen and he's just everybody's prince charming.
3. Pocahontas And Shay Mitchell
Pocahontas is a unique Disney princess character in that she is the princess of a tribe, has dark skin and black hair flows from her head. Shay Mitchell has the honor of having a very similar feature to this one Disney character from her eyebrow, to her eyes. Shay also has dark eye colors like Pocahontas'.
4. John Smith And Kellan Lutz
The story of Pocahontas ended with John Smith having to return to his homeland as he was gravely injured. He's easily distinguished from his well-built body and handsome face. From many celebrities who already have the look, Kellan is chosen with his smearing hot body look.
5. Rapunzel And Amanda Seyfried
One of the newest princess series Tangled has Rapunzel with a young teenage look and cheery face. The famous Mamma Mia's actress is commonly seen with her long blonde hair let down, making her suitable to become Rapunzel's look alike. Amanda was recently married to Thomas Sadoski in 2017.
Related: 13 Celebrities Who Look Alike
6. Eugene Fitzherbert And Liam Hemsworth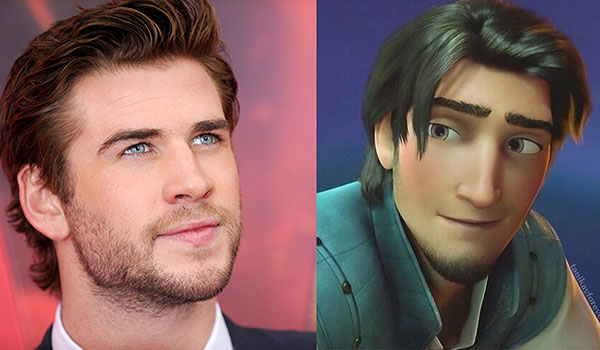 The younger brother of Thor, Liam Hemsworth has especially similar facial features to that of Rapunzel's husband, Eugene Fitzherbert. Our real life's version of Eugene is apparently engaged to singer Miley Cyrus and is already planning for marriage in the near future.
7. Jasmine And Selena Gomez
Jasmine is the daughter of Sultan in the story of Aladdin. Her real life doppelganger is Selena Gomez, the famous Wolf singer and on-off girlfriend of Justin Bieber. What strikes her as being the celebrity with that looks like Jasmine is her smile and a big pair of eyes.
8. Aladdin And Zayn Malik
Hot and sexy Pillow Talk singer, Zayn Malik is the only person that can-do justice to Aladdin and vice versa. The prince is well-known for his thick eyebrow, something that Zayn has. He's also famous for posting a lot of love and sweet pictures of him with Gigi Hadid, melting the hearts of millions.Being one of Disney look alikes, we have one more reason to love this guy.
9. Ariel And Bella Thorne
Ariel most remembered features: green fishtail, red hair, and red lips. Have you seen Bella Thorne in a beautiful, green one-piece? There's no way you cannot see the resemblance between her and the Disney character, Ariel, especially when she still had the red hair from Big Love. Bella herself once said that she loved her red hair so much she was hating it when she had to dye it back to her natural hair color, blonde.
10. Eric And Chris Colfer
Ariel's crush, Eric, never received her love properly. But surely, he was charming enough for Ariel to fall in love with one look underwater. Chris Colfer is definitely a guy we can fall in love with one look underwater. What's even better is that he is the look alike of Eric, Ariel's love. We are all ready to become his Ariel.
11. Belle And Anne Hathaway
The most recent Beauty and the Beast had Emma Watson portrayed the brave book lover girl, Belle. But celebs look alike that befit Belle's look is Anne Hathaway. This is the only Disney princess who loves to read the book so much and had much of its original story altered to the one that we know today. Anne Hathaway has fair skin and sexy lips which is similar to that of Belle's.
Related: Body Shaming Celebrities Are Clapping Back At The Body Shaming Bullies
12. The Beast And Harry Styles
While Belle's partner, the beast, was played by Dan Stevens who only showed in the picture and near the end of the movie when Belle proved her love. Harry Styles, however, is strikingly similar like a doppelganger to the prince. Starting from his lips, chin, nose, and even eye color; there's a long line of women ready to kiss him shall he ever turn into a beast.
13. Elsa And Elle Fanning
Queen Elsa receives so many love and fans from the movie Frozen. She's the first queen in the history of Disney princess. The celebrity that looks like her is not easy to find, but Elle Fanning is so scarily similar to her. That blonde hair, fair skin, and braids make her the real life version Disney look alike of Queen Elsa who inherited the power.
14. Anna And Elizabeth Olsen
Elsa's little sister, Anna, on the other hand, has darker hair color which is genetic from her parents. She is very cheerful and opens up to people quickly. Has anybody seen how Elizabeth Olsen just looks so much like this Disney princess when she braided her hair? The Scarlet Witch must not have realized that she is also in the Disney look alikes club.
15. Kristoff And Cody Simpson
Kristoff sells ice. In a country that was soon enveloped in ice, Kristoff found himself unable to do his business and the country needs a saving. With Sven, he proceeds with Anna to find her sister Elsa. Sure, he wasn't rich, but he was definitely cute and good-looking. But, between him and Hans, Anna was definitely confused. Cody Simpson is a Disney look alike due to his facial features bearing similarities to that of Kristoff's.
"Hope you find the post helpful and we are excited to hear what you think of it!"