Dr. Hauschka Cleansing Cream Description
It is a multi-tasking cream, claiming to deeply cleanse, exfoliate, refine, fortify and revitalize skin. It supports the skin's natural barrier for a healthy and radiant glow. To know if this cleanser works well with your skin type and skin tone, read our comprehensive Dr. Hauschka Cleansing Cream review.
Dr. Hauschka Skin Care started out as a developer of natural, pioneering medicines in 1935. But the first products where launch in 1967 with the help of esthetician Elisabeth Sigmund, when both skincare enthusiasts worked together to develop facial care products that support skin health using natural essential oils, and without chemical and/or synthetic emulsifiers.
Special Offer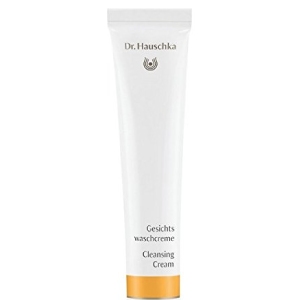 Dr. Hauschka Cleansing Cream
Dr. Hauschka Skin Care started out as a developer of natural, pioneering medicines in 1935.
Pros and Cons of Dr. Hauschka Cleansing Cream
Purifies skin, cleansing away impurities, unwanted oils and makeup.
Soft beads remove dead skin cells and make skin look radiant.
Leaves skin clean, moisturized and supple.
Has a pleasant, natural rose scent.
100% organic and natural; vegan; no harmful ingredients.
It can't remove heavy cake make-up and mascara.
It takes too much time to apply and not worth the hassle.
Some reviewers say, it triggered breakouts.
Not very effective according to some users.
Contains fragrance and alcohol.
What Are The Dr. Hauschka Cleansing Cream Key Ingredients?
To use Dr. Hauschka Cleansing Cream, wipe face, neck and décolleté with a warm damp face cloth. Blend 1-2 cm of cleansing cream with warm water and put it in between palms. Work into a smooth and creamy paste. Apply mixture onto skin. From the centre of the forehead, work your way outward and down to your neck by rolling hands up and away in wave-like motion. Press and roll for 1 to 3 minutes, depending on your skin type (lesser time if you have sensitive skin). Rinse thoroughly with warm water. Lastly, splash face and neck with cool water to close pores. For sensitive skin, use warm water only. Apply cleanser twice a day (am/pm)
A 1.70 fl oz. tube of this cleansing cream can be ordered online for $29.00
Sweet Almond Meal:
A skin-nourishing and exfoliating ingredient. It removes dead skin cells, repairs damage, while moisturizing dehydrated skin. It is high in essential antioxidants, Vitamins B and E, which protect skin and support overall skin function.
Kidney Vetch Extract:
Has anti-inflammatory and nurturing properties, hence it is often used as a wound-healing agent in skin care products.
German Chamomile Extract:
Strongly anti-inflammatory, antibacterial and antiseptic, this extract derived from chamomile flowers is excellent for treating dry skin. It can also neutralize skin irritants.
Guarantee
Dr. Hauschka products bought from authorized retailers can be returned within 45 days after the date of purchase.
The Final Word
Dr. Hauschka Cleansing Cream is a good product, in the sense that it is uses 100% natural ingredients, vegan, cruelty-free, and does not contain harmful ingredients, like mineral oil, parabens, PEGs, synthetic fragrances and preservatives. However, when it comes to effectiveness, it does have flaws, especially when you will take customer reviews into consideration. Aside from causing breakouts and dryness, it takes time to apply and may not be suitable for busy people. If you want a cleanser that you can use quickly and hassle-free, this is not the product for you. There are way good cleansers out there.