Product Overview
---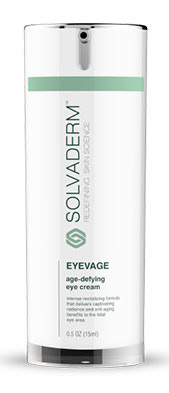 Eyevage Review
Solvaderm's Eyevage is an anti-aging eye cream that diminishes fine lines like crow's feet and reduces puffiness by improving micro-circulation under the eyes to firm and tighten skin for a captivating look.
Solvaderm's Eyevage is available online and was created specifically for the delicate skin around the eyes. It tightens the skin in order to decrease the appearance of fine lines and wrinkles that cause problems in women who are mature, or who have drier skin that is affected by crow's feet and fine lines around the eyes.
Product Attributes
Eye rejuvenation treatmentReduce the appearance of crow's feet
Reduces under eye puffinessDecrease in appearance of dark circles
Eyevage was created by dermatologists with scientifically researched ingredients. This product has undergone rigorous safety testing, as well, to ensure it won't irritate skin.
This product has been researched and proven effective at reducing fine lines and puffiness around the eyes. Clinically proven ingredients boost circulation to reduce dark circles and puffiness, and hydrate deeply to plump up skin and diminish crow's feet.
Best of all, many users began to see all of these results in as little as two weeks.
INGREDIENTS
Phytonadione: a form of vitamin K which boosts skin's natural healing ability to firm skin and reduce dark circles
Arnica Montana Extract: this botanical extract contains vitamin K and eases inflammation while enhancing skin healing
Oxido Reductases: enzymes with antioxidant properties that fight off free radicals by shielding skin against oxidative stress to prevent further damage
Glycine Soja (Soybean) Protein and Hydrolyzed Rice Bran Protein: when mixed together, these two peptide-rich ingredients improve circulation under the eye to reduce puffiness, leaving the eyes bright and revitalized
Simmondsia Chinensis (Jojoba) Seed Oil: plant oil that allows the product to quickly absorb into skin, hydrating and soothing it.
Prunus Armeniaca (Apricot) Kernel Oil: this fruit oil is rich in fatty acids that seal in moisture and protect from free radical damage
Squalane: moisturizing extract that hydrates deep to fill in fine lines
Hyaluronic Acid: hydrating compound that leaves skin soft and smooth, diminishing signs of age
Eriobotrya Japonica Extract: fruit-based balm that improves firmness in the area under the eye
Read more
Read Less
Results from using Stemuderm
In clinical study, it has been observed 47% reduction in dark circles, 68% reduction in Crow's Feet and 32% Reduction in Puffiness in just a few weeks (These statics are shared on their official website).
PROS
Improves circulation under the eyes to fade dark circles
Reduces puffiness and irritation
Tightens and firms skin
Moisturizes deeply to fill in fine lines and crow's feet
Makes skin soft
Protects skin against further damage
CONS
Free samples are not shown
Shipping is not available on the same day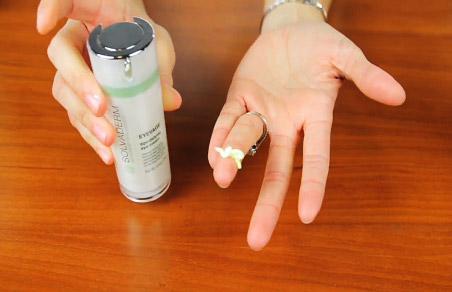 Eyevage is tested rigorously and is a professional-grade eye cream that has been carefully developed to fight current signs of aging and prevent further skin issues. It contains no fragrances or parabens, and can be used by people of all skin types. The cream includes many ingredients that are known to benefit the skin while incorporating uncommon ingredients in order to further prevent signs of aging in skin.
Hyaluronic Acid is used to fill the skin in and diminish signs of wrinkles. The use of HA in the formula also results in improved moisture levels in the skin. Squalane and Jojoba oil are also used to add moisture to the skin. Both are easily absorbed into the skin and promote its health. For a rich source of beneficial fatty acids, Apricot Kernel Oil is included to save the day! This oil contains a variety of nutrients that protect the skin from environmental damages, fortifying and enhancing its appearance.
Innovative ingredients such as Oxido Reductases are also included. This consists of enzymes that diminish signs of aging skin by increasing antioxidant activity levels. Two sources of vitamin K are also used to promote the skin's own healing systems, Phytonadione and Arnica Montana Extract.
This cream costs $74.99 for a 0.5 fluid oz container, but it is professional grade and created for all skin types. Solvaderm also backs all its products with a 60-day money-back guarantee and provides links to research that can corroborate its claims.
Yes. This product delivers, is fast-acting, and is entirely safe to use.Due to the large number of research behind the ingredients and the product itself, it seems Eyevage can actually deliver the results it promises. The company has also gone the extra mile to get this product tested for safety with the safety/regulatory testing standard for the United States, a consumer skin sensitization patch study, a skin irritation study, and an eye irritation potential study.
This product is dispensed through an airless pump that requires priming before consistent use of the eye cream. Simply pump until excess air is no longer part of the product and you're ready to go. If the pump stops working, repeat this process.
In order to use, wash your face with a reliable cleanser beforehand. When you've finished patting your skin dry, apply a pea sized amount of Eyevage to your eyes following the cortical socket. Use morning and night for best results. Avoid getting the product into the eyes during use.
Eyevage can be used on its own, with other products, or with other items in the Solvaderm line. Though the product has been tested for use by all skin types, those with a history of allergic reactions can perform an allergy patch test on their skin beforehand, just in case.
This product is backed by Solvaderm's 100% money back guarantee. You can receive a full refund within 60 days of your purchase date.
Eyevage from Solvaderm comes in an airless pump dispenser, and contains 0.5 oz worth of product. Each dispenser costs $74.99, an can be purchased on the Solvaderm website. An ongoing promotion for Solvaderm products takes away an additional 20% off on purchases.
*This is a subjective assessment based on the strength of the available information and our estimation of efficacy.
*Results may vary. The information contalned in this website is provided for general informational purposes only. No medical claims are implied in this content, and the information herein is not intended be used for self diagnosis or self treatment of any condition.
Disclosure of Material Connection : Some of the links in the post above are "associate sales links" This means if you click on the link and purchase an item, we will recieve commission. Regardless, we only recomend products or services which we use personally and/or believe wil add value to our readers. We are disclosing this in accordance with the Federal Trade Comission's 16 CFR, Part 255: "Guides Concerning the use of Endorsements and Testimonials."