Check Out The Famous Celebrity Mothers With Their Adorable Kids
Despite being successful actresses, singers, models, business women, and athletes, celebrity mothers have adorable children. Some famous moms have even given birth to world's celebrity kids. The likes of Demi Moore and Blythe Danner have appeared with their offspring on screens. Additionally, famous mothers like Maria Shriver and Robin Wright have supported the careers of their kids in various ways.
1. Jennifer Garner
This celebrity mom is popular for her role in "Miracles of Heaven." She and Ben Affleck, known for his role in the movie "Batman V Superman: The Dawn of Justice" have three children, Samuel Garner, Elizabeth, Seraphina Rose, and Violet.
2. Kendra Wilkinson
You may know this celebrity mother from her reality TV prowess. The star is married to Hank Baskett, a former NFL receiver with whom they have two children namely Hank Baskett IV and Alijah Mary were born in Dec. 11, 2009 and May 16, 2004 respectively.
3. Ciara
Ciara is well-known for her successful music career. She shares a son with her ex-fiancé, Future, a rapper by the name Future Zahir Wilburn. Ciara got married to Russell Wilson, a Seattle Seahawks quarterback in July 2016. On the Friday of April 28, 2017, the couple announced their daughter's birth, Sienna Princess Wilson. During the Nickelodeon Kids' Sports Choice Awards held in Westwood California on July 16, 2015, Ciara brought along Future Zahir.
4. Vanessa Lachey
This celebrity mom is wife to Nick Lachey. The celebrity couple became third-time parents on the Saturday of December 24, 2016, when their third born child, Phoenix was born. The newborn joined sister Brooklyn and brother Camden.
5. Mila Kunis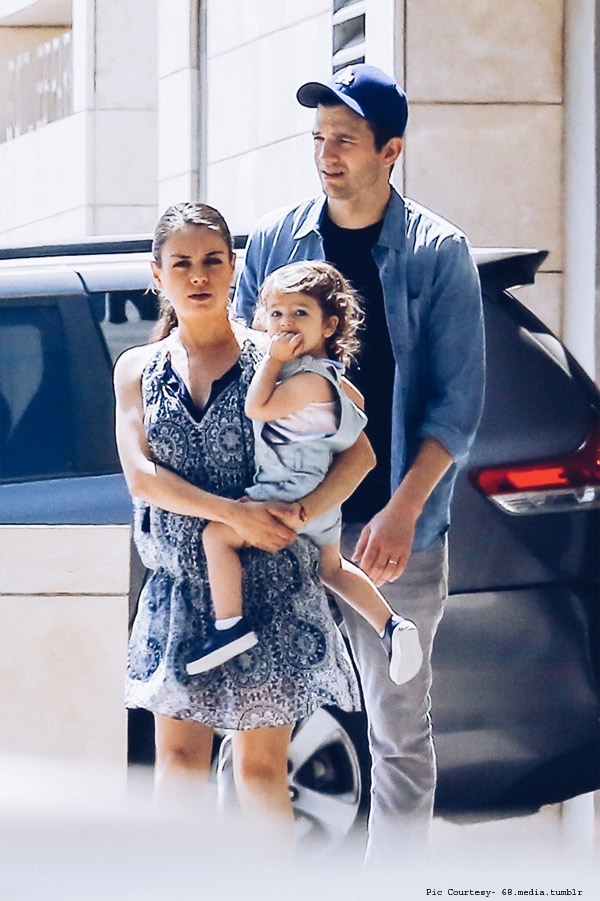 This adorable celebrity mom welcomed Dimitri Portwood, her second child on 30th November 2016. The star together with her husband, Ashton Kutcher also has a daughter born in the October of 2014, called Wyatt Isabelle.
6. Hilaria Thomas Baldwin
This celebrity is a renowned yoga instructor. She is married to Long Islander Alec Baldwin with whom they have three adorable children namely Leonardo, Rafael, and Carmen.
7. Janet Jackson
Janet Jackson is famous for her success in music. She is married to a Qatari businessman, and billionaire Wissam Al Mana and couple has recently welcomed a baby boy. According to People, the boy's name is Eissa Al-Manna and was born on January 3, 2017.
8. Savannah Guthrie
Savannah Guthrie co-hosts "Today, " and she recently birthed her second child. The boy named Charles was born on Thursday, December 8, 2016. She is married to Michael Feldman, and the couple also has a daughter together named Vale, who was born in the August of 2014.
9. Blac Chyna
On 10th November 2016, Rob Kardashian and Blac Chyna welcomed Dream, their baby girl.
10. Bristol Palin
Bristol Palin is a proud mother of two, but that is about to change as she is expecting a third child. Her former fiancé, Levi Johnson, and the celebrity mom had a son in December 2008 by the name Tripp. The star and husband Dakota Meyer had a daughter in December 2015 and named her Sailor Grace.
11. Danielle Jonas
Danielle Jonas is married to Kevin, the eldest Jonas brother. On Thursday, October 27, 2016, the couple welcomed Valentina, their second daughter. It February 2014, the couple welcomed their firstborn, Alena.
12. Audra McDonald
Will Swenson and Audra McDonald are Broadway stars. On October 19, 2016, Audra McDonald gave birth to her first baby, James Sally McDonald-Swenson.
13. Behati Prinsloo
Behati Prinsloo is a well-known Victoria's Secret model. She is married to Adam Levine, Maroon 5 frontman and on September 2016, she gave birth to their beautiful daughter Rose Dusty Levine.
14. Natalie Portman
Natalie Portman is an Academy Award-winning actress. She was primarily brought up in Jericho and married to Benjamin Millipied. On the 22nd of Feb, Natalie gave birth to baby Amalia, their second child. Her choreographer husband and the actress already have a five-year-old son by the name Aleph.
15. Pink
Pink is popular for her singing career. She is wife to Carey Hart, and the couple welcomed son Jameson on December 26, 2016, and daughter Willow in 2011.
16. Ellie Kemper
Ellie Kemper is an "Unbreakable Kimmy Schmidt" star. Her four-year husband, Michael Koman, a writer and the celebrity mom welcomed their baby boy recently. Their representatives and the parents alike haven't commented on the details of the newborn. Therefore, nothing is known about the birth place, time, or the name of the infant.
Related– AMAZING MATERNITY PARTY DRESSES WHICH WILL MAKE YOU LOOK STYLISH
17. Katherine Heigl
Katherine Heigl is a "Grey's Anatomy" Emmy Award winner. She is married to Josh Kelley, a singer and songwriter and the two have a child called Joshua Bishop, who was born in 2016. In September 2009, the couple adopted a daughter, Nancy Leigh. Additionally, the couple has a second born child, Adalaide Marie Hope, born in April 2012.
18. Melissa Rycroft
Melissa Rycroft contested on "Dancing With the Stars" and "The Bachelor." She is wife to Tye Strickland, and the couple has three children, Ava, 5, Beckett, 2, and Cayson Jack.
19. Alanis Morissette
Alanis Morissette is popular for her "You Oughta Know" song. She is married to rapper Mario Treadway, commonly known as Souleye. Alanis and Souleye have two children, a son and daughter namely Ever Imre and Onyx Solace born in Dec 2010 and June 2016 respectively.
20. Chrissy Teigen
On April 14, 2016, Chrissy Teigen and husband John Legend, welcomed their first daughter Simone Luna Stephens.
21. Kerry Washington
Kerry Washington is popular for her role in "Scandal." She is wife to Nnamdi Asomugha, former NFL pro and the two have two children namely Isabelle Amarachi and Caleb Kelechi born in April 2014, and October 2016.
22. Eva Mendes
This celebrity mom and longtime boyfriend Gosling Ryan are parents to Amada Esmeralda born in 2014 and Amada Lee born in 2016.
Conclusion
Photos of celebrity moms and babies are always very adorable. Non-celebrity mothers with kids have so much to learn from celebrity moms and babies from how to dress and accessorize to how to celebrate important mother-kid occasions such as birthdays and graduations. Here is a list of famous moms.
"Hope you find the post helpful and we excited to hear what you think of it!"