Try These Game Of Thrones Costumes And Get Ready For Latest GOT Season
Game of thrones costumes is becoming a fad. Especially now that most anticipated Season 7 is about to be aired in a few weeks. Game of Thrones is one of the most expensive HBO series of all time and have given fans some roller coaster of emotions. Yeah, just when everything seems okay, someone important dies! Oh! I can still remember Ned Stark (Sean Bean). What an unsettling scene!
But anyway, for all of you fans out there, maybe you want to attend San Diego Comic Con wearing your favorite GoT character's costume. Or maybe, you and your friends have agreed to watch the pilot episode dressed up (Is that weird? I think that's cool!) Here are some game of thrones costume ideas you can try to impress your buddies!
1. Shae
Probably one of the sexiest characters you may want to copy is Shae. Shae has a slender body and wore many sexy costumes in the series. This is one of the game of thrones women costumes that is not that hard to recreate.
Most of the time, Shae wears a backless gown. Sometimes, she fashions some drapes at the back. She also wears it with some plunging neckline exposing half of her boobs! Quite daring, right? But you may want her most common gown, a backless halter with drapes at the back. Don't forget the choker, bracelets, and a gold belt to complete the costume!
2. Catelyn Stark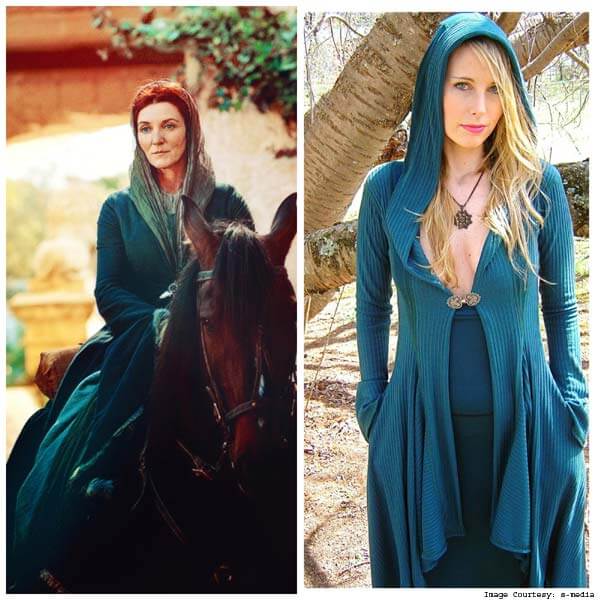 Catelyn is from the north and northerners fashion more fabric because it's cold in there. Catelyn took green as her color, and she often wears an emerald green robe-like gown with a tight-fitting collar that sometimes covers the entire neck. At some point, Catelyn wore scarves around her neck. On the battle field, she wore a black cloak with animal hide covering her neck.
But those details would be a little hard to manage in full detail! Instead, you can wear a lighter shade of emerald green as your undergarment and top it with an emerald green floor-length robe. If you want to be a sexy Catelyn Stark, why not wear a knee length robe instead? Don't forget the hair. Fashion a long wavy red hair to complete your northern look!
3. Melisandre
Carice Van Houten is probably one of the hottest and sexiest characters in the Thrones realm. She wears a bloody red long pleated gown with a tight-fitting waist to emphasize her curve. She doesn't wear much accessories except for a ring and a choker.
A long-sleeved gown or a robe will do. A red cloak can easily identify you as the Red Lady. Don't forget your makeup. Get a fierce and menacing sad look in your makeup to have that ambivalent look. Don't forget the hair! Divide your hair in the centerline and have it flow on your shoulders. Or, you can skip the hair part by wearing a red cloak!
4. Arya Stark
If you think you are not cut to wear some girly clothing, you may want to try Arya's costume. As the story develops, Arya grew into a fearless assassin mastering the art of deception and stealth.
Strap on some light boots and denim pants will do. Wear some long-sleeved khaki tunic and top that with a dark green textured vest. Arya's costume is quite easy to recreate. You don't even have to comb your hair! In fact, a messy hair will complete the costume!
5. Sansa Stark
Later in the series, Sansa took on the color of her mother. She wears a gown in the shade of green most of the time, but she took a darker shade of green. But if you want the best of Sansa, you can copy her costume during her stay on Kings Landing.
Her ballgowns can be a little hard (and expensive!) to copy! But Sansa wore some nice princess's gowns in the early season. Sansa often wears low neckline gowns embroidered with roses on the collar. You can try an earth colored pleated gown with flowy sleeves. Pay attention to your hairstyle. Women in the Kings Landing wore bold headdresses!
Related: GAL GADOT IS NOW SUPER FASHION GOALS IN FLATS YOU MUST KNOW!
6. Missandei
If you want some simple game of thrones costumes designs, you can go Missandei! Even the Khaleesi's handmaidens are pretty too! But wait, which Missandei do you want? You can go battle Missandei, or just a pretty handmaiden Missandei. Whatever you choose, I'm sure you will catch your own Greyworm!
Missandei fashions a gown like Shae in a different color. They wear similar backless halter without the drapes. Missandei favored the tint of aqua and wore a bronze belt. But if you are a bit more daring, you can go battle Missandei!
You can go for a floor length pleated skirt, and tight midriff sleeved top. Missandei's hair is a bit tricky. But if you already got that, then Greyworm will follow you wherever you go!
7. Khaleesi
If you want to go awesome, why not Khaleesi? The unburnt, mother of dragons, breaker of chains, and queen of the great grass sea. Daenerys goes by so many names and so many costumes! It can be a little hard to decide which Khaleesi costume you may want!
You can go innocent Danny, daring Khaleesi, slave Khaleesi, battle Khaleesi. A log white elegant sleeveless gown is a Khaleesi costume in itself. Add some ankle length draping tied on the shoulders, and you add more elegance to your costume. Don't forget to wear some dragon inspired accessories for you Khaleesi outfit!
Wear any of these costumes and impress your friends! These costumes only have one thing in common, they are medievally inspired, and they are sexy! Yep! Even Arya's tomboy fashion is attractive and sexy! Heck, why not transform your old gowns into one of these sexy costumes?
One note when you are dressing for these characters, pay close attention to their hairs. They have very different hairstyles, and their unique styles define and identify their characters! Go on! Flaunt your costume at parties and dress to impress! Don't blame me if you are recognized and approached by Game of Thrones fans!
"Hope you find the post helpful and we excited to hear what you think of it!"