Hailey Baldwin Closet: Get A Closer Look At Her Red Hot Latex Dress
Our gal Hailey Baldwin has always been serious when it comes to style and fashion. Especially after strutting her stuff on the runway for major brands like Jeremy Scott, Tommy Hilfiger, Moschino, and Elie Saab the previous season, she's caught the eye of everyone, especially fashionistas and media people everywhere. In fact, people may be excited to raid the Hailey Baldwin closet!
Alongside with her BFFs and co-models Kendall Jenner and Gigi Hadid, Hailey Baldwin outfits have gone from numerous gowns at red carpet events to simple, everyday casual wear that screams model at every angle.
And as always, Hailey Baldwin clothes definitely do not disappoint! She can rock everything from tattered jeans and crop tops to silky slitted dresses and suede boots!
She's certainly inclined to be super comfortable with anything she wears! And that includes bold fashion choices, like the recent latex dress up in the event that literally shook the fashion world.
1. Hailey's Red Latex Dress
There are certain outfits that are certified fashion faux pas. There are also unspoken rules of style that we all have to respect.
Until recently, we were all convinced that latex was one of those, and that it can only be worn is very special occasions. Otherwise, in can lead to disastrous results!
But apparently, all it takes are guts to put the material back under the spotlight. Let's look at this Hailey Baldwin fashion choice that proved great things and discoveries can also be made through breaking the rules.
On July 26, Hailey Baldwin most probably settled the case for latex once and for all when she arrived at the iGo.live launch at Beverly Wilshire Hotel in Beverly Hills, Los Angeles, California.
The iGo.live is a newly developed live streaming app, which you can now get from the App Store, by the way.
Other celebrities were also invited to the event including the Fifth Harmony girls, Bella Thorne, Ashley Benson, Lamar Odom, Tyga, and Blac Chyna, but the media and everyone else's eyes were stuck on Hailey right from when she stepped out of her ride.
Hailey came to the event clad in a dazzling cherry red strapless latex bodycon mini dress, making everyone stop in their tracks and wish they have had the courage to do the same thing.
The dress was designed by the Australian-based brand MESHKI and as we found out later, surprisingly sold for only $80! Meshki is a brand loved by stars like Kylie Jenner and Jennifer Lopez.
Related: FAMOUS CELEBRITY LOVE STORIES: THIS IS HOW THEY MET
2. Accessorizing The Red Latex Dress
Well here's the thing when it comes to latex: it's all about maintaining the body's silhouette, especially when it's in a loud, vibrant color.
One mistake with the material could have made the 20-year-old model a screaming nightmare from Britney Spears' "Oops, I did it Again" era, but the well-thought-of outfit was a lot modern and classy.
Hailey obviously knew what she was doing and kept the rest of the ensemble super simple, drawing all attention to the gorgeous dress. She went for a much more feminine yet slightly edgy style.
The dress hugged her every curve in the best way possible, giving Kim Kardashian West in her beige latex dress a run for her money.
She paired it with a slicked back high ponytail and matching bold ruby red lip color. Thankfully, she also ditched the heavy black boots for scarlet suede pumps with pointed toes for a complete, monochromatic look.
She also accessorized with her favorite Jennifer Fisher golden hoop earrings and several layers of choker necklaces.
Later that night, Hailey also donned on an oversized black leather jacket as she went to get dinner. It did not only make the overall look a bit more casual, but also toned down the monochromatic effect. Hailey showed that latex and leather are meant to be together!
Latex could just be the latest trend with Celine Dion also pairing her Gucci sandals with latex socks and former Spice Girl Mel B pairing a pink latex dress with Dsquared2 sandals.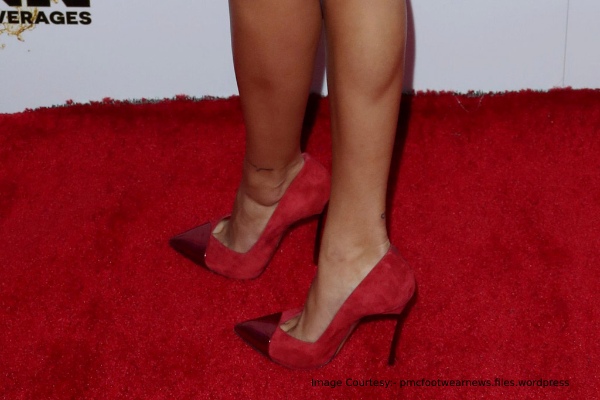 What can we say? Latex is certainly not for the faint fashion hearted but in can look superbly cool and chic when done right. Isn't Hailey's hot red latex mini dress enough proof?
True, supermodels are miles ahead in pulling off new, dangerous trends, but as we've learned from Hailey, a few simple styling choices can make everything work in your favor.
Related: INSTAGRAM STAR JEN SELTER FITNESS ROUTINE IS ALL YOU NEED FOR HOT BUTT
The right combination and perfect positioning of accessories enhance proportions in amazing ways. A sleek hairstyle and simple gold jewelry also make for a classic vibe without being too overpowering.
Ultimately, we all give latex another chance, thanks to her braveness! The classic Hailey Baldwin style and how she managed to pull them all off definitely redefined our perspective and made us consider plastic-y latex in a different light, and we truly love and adore her for it! Way to go, girl!
"Hope you find the post helpful and we are excited to hear what you think of it!"