The D

o's

and Don't

s

Of Wearing A Bra
How To Wear A Bra
Are you wearing your bra right? When it comes to how to wear a bra, many women think that they got it all figured out. Well, not really. For your information, there are many things that we tend to do wrong when we wear a bra—peek-a-boo bra straps, too tight bra cups and many more. To help make sure that you are wearing your bra right, here are some of the do's and don'ts to keep in mind:
1
Try strapless or convertible bra.
Do make sure that your bra straps are hidden when wearing halter or sleeveless tops.If you want to look flawless in sexy tops, wear a convertible or a strapless bra with it.
2
Don't wear a bra if your clothes already offer built-in support.
Visible bra straps are a big no-no when you are at a formal affair. If your evening gown has underwire and padding, ditch the bra as it will just add unnecessary bulk to your look.
3
Do try out the bralette.
Wearing padded and structured bras can sometimes restrict the movement and freedom of your boobs. If you want to let your boobs move freely without going completely braless, try wearing the bralette.
4
When buying a bra, do look for fabrics that are of high quality.
Aside from the perfect fit and solid construction, another thing to consider when buying a bra is the fabric. This is important not just in aesthetic appeal but also, the durability of your underwear.
5
Don't just stick to neutral colors.
Neutral colors like black, white, gray and nude, are a classic option. But you should also be bold enough to try different colors like red, maroon, pink and many more.
6
Do hook the clasps together when washing a bra.
Doing this will help prevent the bra hooks from getting caught into other pieces of clothing that are inside the washing machine. It will prevent your bra from stretching, allowing it to maintain its original shape.
7
If you want to go braless, don't wear clothes made with lightweight or cotton fabric.
Your nipples will easily show in lightweight and cotton fabric. Instead, opt for clothes made of bamboo microfiber instead.
8
Make sure that your breasts are dry before putting on a stick-on bra.
If your breasts are not properly dried, the adhesive in the bra will not stick on properly so make sure that you dry your breasts well using a towel.
9
Don't just peel stick-on bra away.
When you peel stick-on bra away suddenly, the adhesive on the bra will be removed and you will no longer be able to use it.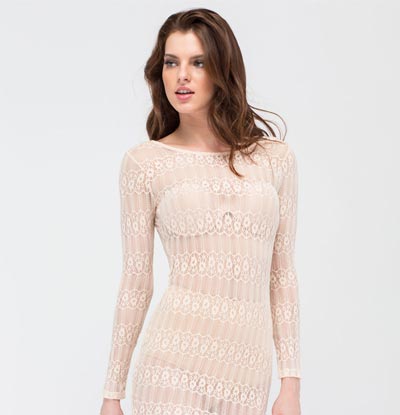 10
Do opt for a nude colored bra when wearing sheer tops.
White or black bras can make sheer tops look cheap. A nude colored bra is the most elegant option for this type of clothing.
How you wear your bra is important to women's health. When you follow the dos' and don'ts that we have mentioned above, you will be able to provide your breast the support and lift that it needs.