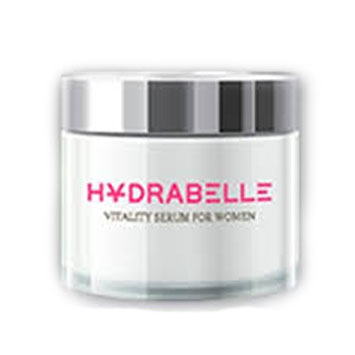 HydraBelle Vitality Cream for Women Review
What is Hydrabelle?
HydraBelle Vitality Cream for Women is an anti-aging serum that supports the skin in better resisting damage. It simultaneously provides corrective functions that smoothens out your wrinkles, provides better contour to saggy skin, and deliver other noticeable improvements to skin imperfections brought about by aging and years of damage.
Overview
Who is Hydrabelle for?
Hydrabelle Serum is recommended for use on adult skin. This serum is formulated to cater to all skin types, including sensitive skin. It can serve a more preventive function for younger adults.
How does Hydrabelle Work?
HydraBelle Vitality Cream for Women works by delivering patented ingredients that are more stable and clinically-formulated for enhanced potency to correct and protect your skin from visible signs of aging. It deeply nourishes skin and helps keep moisture coming long after product application. It also enhances the quality of skin fibers and strengthens skin synthesis.
INGREDIENTS
What are Hydrabelle Key Ingredients?
Retinyl palmitate: Hydrabelle is infused with this stable Vitamin A derivative. It helps smoothen out wrinkles and fine lines by enhancing the rate of exfoliation of the damaged top layer of the skin. It also has melanin-inhibiting properties that help promote a more even skin tone and a brighter overall complexion.
Synthe-6: A patented ingredient marketed as Matrixyl Synthe 6 which has been demonstrated to help improve skin regeneration and renewal. It helps make wrinkles appear much less noticeable.
Maca Root: This plant extract promotes skin vitality. It helps make fragile aging skin more resistant to damage and less prone to irritation.
Stay-C: A patented form of stable Vitamin C that revitalizes your skin cells and revives your skin's youthful vitality. It promotes the production of collagen and other skin precursors at much faster rates and at much larger volumes.
Matrixyl: This patented complex consists of peptides that improve cellular level coordination. In effect, your skin becomes more capable of regenerating faster and delivering faster repairs that help get ahead of day-to-day damage and degradation.
Aquaxyl: This is a patented ingredient that, according to Hydrabelle reviews, increases the amount of hyaluronic acid in your skin. It radically improves your skin's moisture content and supports the rebuilding of the protective barrier layer.

PROS
What are Hydrabelle Pros?
This product is available for a limited time, 14-day free trial offer.
The formula combines natural and synthetic ingredients that, based on Hydrabelle reviews, have the capability of delivering your skin's youthful transformation.
Hydrabelle is specially formulated to cater to the unique requirements of mature and aging skin.
This serum is easy to apply and may be easily layered with other products in your regimen.
It uses a more stable form of Vitamin A, a versatile anti-aging vitamin that helps improve the appearance of wrinkles, dark spots, and skin discoloration.
CONS
What are Hydrabelle Cons?
This product is sold exclusively online via affiliate marketing websites that cannot guarantee privacy and security of transactions.
The full list of ingredients is not openly disclosed, making it impossible to evaluate product suitability and safety.
There is no available information about this serum's manufacturer.
Nobody can be held accountable for any outcome arising from product purchase and use.
There does not appear to be an official manufacturer or product website where information about this serum may be found and validated.
What is the Price and Quantity of Hydrabelle?
Hydrabelle reportedly costs $100 per jar but, is available via a limited time free trial offer.
Should you buy Hydrabelle?
Hydrabelle contains patented ingredients that have been synthetically developed precisely to help improve the quality and appearance of mature and aging skin. However, lack of accountability for product outcomes is what makes this serum risky. It may restore your skin's vitality but, side-effects which are unknown and cannot be evaluated may easily negate potential benefits.
Does Hydrabelle come with a Guarantee?
Product guarantees are dependent on affiliate marketers selling this product.
Does Hydrabelle Have Any Side-Effects?
Without a full list of ingredients, it is impossible to assess this product for safety.
Where to buy Hydrabelle?
This serum may be purchased online from affiliate marketing websites.
When the skin begins to mature, the use of a rich, deeply-penetrating treatment is essential. Many moisturizers contain ingredients that condition and moisturize the skin, but those which actually reach the skin cells deep below the surface are the most effective. Encouraging the production of natural oils is also important as is finding a moisturizing treatment that provides a protective barrier on the skin to keep oils and moisture locked in. Using products with these ingredients ensures the skin has a plumped, smooth and line-free appearance, even as it continues to age.
Below you'll find some of our best Hyaluronic Acid Serum formulations on the market today, in our opinion:
Best Anti Aging Serums
Product
Intensely Hydrates Skin & Improves Collagen
Effectively Guard Against DNA Damage
Reduces Inflammation & promotes Even Tone
100% Money Back Guarantee
Read Review

Stemnucell

(Editor's Choice)

Read Review

Shiseido Vital Perfection White Circulator Serum

Read Review

Prevage Anti-Aging Intensive Repair Daily Serum

Read Review

Eve Lom Intense Firming Serum

Read Review

Clarins Double Serum Complete Age Control Concentrate

Read Review

Perricone MD Skin Perfecting Serum

Read Review

Shiseido Benefiance Wrinkle Erasing Serum SPF 18

Read Review

Dermaquest Retinol Peptide Youth Serum

Read Review

Perricone MD Neuropeptide Instant Serum

Read Review

La Roche Posay Rosaliac AR Intense

Read Review
**This is a subjective assessment based on the strength of the available information and our estimation of efficacy.
*Result may vary. The information contained in this website is provided for general informational purposes only. No medical claims are implied in this content, and the information herein is not intended be used for self diagnosis or self treatment of any condition.
Disclosure of Material connection: Some of the links in the post above are "associate sales links." This means if you click on the link and purchase an item, we will receive commission. Regardless, we only recommend products or services which we use personally and/or believe will add value to our readers. We are disclosing this in accordance with the Federal Trade Commission's 16 CFR, Part 255: "Guides Concerning the Use of Endorsements and Testimonials."