Kim Kardashian Wardrobe Style: Kim Kardashian's 13 Best Looks Ever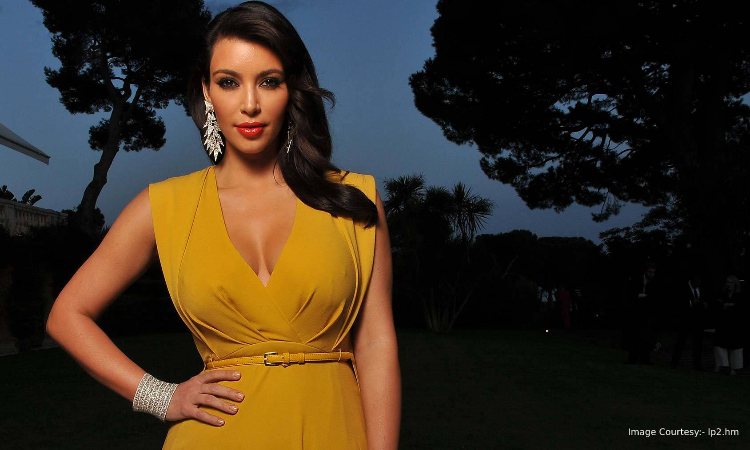 There's no denying the fact that the Kardashian-Jenner clan is one of the most stylish and influential celebrity clans in the Hollywood today. But of course, you cannot argue with us when we say that Kim Kardashian is the most stylish and edgiest of them all. After all, she is the reason why all of her other siblings are now also rich and famous, right?
If you are a fan of the Kim Kardashian Wardrobe style, well, this post is for you! This is because we will compile all of Kim Kardashian best looks in this article! If you can't get enough of the Kim Kardashian fashion style, here are some of her looks that you need to see!
1. Food Stop Outfit
Many celebs get their best looks from the compilation of their Oscar or red carpet outfits but what makes Kim K different is that she can pull off the ultimate looks even if she is doing one thing as simple as picking up food from the restaurant!
Kim wore this chic and edgy all black outfit (with exposed midriff) as she picked up her food from Stanley Restaurant in Los Angeles.
2. Balmain Outfit
And of course, the Kim Kardashian dress style shines the brightest during parties. Here's another midriff baring outfit that wowed everyone. She paired this glittery almost-naked Balmain skirt with a tiny tank top at a Balmain party in Los Angeles. She looked like she was about to go belly dancing but in style!
3. Yeezy Season 5 Show
Color blocking is the name of Kim K's game in this all-purple outfit. Looking every inch like a royalty, Kim decided to give this outfit her own personal brand by wearing it sans the bra. The puffa jacket balanced off the sexiness of the outfit.
4. Filming Of Ocean's 8
Dressed head to toe in fury and lacy white ensemble, Kim K is truly bound to turn heads around. But don't worry, she is not out for a stroll. She wore this dress as she was filming a cameo for Ocean's 8.
Related :- MTV VMAS 2017: BEST RED CARPET LOOKS FROM 2017 MTV VIDEO MUSIC AWARDS
5. A Regular Day In Miami
This dress is the epitome of the KIM K style—showing skin in all the right places and in the most obvious way possible. If you want sheer, this see-through black dress will surely give you sheer. And oh, Kim K wore this while she was out and about in Miami with no event to attend whatsoever.
6. NBC Universal Event
If you love how Kim can mix sexy and edgy, you will certainly adore this look. Kim's Chalayan jumpsuit has cutouts that reveal itty bitty pieces of skin in the edgiest way possible. She wore this to an NBC universal event which she attended with Khloe.
7. Harper's Bazaar Icons Event
We all know how Kim love everything sheer, but we didn't think that sheer could get any sheerer! The black and nude jumpsuit with flared bottom and plunging neckline that she wears to the Harper's Bazaar event is sexy with a touch of whimsy. We love the contrast between the nude and black which makes it seemed like she was wearing nothing under the sheer overlay.
Related :- HAILEY BALDWIN CLOSET: GET A CLOSER LOOK AT HER RED HOT LATEX DRESS
8. MTV VMA's Last 2016
Kim sought the advice of her Twitter followers in choosing an outfit for this event, and they chose Dark and Dressy Sexy look, and oh, Kim truly nailed it with this tight-fitting sexy black see-through outfit that she paired with wet look hair. This may be a simple dress, but it has truly showcased the hourglass figure that Kim K is known for. We also love how she kept things stylish by pairing it with strappy sandals and layered gold necklaces.
9. A Regular Day In Los Angeles
Kim rocked this mesh maxi overlay paired with a nude jumpsuit (that made the look eye catching!) while she was out and about in LA with her sister Kendall. We love how this outfit is a breath of fresh air from all the skin-baring outfits Kim usually has on.
10. Family Equality Council's Impact Awards
Here's a far cry from all of her usual black outfits. We love how simple yet classy Kim looks in this tight fitting white tube long gown that he paired with large hoop earrings and a lip ring.
11. LAX Airport
While everybody is in their track pants and sweaters at the airport, Kim K showed everyone how it should be done by wearing an all-gray chic and classy ensemble—maxi gray cardigan with the tightfitting gray maxi dress and gray knee high boots.
12. 2016 Met Gala
Kim's outfit is one of the reasons why people are excited to watch the Met Gala, and she never disappoints! In 2016, she, together with Kanye, dressed up as a robot couple and they look as eye catching as ever. Her structured, sparkly silver outfit is truly one for the books. We love how the thigh high slit was able to balance the long sleeves of the dress, preventing her from looking too metallic and robot-ish.
13. Miami Wedding
As we all know, wearing black is taboo when you are attending a wedding. But this rule is not applicable, especially if you are Kim Kardashian! Kim did not just wear a black outfit—she went all out goth to a wedding! Her black silk maxi dress features a corset style neckline and to prevent the dress from looking too sexy; she put on a lacy see-through black long blazer. But the most eye-catching part of the outfit is her diamond choker by Lorraine Schwartz which was Kanye's push present to her.
Truly, no one does it best than Kim K! These looks just prove how far the Kim Kardashian clothing style has gone. If you want to dress like her, we suggest that you take a page from the Kim Kardashian wardrobe style by copying some of the looks mentioned above.
"Hope you find the post helpful and we are excited to hear what you think of it!"