Kylie Jenner Style: Kylie Jenner Has a Style We Can All Learn From
Kylie Jenner, younger sister of Kim Kardashian- West is calling shots on their own these days. The 19-year-old reality star has been super successful in her cosmetics beauty line "Kylie Cosmetics." Beauty influencers around the world can't stop talking about, including her lip kits. Kylie has been debuting her inspired lip kits in collaboration with her sisters Kim and Khloe.
1. Kylie Promoting Her Cosmetics Line
2.Kylie Team With Flauntmagazine
Not to mention she has a clothing line with her sister Kendall Jenner, as well as being endorsed by Puma and getting paid for Instagram promotions post causing her to make anywhere from $4k and up.
Kylie has also landed her reality that is a spin off from the Kardashian's called 'Kylie's World,' that will debut this fall on the E Channel. Yes! Miss Jenner is undoubtedly setting trends and showing millenniums how to get things done. Which makes Kylie 2017's most influential person.
This Jenner is building an empire of her own. Let's not leave out the best part of it all. STYLE of Course!
3.Check Out How Kylie Handles Business In Style
Kylie has kept it no secret that she wears wigs and even has and a glam room where she keeps them safe and stored.
Related:- HAILEY BALDWIN CLOSET: GET A CLOSER LOOK AT HER RED HOT LATEX DRESS
4.Wig Room Pic
5.Let's Check Out Her Hair Style Trends
6.Check out Kylie rocking this Beautiful Blonde Wig
7.Now Let's Talk Jenner Fashion: This Jenner Shys Away From Style
Jenner is seen here in NYC stepping out rocking long trench leather coat paired a black one piece jumpsuit and Metallic Heels.
Related:- KIM KARDASHIAN WARDROBE STYLE: KIM KARDASHIAN'S 13 BEST LOOKS EVER
8.Kylie Makes Running Errands Look Easy When Dressing In This Beautiful Matching Set
Let's Talk Jenner and Balmain; Kylie steps out in Balmain Style more than we can count from her day to day regular coffee runs to her business appearances.
Kylie Jenner makes a statement in the Adidas brand; this Jenner can sell anything she puts on, and many of her fans can't get enough of this Jenner doll.
Now, of Course, we know the Kardashians and Jenner girls are known body suits and jeans. But the youngest of them all knows how to put the edge on a pair of denim jeans and any suit, whether she is wearing the style alone or adding a jacket to it, Kylie never goes wrong with this one.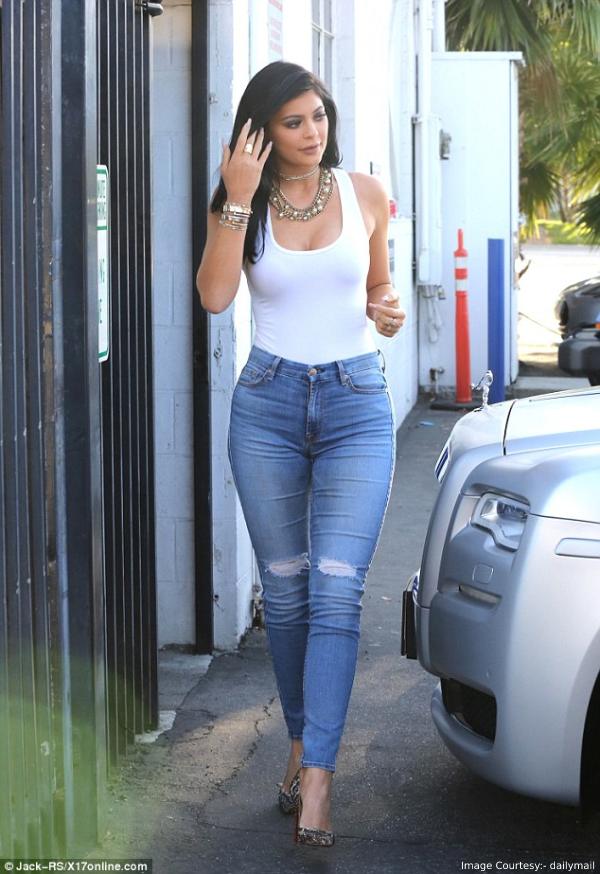 Kylie Jenner sums up being young, stylish, an entrepreneur and living her life by her standards.
"Hope you find the post helpful and we are excited to hear what you think of it!"