DIY Maternity Halloween Costumes: 7 Creative Ideas For Moms To Be
Whenever Halloween comes around the corner every year, we have to be worried about the killer costume to wear. I mean, what is an ultimate Halloween celebration without having a costume that stands out? Halloween also was known as All Saints Eve is a celebration practiced in various countries on 31 October observed by both Christians and non-Christians. This is a festival dedicated to remembering the dead among the Christians such as the Martyrs, Saints and other departed faithful.
Halloween is one of United States' favorite holidays that were once practiced among the ancient Celtic Festival. In those ceremonies, people used to wear costumes and light bonfires with the intention of chasing away roaming ghosts.
In the modern day Halloween, much focus has been directed towards costumes. As Halloween is a date that has to pass in every year's history, so is an event of being pregnant among any typical women. Of course it is a blessing to have babies. Despite being among the pregnant women during Halloween, you still got covered. There are various maternity Halloween costumes that as a woman you can do it yourself at home.
I have sampled some of the Halloween costume ideas to grace that baby bump during Halloween parties.
1. Christmas Tree Costume
This is one of the maternity Halloween costumes that are easy to make. For this pregnant Halloween costume, you will need the following;
A well fitted green dress.
Hot glue.
Paper garland.
A headband.
Brown shoes and brown pants.
Glittery gold foam paper.
Guide

Drape the paper garland thrown on the clothes just as how you do on a Christmas tree. To attach the garlands to the clothes use the hot glue or pins according to how long you would want to put the clothes on. Cut out a star from the glittery gold foam paper and glue it on the headband to top up as the tree top. With this pregnant Halloween costume, I guarantee that you will stand out among the other pregnant ladies and revealers.
2. Mummy Maternity Costume
We all love dressing to kill, but for Halloween, we have to dress to amaze. The mummy maternity costume is one of the Halloween costumes for pregnant women that will look classy on them. It is also very easy to make. All you will need is?
A white shirt and white leggings.
A white wig, gauze, and lace.
Guide

This being among the simplest pregnant Halloween costume ideas, all you need to do is to simply roll the lace and gauze to cover your body to have that look of Lazarus in the tomb. Ensure you first wear the white leggings and the white shirt chosen among the best pregnant Halloween shirts. To add more flavor to the costume, add some lace around the wig on your head to have a wonderful headband. You can cover up the look with a white canvas or rubber shoes.
3. Fish Tank Costume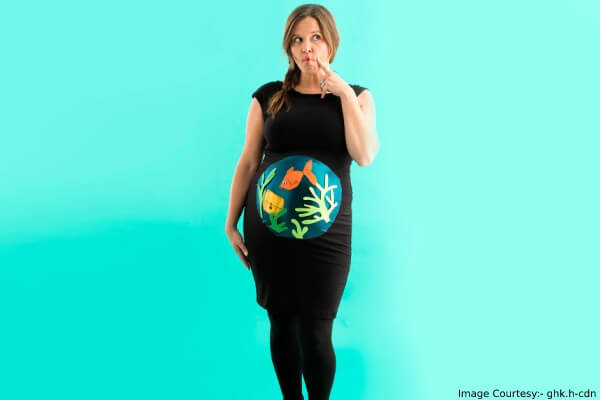 Imagine filling your baby bump with pretty sea creatures. Not inside your belly, but on that dress you've not been thinking about at all? This will create one of the most amazing maternity Halloween costumes. To make this amazing maternity DIY Halloween costume, you will need the following;
A black dress and black leggings.
Hot glue.
Fabric scissors.
Teal lycra.
Sharpie.
Guide

The first step will entail cutting out a circle from the lycra to create the tank. After that, you will draw a felt fish and other sea stuff such as the coral and shape them out after cutting and glue them to the lycra. Take the lycra and stick it to the dress using the same hot glue. This costume is well accompanied with a fish face. Sounds awesome, right?
Related:- EYE MAKEUP IDEAS TO TRY THIS HALLOWEEN
4. Wrecking Ball Miley Cyrus Halloween Costume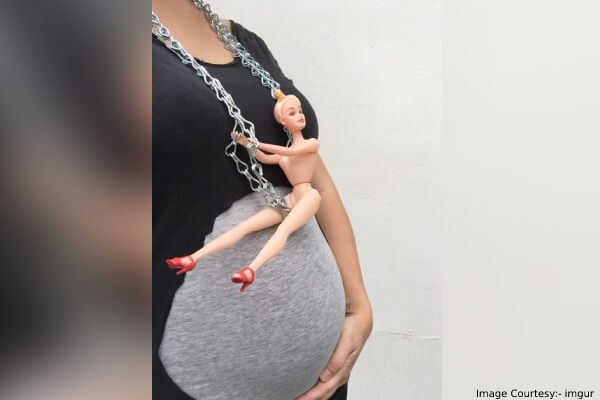 As Halloween nears, various pregnant Halloween costume ideas usually come up. However, one of the trending maternity Halloween costumes comes from the Miley Cyrus Wrecking Ball video. For this costume you will need;
A black Long sleeve shirt and a grey undershirt.
Old Barbie doll.
A chain.
A Thread.
Guide

Put on the black long sleeve shirt over the grey under shit then measure out your belly and cut out a circle to resemble the wrecking ball. Put on the chain and hot glue the Barbie doll into a swinging position. Just that simple, you would have finished the entire costume.
5. Easy Mike Wazowski Costume
This is one of the easiest yet wonderful maternity Halloween costumes that can be made at home. For the costume to be complete, you will need the following;
A bright green T-shirt.
White, green, black and light blue felt.
Blue baseball cap.
Guide

You will start with creating a huge Mike Wazowski eye using the green, white, and black felt pen and use some hot glue to stick it on the shirt. It is easy to make yet still turns out awesome. Use the white and black felt to create a logo for the hat and even horns for them with the leftover white felt.
6. Khaleesi Maternity Costume
For this type of maternity Halloween costumes, you will need the following;
A long blonde wavy wig.
A taupe dress.
Silver faux leather.
Fabric scissors.
Small stuffed dragon friend
Pins.
Guide

Get a brown dress and add some extra fabric on it using some hot glue if it's not a layered one. Use a strip of faux leather to wrap it around the chest and the back and add small leather armbands to finish the outfit. Create a low half ponytail to style the wig.
7. Bun In The Oven Costume
This pregnant Halloween costume is a simple one to make for Halloween parties. For this costume you will need the following materials;
A big box like that of a TV or microwave.
Tan sweatshirt.
Paint.
Old controls.
Glue.
A clear wrapping paper.
Guide

Cut holes for your legs and arms then decorate the box by painting to look like an oven. Use the old controls by gluing them on the box just like a microwave. Cut a window in front of the box and paint it like an oven door and cover the window with a clear wrapping paper. Wear the tan sweatshirt over the baby belly, and it will appear in the window looking like a bun in the oven.
Try out the above pregnant Halloween costume ideas, and I assure you that you will rock out from the rest. They are all class yet made from available materials.
"Hope you find the post helpful and we are excited to hear what you think of it!"