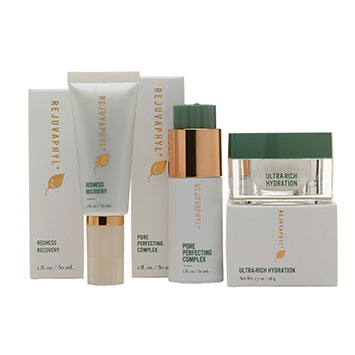 MDRejuvena Review
What is MDRejuvena?
MDRejuvena, now officially calling itself as "MDR Aesthetics," is a skincare line dedicated to provide hybrid solutions that put science and nature together in its advanced formulations. MDRejuvena Rejuvaphyl is its flagship line of products. This product line boasts of the patented Phytocromatic MD Complex which helps hold copper and sustain it in sufficient amounts in the skin to promote firm, tight and smooth skin. This complex is also loaded with antioxidants that support the appearance of re-energized skin with corrective functions delivered to improve the appearance of wrinkles and other signs of skin aging.
Overview
Who is MDRejuvena for?
MDRejuvena is recommended for use by adults of any skin type and age, particularly those looking to correct as well as prevent multiple signs of skin aging, including wrinkles.
How does MDRejuvena Work?
MDRejuvena products work by optimizing the nutrients derived from plant-based sources. Its Phytochromatic MD Complex combines the skin healing properties of chlorophyll and plant antioxidants, and the efficiency boosting properties of copper. These key nutrients are essential in helping skin recover faster and more effectively from damage that causes multiple signs of skin aging to appear.
INGREDIENTS
What are MDRejuvena Key Ingredients?
MDRejuvena Pore Perfecting Complex and other products under the MDRejuvena Rejuvaphyl product line typically consists of the following active ingredients:
Phytochromatic MD Complex: This patented complex is composed of copper combined with chlorophyll and plant-derived antioxidants. This ingredients supports faster skin rejuvenation and renewal.
Peptides: These amino acids promote faster skin cell regeneration and turnover. It improves the rate of skin repairs and significantly lessens the time it takes for damaged skin to recover.
Sodium Hyaluronate: This ingredient is similarly structured to the natural hyaluronic acid naturally produced by your skin. This is responsible for keeping your skin continuously well-hydrated and looking firmer, plumper, and fuller.
Green Tea Extract: It is loaded with antioxidants that defend your skin from cell-damaging free radicals. It also boosts your skin's resistance to external causes of damage and aging.
Allantoin: This ingredient helps replenish lost moisture by a significant volume. It also helps maintain your skin's ideal conditioning to prevent chronic dryness and damage
Aloe Vera: It works with your skin's natural mechanisms for repair. It also helps reinforce your skin's protective barrier to keep moisture in.

PROS
What are MDRejuvena Pros?
These products utilize active ingredients that are mostly nature-derived.
All products under the Rejuvaphy line contain copper, an essential mineral that powers up skin repair and damage recovery.
MDRejuvena is conveniently available online.
These products are packaged in opaque, airtight containers.
Different products are designed to cater to different skin issues and skin types.
CONS
What are MDRejuvena Cons?
These products appear to have a limited distribution network and is likely not available in many locations worldwide.
The ingredients list typically includes potentially skin-damaging and toxic ingredients that can hurt both your skin and your general health and well-being.
MDRejuvena reviews are rare and provide little information about how these products perform based on firsthand experience.
User reviews indicate that these products affect different users in different ways.
A typical ingredient list would show preservatives like phenoxyethanol, high up on the list which indicates that everything else listed after it are present in the formula in minute quantities.
What is the Price and Quantity of MDRejuvena?
MDRejuvena moisturizing and anti-aging creams typically cost $100, more or less.
Should you buy MDRejuvena?
MDRejuvena may be able to render several benefits for aging and mature skin. The potential side-effects of toxic and skin-damaging additives, however, cannot be ignored. You have to weight whether or not the benefits are worth the risks before you make a purchase decision about these products.
Does MDRejuvena come with a Guarantee?
There is no clear indication if MDRejuvena products are covered by guarantees.
Does MDRejuvena Have Any Side-Effects?
Phenoxyethanol is a neurotoxin that can affect your brain and nervous system in the long run. PEGs increase your risks for cancers. EDTA has been linked to reproductive health problems.
Where to buy MDRejuvena?
These products are available online via the official product website or, via major online reseller sites.
As we age the composition, texture and appearance of our skin changes. Signs of skin aging include wrinkles, fine lines, loss of moisture, uneven tone, and dull, tired-looking skin. There are countless anti-wrinkle creams on the market promising to make skin look and feel younger. Many anti-wrinkle creams promise everything short of a facelift or to provide the much sought after "fountain of youth". In reality most are just moisturizers marketed as anti-aging products.
Below you'll find some of our Best Anti-Wrinkle Cream formulations on the market today, in our opinion:
Our Best Anti Aging Creams
Product
Intensely Hydrates Skin & Improves Collagen
Effectively Guard Against DNA Damage
Reduces Inflammation & promotes Even Tone
100% Money Back Guarantee
Read Review

Stemuderm

(Editor's Choice)

Read Review

Lierac Paris Premium Cream

Read Review

Fit Firm Collagen

Read Review

HydroPeptide Nimni Cream

Read Review

TruSkin Naturals Vitamin C Serum

Read Review

Dermedica XR Renew and Repair

Read Review

Allegro Anti Aging Cream

Read Review

DermaSet Anti-Aging Cream

Read Review

Kremotex

Read Review
**This is a subjective assessment based on the strength of the available information and our estimation of efficacy.
*Result may vary. The information contained in this website is provided for general informational purposes only. No medical claims are implied in this content, and the information herein is not intended be used for self diagnosis or self treatment of any condition.
Disclosure of Material connection: Some of the links in the post above are "associate sales links." This means if you click on the link and purchase an item, we will receive commission. Regardless, we only recommend products or services which we use personally and/or believe will add value to our readers. We are disclosing this in accordance with the Federal Trade Commission's 16 CFR, Part 255: "Guides Concerning the Use of Endorsements and Testimonials."