What is the Meladerm?
Meladerm for Hyperpigmentation is marketed as an advanced brightening solution for those dealing with hyperpigmentation and discoloration. The manufacturer claims with continued use, age spots, old acne scars, and melasma will fade and turn into the even-toned skin.
In this Meladerm skin lightening, we will be going over every detail you'll need to know before you decide to purchase a new addition to your skincare routine. In this review we'll start off by going over the general description of the product above, then we'll move on the positives and negatives we've researched on this product. We'll then cover the remaining details about the brand, how to use the product, and what we personally think when it comes to whether or not you should purchase this product. Let's get started!
Special Offer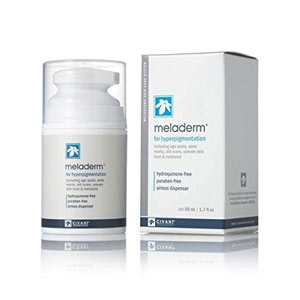 Meladerm Skin Lightening Cream
Meladerm for Hyperpigmentation is marketed as an advanced brightening solution for those dealing with hyperpigmentation and discoloration.
If you've ever experienced frustrating marks and discoloration on your skin, you're probably aware of how many brightening and lightening products there are on the market. Many of these brightening and corrective creams contain ingredients that are simply too irritating for sensitive skin.
Meladerm has created a treatment for hyperpigmentation that isn't just oil, fragrance, and paraben-free, it's also free of hydroquinone. Many people have a sensitivity to this particular ingredient, so it's nice to see a lightening product out there that opts for different brightening techniques.
This product is intended for all skin types and claims to reverse the look of discoloration caused by old scars, acne, and age spots. With continued use, your skin will look brighter and more even than ever before. But sad thing is that there are very less online reviews to support the product claims.
As suggested by the manufacturer for best results, apply Meladerm Skin Lightening Cream to cleansed skin up to two times per day, during your morning and evening skin care routines. Follow up with your preferred moisturizer and a broad spectrum SPF of at least 30 during the day.
Meladerm for Hyperpigmentation retails for $49.99 per 1.7 oz. of product on the Civant Skin Care website, which is the Meladerm manufacturer.
What Are the Meladerm Lightening Cream Ingredients?
Alpha Arbutin:
It is a known skin lightening ingredient.[1]
Tego Cosmo C:
This ingredient helps to improve the skin tone.[2]
Lactic Acid:
It helps to eliminate skin hyper-pigmentation to promote skin brightening. Although, it can lead to burning, itching, stinging, redness, or irritation may occur. If any of these effects persist or worsen, tell your doctor or pharmacist promptly.[3]
Lemon Juice Extracts:
Lemons are rich in vitamin C And citric acid, so they can help brighten and lighten your skin when used over time.[4]
How Does Meladerm Work?
Your skin color comes from a natural pigment called melanin. Melanin pigment is synthesized in specialized cytoplasmic organelles called melanosomes. Within the melanosome, the enzymatic conversion of the amino acid tyrosine to melanin is catalyzed by the enzyme tyrosinase.
The melanosomes in darker portions of the skin are more active than those found in other areas of the body. Overactive melanosomes can also cause visible hyperpigmentation on the skin such as age spots, melasma, and other types of discolorations.
Pros and Cons of Meladerm Skin Lightening Cream
The company claims that this treatment is intended for all skin types.
This product is hydroquinone-free.
This skincare treatment reverses the look of discoloration and other imperfections.
This product is a bit expensive for a spot treatment.
This treatment is not alcohol-free and is potentially irritating.
There appear to be very few customer reviews online on third party websites.
This product may leads to burning and redness of skin!
Also, lead to skin irritation!
FAQ's
How Long Does Meladerm Take to Work?
A: Initial results are usually seen within 2-4 weeks with full results after 2-3 months of regular use. If you don't see any results, you should contact the company for a full refund within 30 days.
How to Use Meladerm Skin Lightening Cream?
A: After washing and drying the skin, apply an even layer over the desired area twice daily. Massage thoroughly until the cream is absorbed completely. Apply once in the morning and once at night for best results. For topical use only and should not be ingested or used in the eyes or mouth.
Is Meladerm Vegan? Is There Any Animal Testing?
A: Yes, all Meladerm products are 100% vegan and cruelty-free. The company is also part of the PETA Beauty without Bunnies program.
Is This Product Recommended to Purchase?
A:
Meladerm for Hyperpigmentation claims that it can reverse the look of discoloration on the skin, without causing irritation. Although a naturally-derived brightening cream sounds great, we do have some concerns about this product that you should consider before purchasing.
This product may not contain many harmful, irritating chemicals, however, it is still not alcohol-free. Any effective brightening product is going to use exfoliating techniques, meaning the skin will be a bit more sensitive than usual. Adding alcohol into the mix may make your skin more sensitive and irritated, and may even cause discoloration to worsen.
We would recommend continuing your search for a safe, effective alternative to brightening and lightening trouble spots on your skin. There simply isn't enough research and information to back up this product's claims.
Is Meladerm safe?
A: Yes, Meladerm is safe for your skin. Unlike some skin-bleaching products, Meladerm does not include hydroquinone, mercury, steroids, or harsh chemicals.
Does It Come With A Guarantee?
A: Meladerm for Hyperpigmentation is available on its own manufacturer's website. The Civant Skincare site actually has quite a reasonable return policy. If for any reason you are not happy with your purchase, simply return it within 30 days for a full refund.
Final Thoughts
Meladerm is a skin-lightening cream created to smooth over and lighten an area of the body, establishing an even skin tone. It was formulated for use to improve: Scarring. Melasma. To reduce the appearance of hyperpigmentation, Meladerm® works by combining the well-documented properties of the most effective skin-brightening ingredients. But, It may take many months of regular and consistent usage before you see the full results for your skin.