MTV VMAs 2017: Best Red Carpet Looks From 2017 MTV Video Music Awards
The MTV Music Awards is indeed one of the biggest nights in the music industry, so it does not come as a surprise that many music celebs and other known personalities are all excited to dress up and flaunt their amazing looks. If you are wondering how the MTV VMAs 2017 has turned out, well, you will be happy to know that our favorite celebs certainly did not disappoint!
Here are some of the best VMA red carpet looks that everyone has been raving about:
1. Teyana Taylor
While everyone is in sexy dresses and formal gowns, Teyana went the other route by donning a white crop top and black palazzo pants to the VMA's. We are truly amazed at how confident she looks even though she is considered to be underdressed as compared to the other stars in the event. But her abs and amazing physique definitely made up for it! And oh, many people compared her outfit with the look Janet Jackson has during the 1995 VMA's.
2. Katy Perry
Many of you have expected to see Katy Perry on the list. After all, her past VMA looks are all eye catching and stunning in her own little crazy way. But this year, she is on the list because she pulled off a sophisticated and understated look that is considered to be a breath of fresh air from her other looks. Dressed in an all white Stephane Rollan gown, Katy's looks is both futuristic and elegant.
3. Mel B
As they say, fashion is all about self-expression, and Mel B certainly had the self-expression down pat in her VMA look. Dressed in a tight fitting fully sequined knee length spaghetti strap dress from Discount Universe by Court Justice, Mel looked every bit like a pop star. But what captures our attention the most are the words "written" all over her dress (in colorful sequins)—You Will Never Own Me. Way to go, girl!
4. Hailey Baldwin
Following the favorite dress style of the Kardashian-Jenner clan, Baldwin wore a see-through lacy metallic gray jumpsuit with a wide gray satin belt. She decided to go braless, but thankfully, she wore a panty underneath it. Her outfit was from Zuhair Murad Haute Couture Fall 2017 collection.
5. Yara Shahidi
Most stars have been put on the best-dressed list because of all the effort that they have invested in putting up their outfits, but Yara is on this list because of how effortlessly chic she looked! She donned a one-shouldered metallic mustard overlap dress from Zimmermann, and she looked super chic and poised. Not many women of her age can pull off such an elegant look! Kudos to you, young lady!
6. Alessandra Ambrosio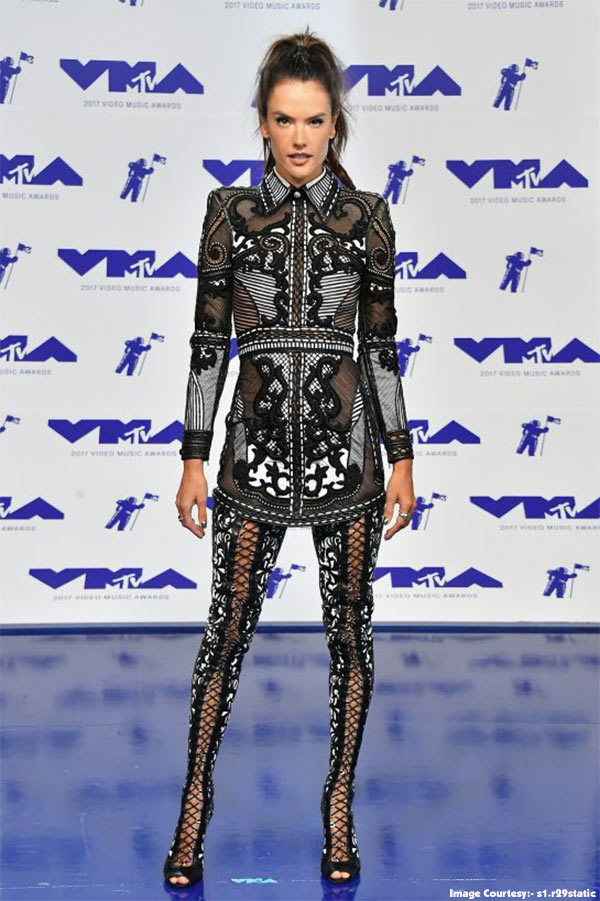 We are all used to romantic lacy dresses, but Alessandra had a different concept in mind with lace. The supermodel don on a black lace short dress and paired it with black lace leggings from Balmain. Who never thought lace could be this edgy?
7. Hailee Steinfeld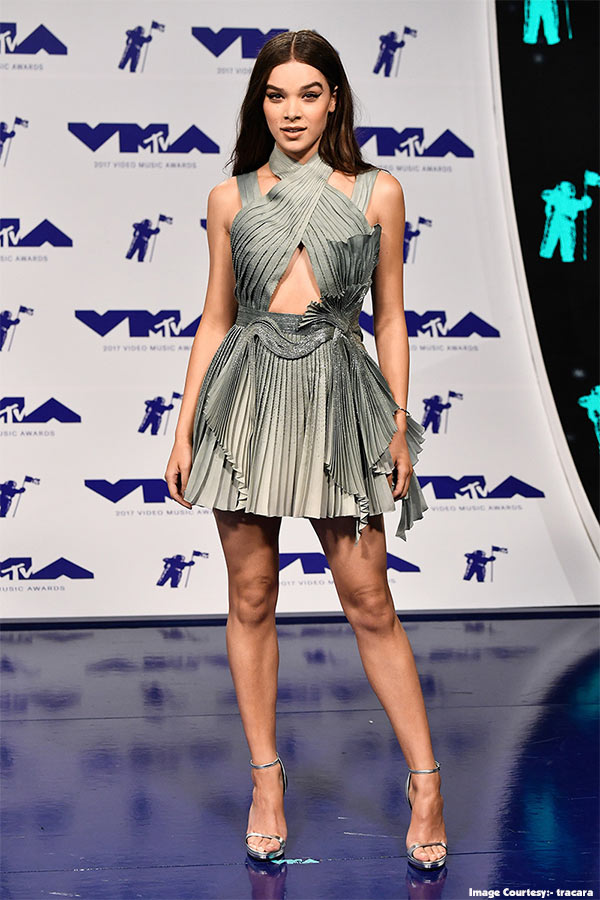 As they say, simplicity is beauty and Hailee definitely proved that when she stepped on the red carpet during the VMA's. She shied from the ultra glamorous maxi gown looks that are quite common during awards night and instead, opt for an understated yet totally eye catching pleated silver mini cut out dress. This dress from Atelier Versace is totally suitable for her age and made her slim physique to stand out!
8. Demi Lovato
We are constantly amazed at how Demi Lovato can wear the silliest things on the red carpet and still manage to pull it off! Take a look at her VMA outfit for instance. She brought back the "genie jeans" but in an elegant and eye-catching sort of way. The nude-illusion top balanced the bottom part of her Zuhair Murad jumpsuits, and she looked incredibly gorgeous!
9. Cardi B
Cardi B donned an all-white satin dress (or was it a jumpsuit?) with halter neckline and choker design from Christian Siriano, and she looked gorgeous. If you did not notice the resemblance, we are here to remind you—her outfit is inspired by Madonna's look. With the cone bra design, how can it not be obvious?
Related: CELEBRITY BABY NAMES: HERE IS A LIST OF UNIQUE CELEBRITY BABY NAMES
10. Millie Bobby Brown
Millie dressed her age, but she stood out with her black and white polka dotted tulle dress. We love how she paired it with lace up boots that added an edgy look and balanced the feminine frills of her dress.
The MTV VMAs 2017 is more than just a video music awards event—it is also the perfect time for the big names in the music industry to look their very best and flaunt what they got and oh boy, did they! Regardless if these celebs have gotten an MTV video music award or not, they are already a winner in their own right!
"Hope you find the post helpful and we are excited to hear what you think of it!"