It is the ultimate dream of every woman to have gorgeous looking and flawlessly polished nails. However, a visit to a nail salon can set you back a few hundred dollars so it can be quite difficult for you to pay the nail salon a visit frequently, right?
In addition to that, you cannot also deny the fact that getting your nails done in the salon can take a lot of time. Apart from the time you spent on the manicure and pedicure process itself, you also have to wait in line which can also take hours, especially if the nail salon that you are visiting is a popular one.
With that in mind, what's a busy lady with a tight budget like you got to do to achieve perfect looking nails in the most efficient and affordable manner? Simple! Do your own nails.
It's true that doing so can be quite tricky, but with a few nail designs tools, you can find it easy to create the perfect designs in no time. So, what manicure and pedicure tools do you need in your arsenal? Let us take a look at the nail art accessories below (along with a few tips on how to use them!).
1.Angled French Brush
If you adore the French manicure trend, this is the best nail tool that you can use. This nail tool is designed to help you create designs with crisp edges and corners. That's why this brush is also recommended for creating color blocking nail designs in addition to French tips.
When choosing an angled French brush, it is recommended that you opt for a small one, about ¼ to 1/8 inch long, so it will be easy for you to use. If you can't find this brush in beauty stores, head to the local arts supply store as they surely have one!
2.Fan Brush
Do you love those nail arts with the feathery effect? Those designs look so extremely hard to replicate, right? For sure, you think that such design can only be done by a professional, but that's so not true! In fact, you can do it at home using a fan brush.
To use this brush, just simply apply base coat on your nails. Let it dry for a few minutes. Dip the edges of the fan brush to the nail polish with the color of your choice and sweep it all over your nails in the lightest way possible.
Related: EVERY GIRL NEEDS TO KNOW THESE NAIL HACKS FOR THEIR PERFECT MANICURE
3.Rhinestones
Are you the type of person who likes all things glamorous and fabulous? Do you wish to always be the center of everyone's attention? If so, then this is the perfect nail art design for you. Rhinestones come in different shapes, sizes, and colors so you can choose those that will suit your personality. In addition to adding a touch of glam to your nail art, these stones are very easy to apply! You just simply need to attach this to the nails using glue, and you are good to go!
4.Sponges
If you like playing with textures and designs, then you need to have sponges in your nail art kit. These accessories can help you achieve various designs, ranging from splatter to fade effects. In addition to that, these are also the perfect tools for achieving ombre or color blending designs.
The design that you may create will vary depending on the texture, size, and design of the sponge. You can buy makeup wedges or sea sponges in various arts supply store. If you can't find one, you can just simply use the sponge in your kitchen!
5.Dotting Tool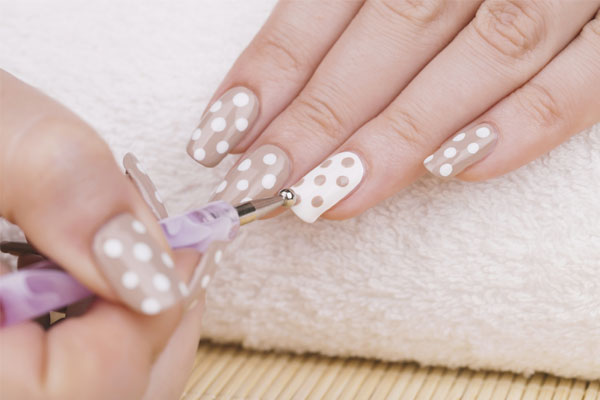 Nail designs like polka dots, eyes, flowers and geometrical patterns have become quite popular, and this does not come as a surprise since they are very charming and adorable to look at! But with just one look, you will surely be intimated by them. After all, how can you create the perfect round shape, right?
Well, that is when dotting tools come into play. You can just simply dip these tools in nail polish then stamp it to your nails and ta-da, you have the perfect circle! To make the most out of this tool, make sure to buy one with dual ends. If you are wondering what pattern to do, you can find many designs online!
6.Nail Art Pens
If you are a brilliant artist and you love to draw, then the best way to design your nails is to draw on them, and the nail art pen can help you do that! Nail art pens come in various colors and tips so you can draw just about anything that you can think of. Just make sure that the nail polish is already completely dry before you use the pen.
In addition to nail art pens, another drawing tool that you should not forget is the striping brush. You can use the traditional striping brush, or you can buy nail polish products that come with a long thin brush that allows you to easily create stripes!
7.Nail Scraper Or Stamper
If you are the lazy type, then nail stamping would be perfect for you. When doing nail stamping, you will need a few tools—design plate, stamper, nail polish, and scraper. Apply nail polish to the design plate. Using the scraper, remove excess nail polish from it. Afterwards, roll the rubber side of stamper across the design plate then stamp it across your nail. You will be amazed as to how easy and hassle-free the process can be! But bear in mind that it can get quite messy so prepare some tissues in advance!
Conclusion
Doing your own nails can be difficult at first, but with some practice and plenty of nail manicure tools, you can get the hang of painting your nails in no time! With these tools, you can create any design you want without having to wait in line or splurge hundreds of dollars just for a single nail appointment!
"We Hope you find the post helpful and we excited to hear what you think of it!"