Being Pregnant in Summers is Among the Best Things to Happen
Being Pregnant In Summers Is Among The Best Things To Happen
Pregnancy can be very hard but add the summer temperatures, and it becomes brutal. When you discover that you are pregnant in winter, you can't just imagine going through the pregnancy in summer. When you are an expectant mother, your body can get hot than usual because of the extra blood flow not to mention the additional pounds you are packing. However, there are simple ways to help you cool off besides turning on your air conditioner. Here are the best tips for surviving a summer pregnancy.
Reduce Your Sodium Intake

Women who've been pregnant in summers will tell you that it wasn't the best time of their lives. Besides the normal body temperatures, summer temperatures make pregnancy unbearable. It is normal to swell during pregnancy, and health practitioners recommend reducing salt intake to prevent swelling. However, you shouldn't eliminate salt completely since it contains iodine, which is vital to the health of the unborn baby. You may also want to remove your rings to reduce swelling between your fingers.
Stay Hydrated

To get through your summer pregnancy, make sure your body stays hydrated all the time. According to experts, for your body to have the right hydration you need to drink 8 cups of water about 64 ounces every day. Water helps keep your skin soft, flushes wastes from your system, and transports nutrition to your unborn baby. More importantly, being properly hydrated helps keep your body cool, decreases water retention, and helps fight constipation.
Invest In a Quality Swimsuit
You don't have to skip the pool or the beach just because you are a mom-to-be. Instead of squeezing into your regular bathing suit, invest in a quality maternity swimsuit that will ensure you feel confident about your current body. Swimming during the summer months can act to relief your body. Not only does swimming cool your body off, but floating helps relieve pressure especially on your joints.
Keep Cool
It might sound obvious but keeping cool particularly in the summer is more important for pregnant women. Studies show that pregnant women find staying comfortable in the summer challenging. When pregnant, you feel hotter than other non-pregnant people around you because you need to dissipate heat created from your growing baby. This adds to the discomfort that arises with being bigger than your usual size. Air conditioning can help you keep cool because it ensures the standard sweat evaporation mechanism of your body works more efficiently.
Related Article: STAGES OF PREGNANCY: A GUIDE FOR EACH MONTH
Keep Active
If you want to minimize the effects of the hot summer weather, you need to keep your weight gain in check. Although you are more likely to feel more heat because of your larger than usual size, if you manage to maintain your weight gain in check, you will probably feel a little more comfortable compared to when you completely let loose. Baths and swimming pools provide perfect ways to have fun and lose weight at the same time. Not only will a swimming pool cool you down, but it will give you some relief from the baby's weight as well. However, the summer isn't the time to overdo it. Consider exercising earlier in the day and always ensure you have your water bottle with you and allow a chance to cool down immediately you begin feeling some strain.
Watch Out For Warning Signs
Heat stroke is a major concern to you and your unborn baby. If the core temperature of your body gets too high, enzymes which serve as proteins for various body chemical reactions might fail to work. This can lead to severe problems in your body systems. According to experts, pregnant women have more heat to get rid of, and this increases the potential of swamping normal physiological responses. When pregnant during the summer, watch out for nausea, lethargy, headaches, and skin that feels dry and hot to the touch. In general, not feeling well can imply a significant heat stress to pregnant women, therefore, if you feel like you might be suffering from overheating, make sure you cool your body down. More importantly, if the signs persist, contact a doctor.
Get a Massage
Summers provide the best month to get pregnant, but you need to know how to keep yourself comfortable. You don't need to become pregnant in the summer to enjoy a great massage. Every expectant mother deserves at least one memorable prenatal massage. Getting a massage when pregnant helps your body recover from swelling. Additional, a good massage ensures you feel relaxed. A good massage therapist should have an air conditioned office. Ensure that your massage therapist is trained and is experienced in prenatal massage.
Related Article: CHECKLIST OF FOODS TO AVOID DURING PREGNANCY
Use Higher SPFs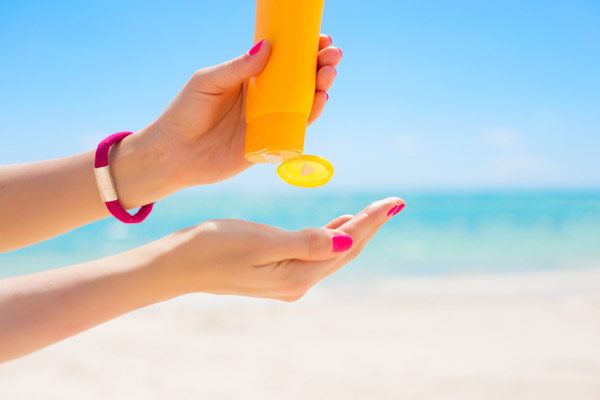 If you normally use SPF 15 sunscreens, consider switching to higher SPFs when pregnant. Summer sunlight can increase the production of melanin leading to the "mask of pregnancy." Reduce the production of melanin by protecting your skin from sunlight's rays.
Wear Proper Shoes
Summer provides the perfect time to walk around with flip flops or cute sandals. However, don't get too excited and forget to wear comfortable shoes. Ideally, consider wearing shoes that are larger than your normal size by almost a half. The shoes will offer sufficient support to your growing belly, and more importantly, they will ensure that your swollen feet don't get cut up.
Invest In Breathable Clothes
To get through your pregnancy in summer, you need to keep your maternity wardrobe lightweight, light-colored and made from breathable fabrics such as linen and cotton. This will help minimize sweat stains and prevent the occurrence of sweat rashes that might develop under the abdomen and breasts.
Conclusion
Spending time in an air conditioned house can get boring for expectant mamas. You may want to pay your local movie theater or local mall a visit to break the boredom. The two are full of cool air and provides a perfect opportunity to do some baby shopping. Try placing a damp, cool washcloth on your forehead or neck to reduce sweating and bring down your body temperature.
"Hope you find the post helpful and we excited to hear what you think of it!"