Sex Positions That Will Make Him Want You More And More
Do you wish to spice things up in the bedroom? Do you want to make your sex life more steamy, exciting and erotic? Lucky you, we have round up some of the most awesome sex positions that will certainly drive your man (and you!) crazy in the bedroom for hours and hours!
If you wish to remind him how lucky he is, here are some of the sex positions you must try. But be warned, these will leave him wanting more and more, and you may end up having multiple orgasms (is that even bad?!)! Don't blame me if he gets addicted to you! He will never come home late again with these neat tricks!
Related: VALENTINE'S DAY SEX IDEAS : GET YOUR SEX LIFE SIZZLING THIS V-DAY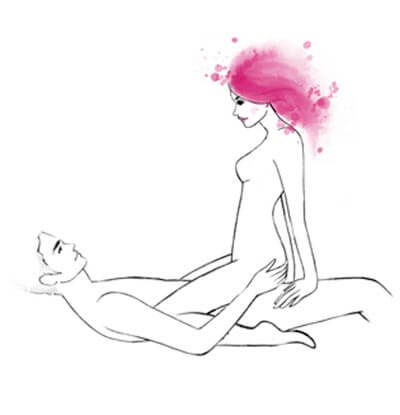 1
The Cowgirl
Every man wants his woman to be at the top, taking control in the driver seat and slave driving them. Take control and thrust until you can't feel your legs! This position leaves his hands free to fondle with your boobs and caress your skin. Your boobies will also be in plain sight which can stimulate your partner's vision!
Do not hesitate to make an erotic facial expression and show your man how much you enjoy your love-making session! Scream some yeeha if you dare!
2
Leapfrog
This position reveals the entirety of your behind giving a full view of your bums and vagina like the doggy style. This can be more comfortable for you as you will be assuming a more relaxed position.
Get down on your knees and have your hands extend in front of you with your chest almost touching the sheets. You can place a pillow on your head for more comfort. Give your partner a naughty side glance while he is thrusting inside you.
You can easily grab your clit while in this position for more stimulation. Make some noise. Be sure your partner knows you are touching yourself! This is a signal for him that you are having a great time!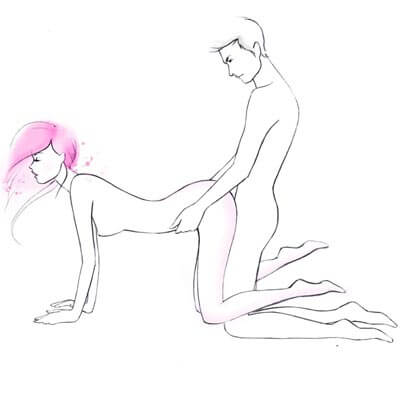 3
Doggy Style
If you want to satisfy your man's porn fantasies, go down on all four as he thrusts from behind. There is no special preparation or extreme flexibility required! This position also makes you vulnerable to accept the entirety of his package!
Don't forget that naughty side glance as he works his way inside you. Have him grab your hair if that pleases him! Grab his hands and place it in your boobs for more stimulation! I bet he would enjoy fondling your boobs too!
4
Reverse Cowgirl
This position gives your guy the best of two positions-cowgirl and doggy style. You will be at the top this time, you will be turning your back to your man. This gives you the same control while giving your man the sexy view that he sees during doggy style.
Remember that you are in control. Don't hesitate to be naughty. Experiment on the speed of your thrusts. Give him a little tease. Alternate from slow and quick thrusts. See what makes him crazy! Oh, and by the way, don't forget to grab on to the nuts! Gently caress his balls as you make love! This will add to the turn on!
5
Lap Dance
Who can say no to a lap dance? Making love does not have to be exclusively on the bed! Props can always make things interesting! Get a chair and let him take the seat. Play some music and do some erotic dance moves. Heck, if you are in the mood, have some booty glitter and spin some circles! It would only be fitting to throw some sexy dance moves before you mount your man!
Carefully sit on top of him and give a cute side glance as you straddle him. This will put you in control, and at the same time, this position also helps him to last longer too. The bonus? This allows you to kiss and make out as you enjoy him inside you! And one more thing, the eye contact make things more intimate, won't you agree?
6
Flat Iron
Just like the doggy style, your man will be entering from behind. You will have to lay flat on your stomach for this position. Have a pillow on your hips for easier access and a little more comfort for you. You would not be making much movement here, but he will be able to penetrate you deeply.
Let him take control! He can grab on to your hands in this position for more control. It may be a little uncomfortable, but, what's a little discomfort to an orgasmic intercourse?
Just moan and enjoy the session! Give some erotic glance while he is behind you. If you have been practicing your Kegel, this is the best time to do it!
7
Butterfly
If lying on bed gets boring, you can have sex on the table (Wait, did I just say table?)! Or, you can do butterfly position on the edge of the bed. This requires your partner to be in a standing position!
Lie back at the edge of the bed or table while he stands. Place a pillow on your back to raise your pelvis for easier entry. Your legs will be over his shoulders, and his hands will be at your bottom to lift you up. This allows for great penetration and tilting.
Related: CLEAR VAGINAL DISCHARGE: WHY, WHAT & HOW TO TREAT (SCIENTIFIC REASONS)
You can also do a different variation of the butterfly. Have your partner hold your ankles and open your legs wide. This exposes your everything for you partner to see! Support your back with your hands and give it a little lift if needed. Look your man in the eye and show him how much you enjoy making love with him!
These sex positions are not just for your man. Aside from making your partner addicted to you, I know pretty well that you will enjoy this too! Don't forget the naught side glance! If you are into it, you can do some dirty talking too! This will blow your man's mind!
Read More About Sexual Health & Puberty @ Gorgeous Girl