What Is Sukin Revitalising Facial Scrub?
Sukin Revitalising Facial Scrub is marketed as a gentle exfoliator which can lightly and effectively exfoliate the skin. It can also remove dirt and grime on the skin while soothing and hydrating the skin at the same time. It claims to leave your skin soft, smooth and supple.
In this review, we will be going over every detail you'll need to know before you decide to purchase a new addition to your skincare routine. We'll start off by going over the general description of the product above, then we'll move on the positives and negatives we've researched on this product. We'll then cover the remaining details about the brand, how to use the product, and what we personally think when it comes to whether or not you should purchase this product. Let's get started!
Special Offer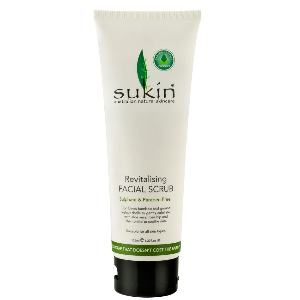 Sukin Revitalising Facial Scrub
Sukin Australian Natural Skin Care is a skin care brand that is based in Australia, and they take pride in delivering vegan-friendly, cruelty-free, carbon neutral and gray water safe skin care products in recyclable packaging.
The skin care brand was established in 2007, and their aim is to provide highly effective and environmentally sustainable skin care at an affordable price. However, no substantial evidence is available to prove it is effective.
For best results, moisten your face and neck with water and use your fingertips to apply a small amount of the product to the skin. Massage the product into the skin in circular motions. Rinse your face with warm water and pat it dry. Avoid contact with eye area when applying the product.
Sukin Revitalising Facial Scrub is sold as a 4.0 oz (125ml) tube at a price range of $9 to $10.95. You can buy it from the official Sukin Australian Natural Skin Care website and other third party retailer sites.
Sukin Revitalising Facial Scrub Ingredients
Bamboo Extract and Walnut Shells
Both of these ingredients are incorporated into the scrub as small and gentle particles and are used to lightly exfoliate the skin and remove unwanted impurities and dirt from the skin.
Aloe Vera and Chamomile
Both of these extracts are known for their soothing and calming properties, and they are used in the formulation to heal the skin, address redness and prevent possible irritation caused by the gentle exfoliation of the skin. Though it may also cause rashes on the skin & itchy skin.
Sesame, Rosehip, and Jojoba oil
These oils aid in delivering hydration to the skin. They are the ones responsible for keeping skin supple, soft and moist.
Pros and Cons of Sukin Revitalising Facial Scrub
The facial scrub is a gentle exfoliator. However, according to customer reviews, it isn't very effective.
The product is suitable for all skin types.
The scrub is free of fragrance and parabens.
The scrub contains alcohol.
Users claim that the product tends to make skin dry.
Users also claim that the scrub leaves an oily feeling on the skin.
You May Like This – Neutrogena Blackhead Eliminating Scrub
FAQ's
Recommending To Purchase?
A: Natural and organic is always good, right? When you read the overview of this brand, it seems like their products are made of all things good.
However, its ingredients list and the reviews say otherwise. Some reviewers claim that the scrub dries the skin instead of hydrating it and it does not come as a surprise since the product contains two types of alcohol which can be drying to the skin. In addition to that, it contains walnut which is a wonderful exfoliant.
However, it is not recommended for people allergic to nuts.
We highly advise that you look for a scrub that can do its job without harming the skin.
Guarantee
A:
Sukin does not accept returns for a refund just because you just simply changed your mind about your Sukin Revitalising Facial Scrub purchase. They will only accept returns if the product has been damaged during transport or if you have received the wrong products.