2017 Teen Choice Awards Looks: The Top 11 Best Red Carpet Looks.
The 2017 Teen Choice Awards have come to pass, and it is now the perfect time for us to mull over not the awards or the performances, but of course, the looks– the teen choice awards looks that we look forward to see each and every year.
The recently concluded Teen Choice Awards never disappoints when it comes to the fashion style on the red carpet. The Teen Choice Awards nominees 2017 have indeed brought their A game to the red carpet, but of course, not everyone can get an A when it comes to their red carpet style.
And today, we will be placing our spotlight on the best teen choice awards looks. Are you excited to know the top 11 best red carpet looks of the night? We can't wait too so let's get started!
1. Zendaya
We can label Zendaya's TCA look as "I woke up like this" and she is the most gorgeous looking lazy dresses in all of the awards night. Zendaya looked extremely chic and effortless with her matching top and pants from Ashish that resembles men's pajamas. She paired it with a dazzling gold stiletto for a more stylish look.
2. Vanessa Hudgens
Hudgens is one of the nominees, and it looks like she is dressed for victory and ready to accept her award anytime. The young start was dressed from head to toe with metallic and glimmer pieces in a feminine rose gold or lavender shade. We totally love her eye-catching pants from Reem Acra!
3. Lucy Hale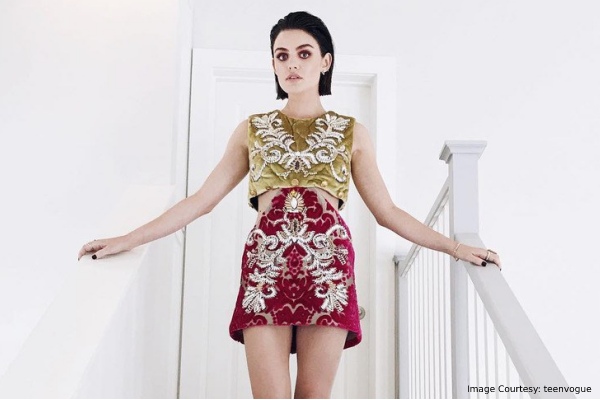 And of course, Lucy isn't the type to get left behind especially when it comes to fashion! This young lady sported a modern dress with a classic design. We love how chic the cutout is along with the bright contrasting colors of the dress. What's sets the dress apart is its unique fabric and design that we just can't take our eyes off!
Related: INSTAGRAM STAR JEN SELTER FITNESS ROUTINE IS ALL YOU NEED FOR HOT BUTT
4. Peyton List
Wearing red on the red carpet might seem a bit taboo, but Peyton List managed to pull off wearing all red on the carpet! We just adore how simple yet appealing this look is. The loose red pants scream retro while her sexy top gives the entire outfit an updated look.
5. Colleen Ballinger
If you think that the old time favorites like the little black dress no longer has a place on the red carpet, think again! Colleen Ballinger just proved that the little black dress would never go out of style so long as you will be pairing it with the right accessories and look!
6. Nia Sioux
Denim is all the rage nowadays, and we all thank Nia for bringing this street style trend on to the red carpet! Donning a chic and sexy intricately designed denim dress from Andrew Gn, Nia taught us all how to make denim red carpet-worthy.
7. Rita Ora
Rita gave every teenager the look that they want—hot pink from head to toe! Her 90's style power suit (complete with an overlapping design, low neckline, and high slit) is the perfect outfit to remind the teens how to dress sexy yet elegantly.
8. Paris Jackson
Paris will soon to be the fashion "It" girl, and she showed us why with her Teen Choice awards look. This stylish model and actress went ultra feminine with her floral layered midi dress number from Zimmermann. But what's amazing is she was able to balance out the look with her messy updo, leg tattoo, and smoky eye makeup.
9. Melissa Benoist
Deciding to be more on the edgy side, Melissa don an all-black leather look. What kept the outfit from looking too over-the-top is the sexy one-shoulder midriff cut and thigh high slits. We loved how she also kept her accessories to a minimum but still manage to turn a few heads!
10. Lili Reinhart
Lili gave us all the right blend of sexy and classy in this lacy attire. We love how sexy she looked with her tightfitting leotards on but we are even more amazed as to how she made it look elegant by wearing it underneath her red lace frock.
Related: FAMOUS CELEBRITY LOVE STORIES: THIS IS HOW THEY MET.
11. Yara Shahidi
This young start has truly perfected the athleisure look. Her sparkly black top from Libertine and stylish bomber jacket with red track pants from Fear of God is the dream outfit of any teenager who wants to look cool and trendy.
Not everyone can be teen choice awards winners (unfortunately), but you can be a winner in your own right if you have been named as one of the best teen choice awards looks. Congratulations to the award winners but more importantly, thumbs up to all the best looks of the night! You guys deserve to walk down that red carpet indeed!
"Hope you find the post helpful and we are excited to hear what you think of it!"