5 Quick Tips To Feel Sexy All The Time
Do you feel sexy? Are you confident with how you look? Well, you should be! According to studies, people who feel sexy and confident about their bodies enjoy more satisfying sex lives. As if we need studies to tell us that, right?
While the sexual health benefits of being confident are pretty common sense, many people still overlook the fact that feeling less sexy and confident about your body can be a total downer. With that in mind, we recommend that you boost your ego a bit with some of these quick tips on how to feel sexy in an instant:
1
Improve the lighting.
Did you know that the lighting of the room has an effect on how sexy you feel? If you wish to feel your sexiest, we recommend that you opt for a softer light as it is the most flattering of all. Its soft glow will surely have you feeling smoking hot in no time! If you have no dimmer switch in your room, you can try lighting up a few scented candles instead.
2
Invest in sexy lingerie.
Maybe you already have plenty of cute bras and panties stashed in your drawer. But wearing sexy lingerie that you wouldn't usually wear will have you feeling like you are playing the role of a seductress and it will be easy for you to get into character. After all, you are what you wear! Keep in mind that you do not have to buy a thong—just wear something that is a bit more risqué than what you usually wear.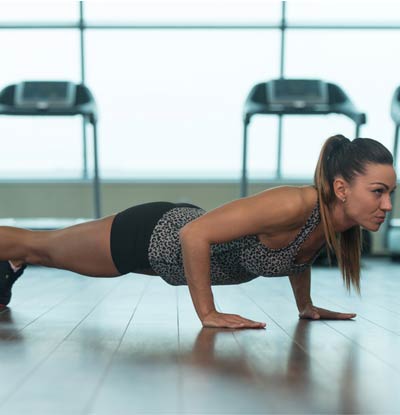 3
Try to squeeze in a workout session.
Planning an amazing night with your man but you are feeling a little blah? Try to do a few push-ups, squats, and planks and rest assured; you will have more defined muscles. But more than that, the release of your happy hormones, endorphins, will be stimulated so you will surely feel a lot better about yourself and you will be in a far better mood to experiment with new moves and positions in the bedroom.
4
Listen to music.
Do you have a sexy song? You know, that song that makes you feel a little sensual and wild? If you don't have one, we suggest that you look for one! Whenever you feel a bit down, just play this song and will drown out your nerves. Plus, it will create a vibe that will make you lose your inhibitions and make you go wild in bed.
5
Spritz on your special scent.
Do you have a special perfume—one you would wear only on special occasions like weddings, anniversaries and date nights? Before a big night with your partner, spritz a few sprays on your neck and pulse and you will feel that instant boost in confidence that will get you ready for your long awaited steamy session.
Feeling sexy about yourself is important for your sexual health. So put these tips into practice and unleash your inner bombshell. Your partner will love it for sure!