Tungsten Carbide Rings: All You Need To Know Before Buying One
The wedding ring goes to the left ring figure because that is the only figure that has veins going directly to the heart. Interesting right? Well, with a wedding ring you will be giving out your heart to the love of your life, and from that moment, you will not walk alone all the days of your love. A ring is just a sign of commitment. In marriage, there are no manners to keep up and no real criticism. If I a real man gets two shots for jewelry which is between a wedding ring and a watch, the man would choose to wear a wedding ring. Wedding rings are a symbol to the world that you are already taken. But, what kind of wedding ring do you wear? After having everything right, you would don't want to be wrong when it comes to choosing a wedding ring. Choosing a wedding ring should be guided with your style sensibilities and tastes. Your wedding ring is something that you would like to wear for the rest of your life, so when choosing one, consider going for something that is more unique. Ever heard of Tungsten Carbide wedding rings? Well, Tungsten Carbide rings are one of the most popular and most sought after wedding rings today. The tungsten carbide wedding rings are the best because of their benefits. Let's get down to what you should know first before heading to the jewelry store to buy them.
1. What Type Of Metal Is Tungsten Carbide?
Tungsten Carbide is a Chemical compound that has Tungsten and Carbon atoms at an equal measure. While in its basic form this compound is a grey powder that is very fine. However, it can be pressed and formed into shapes for use in Abrasives, cutting tools, industrial machinery and above all Jewelry. Among the Jewelry made of the compound are the Tungsten Carbide Rings. Tungsten being a chemical element is also known as Wolfram and has very amazing properties. Out of all other metals, Tungsten has the highest melting point and the highest tensile strength. This is extremely rare and highly durable. So you can imagine how the tungsten carbide rings are of high quality.
2. Can You Engrave a Tungsten Carbide Ring?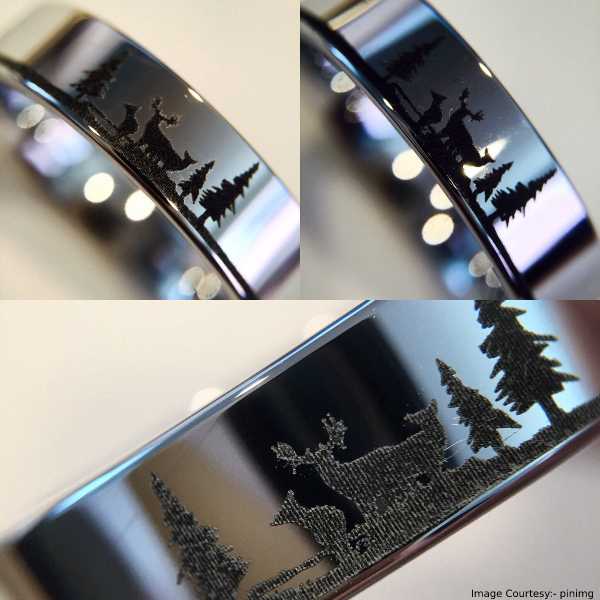 Tungsten Carbide wedding rings can be engraved. One can make customized engraved rings to the words you would like to appear in the ring. The engravings of tungsten are done in different methods, not like the older ones. When engraving Tungsten wedding rings, there may be a difficulty and accurate etching. This is caused by the hardness of the Tungsten material.
3. Do Tungsten Carbide Rings Turn Your Finger Green?
First, Tungsten rings are made out of two ways. Tungsten carbide rings that are made of cobalt will turn your figure green. Cobalt material is cheap and will oxidize with the wear at the skin and air after some time. This will tarnish and turn your finger green. However, there is another type of the ring made with Nickel. This will not turn your figure into green. Nickel is more expensive and will last longer. So, when purchasing a Tungsten ring, go for the one made with Nickel because it won't turn your figure green.
Related:- IF YOU WANT TO DRESS UP YOUR OUTFIT KNOW WHAT JEWELRY YOU SHOULD WEAR
4. Tungsten Carbide Rings Pros And Cons With Facts And Myths
Pros

Tungsten Carbide is the most scratch resistant metal known on earth. You can try to file it, but it will stay polished as ever.
Tungsten rings will never bend like gold or other soft metals. You can hammer it but `it will still retain its shape.
Tungsten is heavier than most of the metals because of its density. It is similar to the weight of platinum.
Tungsten rings are hypoallergenic. In case you have any allergies, you don't have to be worried when it comes to Tungsten Carbide rings.
The hardest Tungsten Carbide is harder than the titanium alloys and cannot be easily damaged unless under extreme circumstances.
Tungsten rings are affordable compared to the white gold rings.
Cons
Among the Tungsten ring problem is that the ring cannot be sized, if your finger grows, you have no option other than exchanging it.
Tungsten rings can fracture or shatter if excess force is applied to them (this makes it easy to remove them during emergencies.)
Nickel allergies can be caused by the Tungsten rings.
Myths And Facts
One of the myths is that Tungsten rings cannot be removed during an emergency. The fact is that this ring can be and is the easiest ring to be removed in case of an emergency.
The next Myth is that Tungsten rings are indestructible. Well, this is not true. The ring will break if enough force is applied to it. It is just like a diamond.
Another myth that there are pure tungsten rings. Well, that is not possible. This is because Tungsten Carbide is powder and will need a binder like nickel to hold it together.
If you are in need of tungsten wedding rings, I can suggest the following rings from Amazon;
a. White Tungsten Carbide 8mm Polished Classic Wedding ring- This ring is highly polished with a mirror finishing that gives it a clean look. It is strong yet supper comfortable since it features a comfort fit technology.
Buy @ Amazon.com
b. 4mm Women's Tungsten wedding ring brushed men's wedding band engagement ring- This ring is the best substitute for white gold and platinum. This is the perfect wedding ring that is scratch proof.
Buy @ Amazon.com
c. 4mm Tungsten Carbide Ring for Women Black Gold Plated Wedding Band- The band will convey happiness and joy to you and your partner. It is made of a comfort fit design, and it is smooth and scratch resistant.
Buy @ Amazon.com
d. Tungsten Carbide Rings Wedding Engagement Band Rings with Koa Wood Inlay for Women and Men Comfort Fit- The ring looks great. The Koa wood design makes it classy. It is slim enough, and one can wear gloves with no problem.
Buy @ Amazon.com
e. Tungsten Carbide Wedding Band Ring Men Women Domed Round Brushed Comfort Fit 6mm-the ring is of silver color and has a brushed satin effect. The rings are very comfortable and durable as well as scratch resistant and have color retention.
Buy @ Amazon.com
Finally, if you want a wedding ring that will be passed from generation to generation, then consider getting the Tungsten Carbide wedding rings. The ring has all qualities that proof it can last for long and remain as new as when bought.
"Hope you find the post helpful and we are excited to hear what you think of it!"