Awesome TV Couples, That We Wish They Were Real Life Couples Too!
Some love teams are incredibly terrible but there are some TV couples with an undeniable chemistry that they made us believe in love. While some of these couples fell in love with each other eventually, there are still some who never got together off-set. Here are some of the TV couples that are awesome enough we wish they were together in real-life!
1
Matthew Perry and Courteney Cox
We have seen them play the role of the lovestruck couple Chandler and Monica in FRIENDS. And we can't help but feel giddy watching them fall in love with each other, get married and have twins. Sadly, these two are just friends off-screen.
2
John Krasinski and Jenna Fischer
We have fallen in love with the chemistry between the lovebirds, Pam and Jim, in The Office. These two look so cute together that the thought of them not being together in real life still breaks our hearts even if it was already a couple of years since we last saw them on-screen.
3
Adam Brody & Rachel Bilson
These two played the role of Seth & Summer in The OC. At first, they had the whole love and hate thing going on which made their love story a lot cuter and to die for!
4
Tony Goldwyn and Kerry Washington
If you are watching the series Scandal, you are a fan of Team Olitz (Olivia Pope and President Fitz Grant). Their love story might be plagued with politics but you cannot deny the fact that you got devastated when you found out that Kerry Washington is getting married and not to Tony!
5
David Schwimmer and Jennifer Aniston
FRIENDS's Ross and Rachel had a legendary love story. Their relationship spanned 10 series and featured some of the most romantic moments in TV history. After watching them for years, we badly wanted to make this love team come to life!
6
Jason Segel and Alyson Hannigan
How I Met Your Mother's Marshall and Lily is the cutest, most adorable couple in the history of TV. But sadly, Alyson is happily married for over a decade now and Jason is still looking for true love.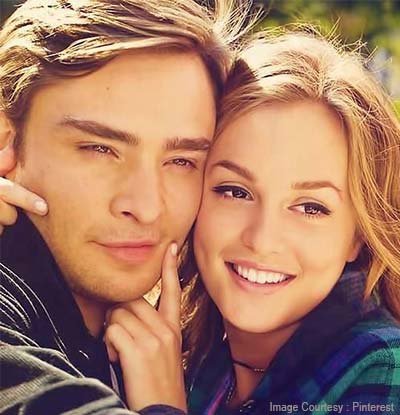 7
Ed Westwick and Leighton Meester
He is Chuck Bass and she is Blair Waldorf. Need we say more?
8
Jim Parson and Mayim Bialik
The Big Bang Theory's Amy and Sheldon are the perfect nerdy couple. Let's hope these two nerds will finally come to their senses and realize they are also ideal for each other off-screen!
9
Jake Johnson and Zooey Deschanel
New Girl's Nick and Jess, are considered by many as the new Rachel and Ross. They have finally admitted that they are into each other in the series and we are hoping they would also get to that point in real life!
These couples share amazing chemistry on-screen that we couldn't help but wish they would end up together in real life!