TV Shows In 2018: List Of All Best Series To Watch This Year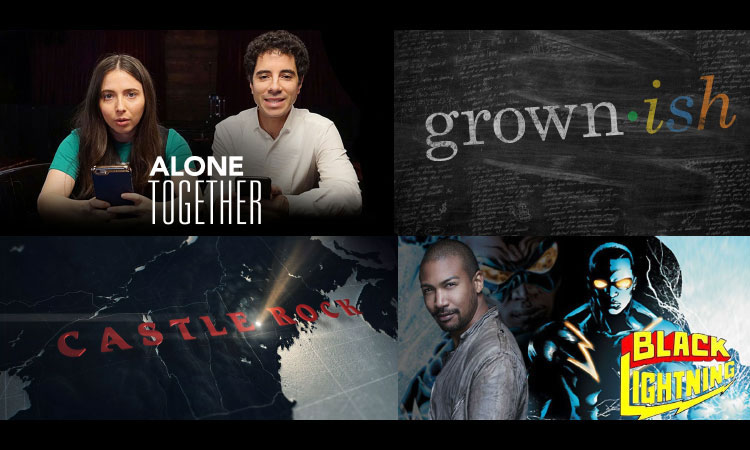 New year means new things to come on your television! Bet that got you excited, since there surely are tons of new TV shows in 2018 to watch out for. This year, there will be a few returning TV shows. Who knows maybe your favorite show will make a comeback to the boob tube? Or maybe, it is time for you to fall in love with an all-new TV show.
Surely, you will benefit from knowing what the new TV shows in 2018 are going to be.
Let's begin by discussing what is the most exciting new series that will be coming your way this year, along with its TV shows 2018 premiere dates.
All New TV Series 2018:
1. Castle Rock (February 17, Hulu)

From the book by Stephen King, this straight-to-series intertwines characters and themes from the mysterious town of Castle Rock. It is a psychological-slash-horror anthology, and it stars Sissy Spaces, Jane Levy, and Bill Skarsgard. The series will make use of mythological scale and informal character storytelling of the writer's works with a mix of light and darkness. The series will take place on the creepy yet interesting Maine woodland.
2. Black Lightning (January 16, The CW)

This new American television series is based on the main character created by DC comics. Some of the stars include Cress Williams as the main character with China Anne McClain, Marvin "Krondon" Jones III, Nafessa Williams, Damon Gupton, James Remar, and Christine Adams. The premise of the story is the life of Jefferson Pierce also known as Black Lightning and his struggle with returning to the hero life while balancing family life. After all, he quitted on the superhero persona nine years before noticing how it affected his family. Fox was previously offered the pitch for the series but decided to pass on it.
3. Grown-ish (January 3, Freeform)

This TV show is a new sitcom series. It stars Yara Shahidi as the titular character. The series is shot by a single camera, and it follows the eldest daughter Zoey from the series Black-ish ash she goes to college. The show will feature Zoey's struggle in her journey to become an adult. The story will mainly revolve around instances which will make her realize that not everything will go her way when she leaves her home. Producers, Principato-Young Entertainment, Cinema Gypsy Productions, Wilmore Films, and Khalabo Ink Society, are behind this series. The main creator, Kenya Barris, also works as an executive producer of the show.
Related: 10 Best Tv Series Of All Time
4. You (2018, Lifetime)

One of the TV shows in 2018 that is based on a best-selling novel. The book is written by Caroline Kepnes. The series revolves around the story of an obsessive young man (Penn Badgley) who uses today's technology to make the woman she is in love with him reciprocate his feelings.
5. Good Girls (February 26, NBC)

One of the new TV shows in 2018, produced by Jenna Bans, is this series where three moms try their hardest to make their lives better. They resorted to robbing the local supermarket by using a toy gun. Described as Thelma and Louise meet Breaking bad, it stars Retta, Mae Whitman, and Christina Hendricks.
6. Alone Together (January 10, Freeform)

From the known creators of The Lonely Island (Andy Samberg, Akiva Schaffer, Jorma Taccone), this new comedy is about two Millennials who tried to work hard to get by in such a self-obsessed city like Los Angeles. This show is one of the most time- relevant TV shows in 2018.
Related: Flashback! 10 Best Tv Shows From The 90s
Returning TV Shows In 2018:
7. Black-Ish (January 3, Freeform)

One of the most recognized American TV shows since its premiere in 2014. This sitcom is about an upper-middle-class African American Family. The show garnered many critical acclaims and nominations. Ellis Ross, The show got the Emmy and Golden Globe nominations for Outstanding Comedy Series. It also received a TCA Award for Outstanding Achievement in Comedy while Tracee Ellis Ross garnered the Golden Globe Award for Best Actress.
8. American Crime Story: The Assassination of Gianni Versace (January 17, BBC America)

The second of the series and with a different story. This series will revolve around the murder of Gianni Versace on the hands of a serial killer. With an all-star cast comprising of Penélope Cruz, Ricky Martin, and Édgar Ramírez the series will surely be a hit. Ryan Murphy is a co-creator and producer of the story.
9. Lip Sync Battle (January 18, Paramount Network)

This fun musical competition will premier on a Thursday, January 18 to commemorate the rebranding of Spike TV to Paramount Network. LL Cool J remains to be the host, along with different guest star hosts. The success of the show was already apparent on its season 2 premiere back in 2016, which should not come as a total surprise. The episodes are always exciting and fun to watch. Imagine your favorite stars dancing and singing unexpected songs! An all-out performance.
Related:Game Of Thrones: Lady Olenna Tyrell Is The True Queen Of Got!
10.Being Mary Jane (September 19, BET)
The final season is included in the list of new shows 2018 fall premiere. The series is quite highly-rated. Gabrielle Union stars as the main character, the successful TV news anchor Mary Jane Paul. The finale promises a full two hours where all the loose ends will be addressed.
11.The Americans (2018, FX)

Included in the list of new TV shows summer 2018 premiere is the last season of the Americans. The show is about two KGB officers who are posing as a married couple in the suburbs of Washington DC. Family matters are more discussed in the storyline, rather than spy stuff. It stars Keri Russell and Matthew Rhys as the lead characters.
Not every new or returning series is included in this TV shows 2018 list, but these are some of the ones that have garnered some attention. And if you do not want to miss out on social media, make sure to watch these TV series because they will be invading your friend's wall this year for sure!
"Hope you find the post helpful and we are excited to hear what you think of it!"