Bridal Skin Care
Want to achieve that coveted bridal glow on your big day? To achieve this, it is a must that you establish the perfect wedding skin care routine a few months before your big day but sometimes, it can be a bit tricky. To help you with that, here are a few bridal skin care routine tips to keep in mind:
1
Look healthy by going to the gym regularly.
Do not fall into crash dieting and aggressive workouts 1 to 2 months before the big day as doing so can make you look tired and stressed out. To achieve a toned figure and a glowing skin, consult with a dietitian and a personal trainer at least 4 months before the wedding.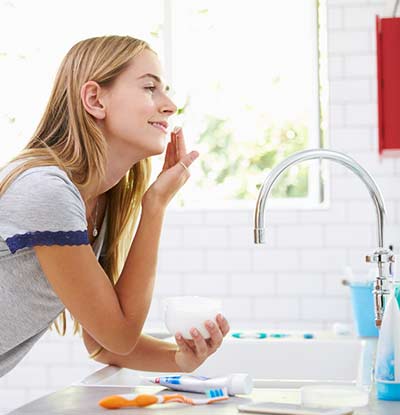 2
Start early.
If you wish to get your skin in tip-top shape during the wedding, you need to establish a great skin care routine as soon as possible, about a year in advance.
3
Achieve perfect nails with regular manicures.
Once you have announced your engagement, everyone would love to see the ring. That is why it is important that you keep your nails and hand looking pretty at all times. This is also the perfect chance for you to experiment with colors so you can determine the perfect shade for your day.
4
Take care of your pearly whites.
To achieve that radiant smile, you need to whiten your teeth. You can opt for a special whitening toothpaste or whitening strips. But if you have money to splurge, you can have your teeth professionally whitened. If you will opt for the latter, do it six months before the wedding.
5
Eat healthy for a well-hydrated skin.
No matter what your skin type is, it needs water. Aside from drinking water, it is also advised that you snack on hydrating foods like fruits and veggies including tomatoes, kale, grapefruit, cucumber and watermelon.
6
Make pores look smaller with microdermabrasion.
It is impossible for you to reduce the size of your pores but you can reduce its depth to make it look smaller. This can be done by undergoing microdermabrasion or chemical peels that can remove bad layers of skin.
7
Achieve natural glow with a self-tanner.
Sun-kissed skin can be achieved by getting a spray tan few days before the wedding. Avoid tanning beds as these will give you a fake looking glow.
8
Get rid of dead skin cells on the lips with a wet washcloth.
Gently rub wet washcloth over the lips in a circular motion and apply Vaseline or lip balm afterwards.
9
Soften your elbows with salt scrubs.
Add bath salts, water soluble crushed minerals, to the water and use it for bathing and scrubbing elbows. You can also try asking your aestheticians to apply glycolic peel to your elbows during your session.
10
Achieve healthy glow with monthly facials.
During these sessions, the esthetician will massage, clean and extract blemishes from your skin. When done monthly, your skin will look healthy, more radiant and fresh.
Follow the bridal skin care routine tips that we have mentioned above and you will definitely be one blushing bride on your big day!