Are you using the right hair brush for your hair type? When it comes to beauty supplies, we pay the least attention to the kind of hair brush that we use. But did you know that using the right type of hair brush can make a big difference in the health of your hair?
To help you find the suitable hair brush / comb, we have provided some of the information you need below. Keep scrolling if you want to find your perfect match!
1
For All Hair : Natural Bristle Brush
The natural boar bristle is gentle on the hair and helps to distribute the sebum throughout the hair strands, moisturizing and giving the hair that glossy finish.
2
For Normal To Thick Hair: Mixed Bristle Brush
Thanks to their extended length, the nylon bristles can detangle strands while the boar bristles help to distribute the natural oils in your hair.
3
For Straight Hair: Paddle Brush
This brush has an air-filled rubber cushion which will bend when it touches the scalp, minimizing the damage that comes from pulling. The wide bristles also help to cover a good amount of surface area, which is perfect when detangling strands.
4
For Curly Hair: Wooden-Bristle Brush
Yes, curly hair can also be brushed easily, but you have to use the right type of brush to style it well. To keep your curls in tip-top shape, it is recommended that you opt for a brush with evenly spaced wooden pins. The wooden bristles are gentle on dry and brittle hair and will keep curls intact.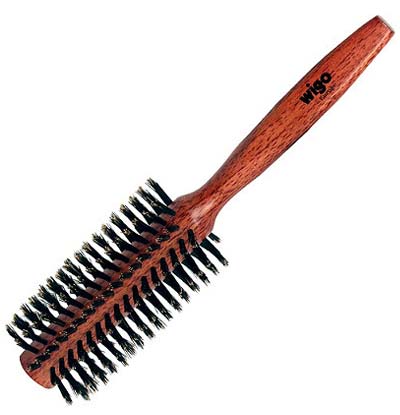 5
For Very Short Hair And Bangs: Small And Round Boar Bristle Brush
Boar bristles are great for catching every hair strand, no matter how short it is. It is also perfect for smoothing or adding volume to short hair.
6
For Coarse Or Thick Hair: Nylon Bristle Brush
For taming thick and coarse hair, flexible bristles won't do. What you need are bristles that are stiffer as it will provide you the control that you need. That is what you will get from nylon bristles.
7
For Delicate, Thinning And Damaged Hair: Soft Boar Bristle Brush
Brush with extra soft bristles will help to preserve your hair strands while stimulating the scalp and increasing circulation to the hair follicle.
8
For The Perfect Part: Rat Tail Comb
Regardless if you want a center, zigzag or side part, the pointed end and the fine teeth of the rat tail comb will certainly help you achieve the perfect part. It is also great for smoothing and teasing hair.
9
For Detangling Dry Or Wet Hair: Wet Brush
The small cushion of this brush helps to detangle hair strands without causing any pain. This should not be used in grooming and styling-just for detangling.
To keep your hair healthy and bouncy, consider the information we have mentioned above. It will surely help you find your perfect hair brush match!