Winter season is known to be the lazy hair season. After all, who would want to style their hair when they can just easily hide it under a bonnet? For your information, there are plenty of low-maintenance and stylish hair trends that are perfect for the winter season. These hair trends will keep you looking stylish despite the cold weather. So, are you ready to find out what the coolest hair trends are for the winter season? Read on to find out.
1
Low Ponytail
When it comes to winter hair, less is always better and that is exactly what this trend is all about—elegance and simplicity. In the winter fashion shows of 2016, models sported low ponytails which are held in place by a black hair tie.
2
Textured Fringe
This is the evolution of last year's short shag trend. By now, you already have a longer hair and the best way to style it is to add some loose waves. For a chic effect, get bangs that will fall just below your brows.
3
Geometric cuts
If you are the fashion forward and edgy type of girl, then we recommend that you opt for bold haircuts like the one Lupita Nyong'o's hairstyle on the cover of the Rhapsody magazine. It is blunt, polished and features a triangular shape.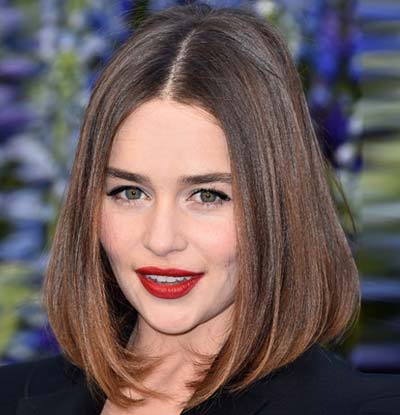 4
Contouring Hairstyle
We bid goodbye to the layered trend and are welcoming the angled hairstyle that sits just above the collarbone. This hairstyle is finished off with a center part. This is perfect for people with a round face as it highlights the cheekbones.
5
Crimped Hair
The hair trends of the 20th century are all about texture so the crimp made a comeback in the 2016 winter fashion runways. If you are not fully committed to this trend, you can just simply crimp the bottom part of your hair.
6
Baby Bangs
These are like blunt bangs but way shorter as it falls only at the half top part of the forehead. Experts claim that this type of bangs can help to emphasize the best facial features as it can give the brows a lifting effect.
7
High Ponytail
If you love to achieve a dramatic hairstyle, leave your hair long and pull it up tight at the top portion of your hair. Curling the bottom part of your hair to give it an added volume. Finish off with a styling mousse for a polished look.
8
Headpieces
No need to hide your hair under a bonnet! For bad hair days, use elegant headpieces, like metallic crowns, glitzy crowns, flower clips and hair jewels, to spice up your look. The only requirement is they should be big enough.
9
Long And Textured Layers
Tired of dull and boring hair? There's a simple solution for that—layers. The layers will frame your face nicely and it will help to create movement in your hair, making it look more bouncy and youthful looking.
10
Sexy Slicked Back Hairstyle
Do you want to keep hair strands off your face? Ditch the headbands and do it the elegant way with a slicked back hair. If you do not want the wet look, blow dry your hair first then use a clay wax to hold it in place.
"Hope you find the post helpful and we are excited to hear what you think of it!"