Sparkly nail polish colors make you look great and can boost your confidence. The world has become very dynamic over the last decade, and everything including nail polish trends is changing. To remain relevant in this ever-changing world, you need to keep up with these changes. One way to keep up with nail polish trends is by conducting research on beauty blogs and reading beauty magazines. You will discover numerous nail polish colors to try. Luckily, most of these nail polish trends are easy to master and with the right materials, they can be done at home. Some nail polish trends to try include:
1. Foiled Tips
Foil-fading nails are awesome. They can be worn in any season and still look good. If you are into foil-fading nails, consider making a stop at an art supply store and have your cop foil. You can as well do it yourself since there are numerous videos and tutorials online you can use as guides.
Basically, you are supposed to apply a base coat first. Allow time for the base coat to dry before doing anything else. Once the base coat is thoroughly dry, go ahead and swipe a clear nail polish on your nails' tips. Remember not to over apply your clear nail polish, instead, stick to a small amount. Additionally, apply the polish on your nails' tips only.
Once done, go ahead and place a shredded foil on your nails' tips. Remember to do it gently to avoid messing your nail polish. To ensure a good gradient, consider putting the shredded foils heavier along the edges and wait for them to dry. Once drying is complete, consider sealing your new look with a topcoat.
2. Chrome Nails
The chrome nail design made its debut late last year. However, renowned nail artists are confident that its popularity will tremendously grow this year. The design isn't meant for those with faint hearts, and it requires some sophisticated manicure skills. However, if you are familiar with the difference between water-based topcoats and non-wipe gel nail polish, follow these directions:
Start by applying a base nail polish gel followed by a color gel and cure. Go ahead and apply a non-wipe gel and cure. This is the process recommended by most nail artists. However, you can choose to sub in some water-based topcoat rather than a non-wipe gel.
After the topcoat is cured, consider dusting the chrome powder using a makeup sponge. Finally, apply your hard gel topcoat and you are set.
3. Simple Geometry
This is another nail polish trend you need to try. The design options for this style are endless. Consider applying a clear coat to serve as the base. Secondly, apply a nude line just below the free edge. Remember to make the nude line thick and allow it to dry. Once dry, fill the remainder of the tip using a white nail polish.
Related: 9 BEST NAIL CARE TIPS FOR THE MOST PERFECT NAILS EVER — MUST TRY
4. Cutest Cacti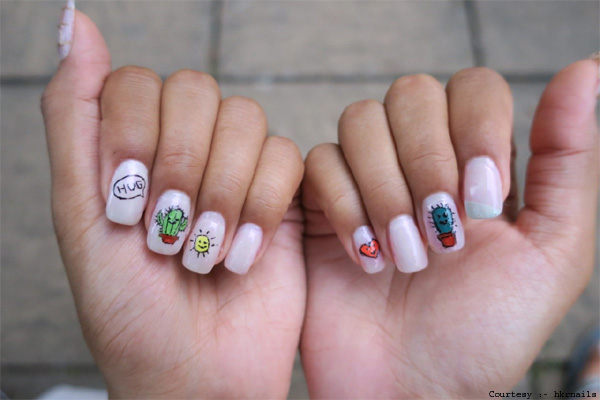 According to nail artists, this nail art design is one of the trendiest. Besides looking good on you, it is easy to go about. You can get it done some minutes before going to the beach. Unsurprisingly, the Cutest Cacti is the most preferred nail art design for summer. It allows for playing around with several nail polish colors.
5. Sparkles and Stripes
This nail art design provides a simple but elegant way to improve your favorite matte nail polish. Begin this nail art design by applying a base coat and let it dry. Go ahead and draw a line of gold glitter down each nail's center. Make sure you make the gold glitter line as skinny as possible. Doing so will give you the most beautiful metallic look. Outside the summer sun, your new nail art design will be all glitters.
6. Rainbow Blur
For this nail art design, a super-skinny art brush is needed. Additionally, the nail art brush should be as flat as possible to achieve a perfect rainbow blur. You are supposed to horizontally move your flat, super-skinny nail art brush across your nail. Doing so will push two hues of nail polish into each other and blend them seamlessly.
7. Melon Moons
Nothing beats a beautiful slice of watermelon look on a hot day. Watermelon nail art is definitely something to try this summer. The adorable look of this nail art will impress your friends. More importantly, the design will make your hands unique. You just need to learn how to mix the colors well for this look and you are set. Watch video tutorials on YouTube to master this nail art design.
8. Triple Triangles
You've probably done numerous reverse French tip manis but not this one. The Triple Triangles nail art design trades the typical circular moons or oval-shapes for an amazing zigzag design instead. More importantly, it relies on four fantastic shades for summer to boot. This design will help you show off your wonderful nail art skills. Because the design can be freehanded, it is easy to go about it.
Conclusion
Nail art designs provide an opportunity to show the world your killer art skills. Most of these designs can be free handed and are easy to learn. Consider watching video tutorials online or on YouTube to find out how to go about your favorite nail art designs properly. Additionally, you will learn some new nail art designs. Remember that summer nail art designs don't have to be professionally done in order to make significant impacts. Simple, free handed nail art designs are enough.
"Hope you find the post helpful and we excited to hear what you think of it!"