3 Summer Fashion Rules You Must Follow to Look Trendy and Sexy
The summer is here once again. It is the time to unwind from the harsh preceding winter conditions. The summer season is bewildered by countless activities and events as people try to let out the winter stress. Summer fashion also gets the opportunity of plunging straight to the deep end of fashion experiences. This said, there are several summer fashion rules to follow for an exquisite and better summer experience. The rules can be classified or grouped into three main categories.
1. Summer dressing fashion styles
Dressing during the summer season can be quite challenging. This is because various events, outdoor activities, and nature of the atmosphere dictates a lot. With this said, what are the trendy summer fashion available?
Choose natural fibers

As you may expect, the summer season comes with a lot of heat. Compared to the winter and early spring seasons where heavy clothing was a primary requirement, natural fibers are the best choice for summer. Therefore, consider lighter options such as linen, cotton, and rayon for your outfits. This will provide not only a comfortable wear but also an exquisite look.
Related: LATEST SUMMER FASHION TRENDS WHICH ARE ALWAYS IN FOR THIS SUMMER
Embrace loose and flowy styles
Loose clothes are a preferable choice for summer. You should prioritize this type of clothing as they provide excellent comfort beside their cute nature. For instance, a fashion forward pair of palazzo pants draped loosely around your leg can be an excellent choice.
Try some shorts
Winter with shorts is definitely not a good idea. Summer is the preferred shorts season. Therefore, pick one pair that not only fits but flatters and stick to them.
Ever tried summer skirts?
Summer skirts provide a better alternative to shorts. You can try a skirt if you do not want to mix up your style. An example of a good summer skirt choice is the jeans skirt.
Explore some prints and patterns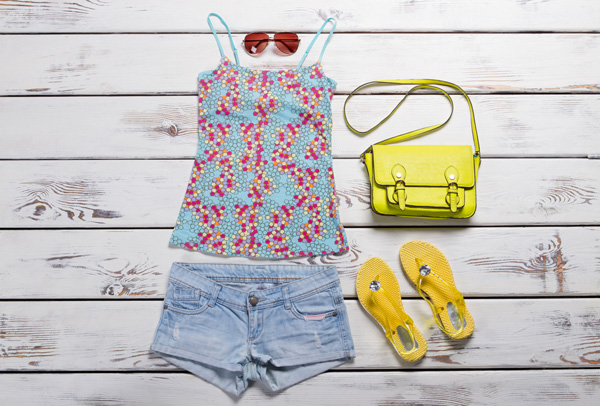 As mentioned before, summer is the perfect season to explore and unleash your fashion potential. One of the favorite summer styles is the prints and patterns. This style suits the event-packed summertime. Just to mention, this style augers well with brunch, bridal showers or weddings.
Besides the fashion styles available, it is of essence to highlight some of the summer fashion dos and don'ts. The dos and don'ts come to your refuge especially when you have no idea what to out on. With summer upon you, consider the following dos and don'ts for this season.
Denim on denim. This is a forever summer trend. Denim can utterly go cool or insanely wrong. Some of the dos and don'ts of this style include:
Related :- HOW TO WEAR DENIM SHORTS: LATEST DENIM IDEAS YOU SHOULD TRY NOW
Do- consider wearing varying shades of denim fashions. Being predictable on your dressing code won't add any value. Therefore, consider a mix-up. For instance, rocking a dark denim paired with white denim shorts or pants create a contrasting look. It doesn't draw the eye that one would predict or immediately think it is denim on denim.
Don't- Avoid head to toe denim. As mentioned before, being predictable may not be interesting. That said, keep the denim pieces to a maximum of two in your outfit. Avoid all denim accessories such as bags, shoes, and hats. They can cause a major fashion faux pas.
Bright, bold colors and prints. As mentioned before, summer is the perfect period of unleashing the various prints and patterns, shiny colors among other exquisite bolds. Some dos and don'ts of this style include:
Do– keep the color white as your focus. Going girly with a white lace top is a brilliant idea. Outdoor activities are good with white and lightweight tops whereas white knit sweaters are perfect for cool summer nights. For an ultimate chic and effortless look, pair it with a cognac faux mini skirt. It's an absolute stunner.
Don'ts– avoid one color trend. Unless it is your thing, consider having pops of different colors brought about by different colored bags, shoes or even lipstick.
Maxi dresses– The summer essential. Maxi dresses are a summer essential for the beach, backyard BBQs, weddings and other activities. They are a definite score if their color, print, and cuts are right. Nevertheless, some of the dos and don'ts include:
Do– wear a maxi dress with black and white geometric print. Also, consider a cut that is comfortable and easy to wear. Complete this look with black and gold accessories.
Don't– Avoid an overly floral print that overshadows your figure. Besides, avoid a maxi dress that is too tight.
Other key summer fashion dos and don'ts include:
Do try the new exquisite sunglass silhouette
Do try overalls
Don't be afraid of showing some little skin
Don't underestimate the power of a T-shirt dress
2. Summer Accessories
This is the second and most important summer outfit rule. Complementing your exquisite trendy summer fashion with the right accessory never goes wrong. Some of the key summer accessories include the following:
A sun hat. Not only will it protect you from the harsh sun, but also enhances your look. They could be in the form of baseball caps, round hats or Eric Javits packable hats.
Fun sunglasses. When it comes to eyewear, sunglasses are the best option. A good pair of tortoise framed sunglasses can be a perfect choice.
A hold-everything bag. Often referred to as a tote, it is good for carrying stuff all round.
Easy sandals. Finding the best sandals will take you from the early morning pool to late dinner dates. Other accessories to prioritize include a printed towel and a sarong.
3. Sunscreen
This is the third and probably an essential item to complete your summer outfit rules. Applying a sunscreen is an equally important summer fashion idea. This is because it provides unmeasurable skin protection from the scorching sun. However, find the best sunscreen to include in your skincare routine by looking into the various factors.
Conclusion
Having the time of your life during the summer is easy. It only requires a little insight into your plans, dressing code and not forgetting protective items. Besides the sunscreen, accessories such as hats and sunglasses offer priceless cover. Avoiding the sun is the other possible way. This will avoid various skin conditions that arise at the end of summer season.