What is Beverly Hills MD?
Beverly Hills MD is a line of beauty products designed to help you achieve and manage long-lasting radiant and youthful-looking skin. The products are packed with intensively researched and clinically tested ingredients to guarantee potency and safety.
It is one of the few brands that boast of doctors developed and endorsed by a good number of celebrities. According to the manufacturer, each Beverly Hill MD product targets a specific skin concern and has proven to work to treat and prevent problematic skin issues.
Some of the brand's products include dermal repair complex Beverly Hills MD, Beverly Hills MD Supplement, Beverly Hills MD dermal repair, Beverly Hills MD deep wrinkle filler, Beverly Hills MD Eyebrow serum among others products.
Expert's Thoughts

A research study published by Roseanne B. de Miranda MD, University Center of Mineiros co-authored by Rochelle C. Rossi, Ph.D. and Patricia Weimer MD reveals that topical application of hydrolyzed collagen can slow down signs of aging. It can help firm the skin, making it elastic and free of wrinkles. – source
Findings shared by Jean Carruthers, MD in Clinical Research, Canada, Vancouver, assisted by Keneth Beer MD, FAAD, Aesthetic, Surgical and General Dermatology Florida and others show that Peptides can help support Katetin production, a key protein in sustaining eyebrow health. – source
Quick Facts & Features
| | |
| --- | --- |
| Safe & Quality | |
| Best For | Skincare |
| Uses | Treating and managing skin care concerns |
| Active Ingredients | Hyaluronic Acid, Peptides, Hydrolyzed collagen, Retinyl palmate, Niacinamide, Glycerin, Vitamin E |
| Price | $ 30-$150 |
| About The Brand | Doctor-supported, and made by a company based in the United States |
Who is Beverly Hills For?
Beverly Hills products are highly beneficial and can help individuals who wish to take care of their skin, and maintain its youthful appearance by protecting it against free radical scavenging activities and impurities from the environment that cause skin blemishes.
Highlights

The brand produces a variety of skincare products to meet your skin care needs
The brand formulates cruelty-free products
Beverly Hills also formulates dietary supplements like vitamins
The brand features ground-breaking formula and innovative ingredients
All Beverly Hills products have positive customer reviews
The brand backs its products with a 100% 60 days money-back guarantee
Involved charity (child support initiative)
Popular Beverly Hills MD Products
1. Beverly Hills Repair MD Dermal Repair Complex
(4.9/5.0)Read Reviews$58.00 At Official Website
What it Does:
Firms and lifts the skin, fades away wrinkles and fine lines, and gives the skin a radiant, smooth, and youthful appearance.
Ingredient Summary:
Saw palmetto, MSM, Vitamin A (Retinyl palmate), Vitamin B Vitamins (Vitamin A, Vitamin B6, Thiamin, Niacin, Folate, Biotin, and Riboflavin).
Who Should Use It:
Ideal for use by anyone that wishes to firm and lift sagged skin for more improved smooth and firm skin.
Pros
Uses clinically tested and proven ingredients
Available for purchase online only
Easy-to-swallow supplement
Doctor supported
Cruelty-free
Cons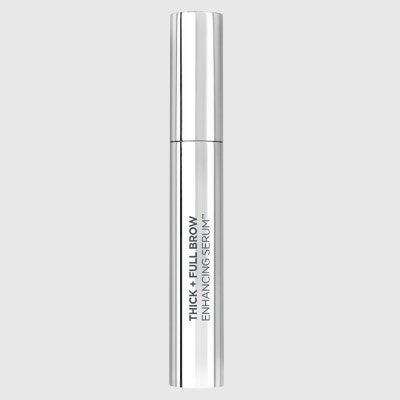 2. Beverly Hills MD Thick & Full Brow Enhancing Serum
(4.5/5.0)Read Reviews$88.00 At Official Website
What it Does:
Makes eyebrows thicker and fuller, provides eyebrow hair with the required nutrients, corrects thinning and sparse eyebrows, and Gives a youthful look.
Ingredient Summary:
Apple extracts, Redensly, Capixyl, Sympeptide, and Micro-keratin amino acids.
Who Should Use It:
Best for individuals who wish to achieve healthy skin, nails, and, hair.
Pros
Improve thin and sparse eyebrows
Doctor supported
Features clinically tested ingredients
Easy to apply serum
Cruelty-free
Cons
Results may depend on skin type
3. Beverly Hills MD Crepe Body Correcting Complex
(4.8/5.0)Read Reviews$100.00 At Official Website
Ingredients Summary:
What it Does: Corrects crepey skin, and fades away wrinkles and fine lines to give it a firm and smooth appearance.
Who Should Use It:
Ideal for use by a person experiencing crepey skin, wrinkles, and fine lines.
Pros
Repairs crepey skin and smoothes fine lines and wrinkles
Doctor approved
Features research-based and clinically proven ingredients
Easy-to-use product
Cruelty-free
Cons
It is a prime-class product
4. Refresh + Renew Cleansing Gel
(4.7/5.0)Read Reviews$65.00 At Official Website
Ingredient Summary:
Glycerin, Lecithin, Isopentyldiol, Niacin, Acetyl Hepta-Peptides
What It Does:
Clears the skin, gets rid of ashiness and flaking, smoothes coarse skin, evens the skin tone, gives revealing skin making it look healthy.
Who Should Use It:
Ideal for use by individuals who want to improve their skin tone and glow to give a more revealing skin appearance.
Pros
It clears the skin leaving it radiant with an even tone
Doctor approved
Features proven ingredients
Cruelty-free
Cons
It can only be purchased online
5. Beverly Hills MD Lift + Firm Sculpting Cream for Face and Neck
(4.5/5.0)Read Reviews$52.00 At Official Website
What it Does:
Enhances collagen production, improves sagged skin by lifting and firming it, improves the overall appearance of the skin, stimulates cellular renewal
Ingredient Summary:
Vitamin E, Aloe vera,
Who Should Use It:
Individuals that wish to achieve firm and more lifted skin.
Pros
Effectively firms and lifts sagged skin
Features clinically tested ingredients
Doctor supported
Cruelty-free
Cons
Consistency is key to keeping the benefits
Beverly Hills Reviews
I was thrilled with the appearance and complexion of my skin after using Dermal Repair Complex. My wrinkles are close to invisible and my skin looks smooth and radiant. – Sandy
I love Beverly Hills MD Lift + Firm Sculpting Cream for Face and neck. It is worth the money and time. It has firmed my skin and improved its overall appearance. I love my new youthful look. – Nina
I had lost hope of achieving thick and fuller eyebrows until a friend introduced me to Think & Full Brow Enhancing Serum from Beverly Hills MD. I have applied this product for 3 months now and I can clearly see the difference in my eyebrows. I am really loving my new look. – Keith
What Are Beverly Hills MD's Key Ingredients?
Hyaluronic Acid
Hyaluronic acid is an ingredient known to have a plumping and hydrating effect on the skin. It can help keep the skin hydrated and fade away fine lines and wrinkles.
A research study in the International Journal of Biological Macromolecule Hyaluronic acid can help to regulate a number of biological processes including skin repair. It has also shown the ability to hydrate, rejuvenate, tighten, stimulate the production of collagen, eradicate wrinkles, and promote elastin.
Hydrolyzed Collagen
Hydrolyzed collagen is a potent ingredient used in the manufacturing of skin care products because it has been shown to affect age-related symptoms such as skin and joint concerns.
According to research in Experimental and Therapeutic Medicine, hydrolyzed collagen has been shown to have an effect on physiological effects, especially on the skin and bones, and can help delay the aging process.
Peptides
A peptide is another key ingredient in beauty products because its use has been associated with the improved skin barrier. Studies show that it can also boost collagen and elastin production, elements responsible for skin firmness and elasticity.
An article published in the International Journal of Molecular Science reveals that the topical application of peptides can help improve structural properties by stimulating BM proteins.
Niacinamide
Niacinamide is a crucial ingredient in beauty products as it shows the ability to support collagen production, a crucial compound responsible for skin firming and hydration.
A research study in Dermatologic Surgery: Official Publication for American Society for Dermatologic Surgery shows that niacinamide on the skin can help fade away wrinkles and fine lines, reduce red blotchiness, hyperpigmentation spots, and skin yellowing.
What are Beverly Hills MD Pros and Cons?
Made in the United States
The brand is doctor approved
The produces varieties of products to take care of different skin care concerns
The brand features unique and clinically proven ingredients
The products are backed by a 100% return policy
Offers high-end products
The brand does not give a free trial offer
Should You Buy Beverly Hills MD?
Beverly Hills MD supplements and serums are doctor formulated, approved, and backed by thousands of positive reviews. According to the manufacturer, the products feature research-based and clinically tested, and proven ingredients, making them worth the money and time.
Does Beverly Hills MD Come with a Guarantee?
Yes, products from the Beverly Hills brand are backed with a 100% money-back guarantee. If you are not satisfied with any tits products or you wish to return a product for another reason, you can do so within 60 days. The company offers a full purchase price refund for all of its products provided the returned product is unused and in its original package.
FAQ's
Q: Where to Buy Beverly Hills MD Products?
A: You can buy Beverly Hills products online through its official website to ensure that you have access to authentic products.
Q: Can I Use Beverly Hills MD with Makeup?
A: Beverly Hills MD produces some high-quality beauty products and most of them work well with make-ups. Beverly Hills Md deep wrinkle filler reviews and Beverly Hills MD supplements reviews show that the product works well with makeup.
Q: How Do I Cancel My Beverly Hills MD?
Conclusion
Beverly Hills MD is a line of products designed to help people look their best and it has lived up to this promise.
The overwhelming Beverly Hills MD supplement reviews and Beverly Hills MD dermal repair complex reviews from customers indicate that they love the products and they are satisfied with the results.
You should consider adding Beverly Hills MD cosmeceuticals to your health regimen. They might appear a bit high but they have proven to be worth money and time.
If you are searching for a superior alternative to the best dietary supplement, then you must visit "Relief Factor." It aims to provide relief from pain and inflammation with a blend of natural ingredients, possessing anti-inflammatory properties that may help reduce pain without the use of synthetic drugs.