What Is DHC Velvet Skin Coat?
Our DHC Velvet Coat review will be your comprehensive guide to this gel makeup primer. It claims to give an instant 'soft-focus' effect for a smooth and flawless makeup application. The gel texture diminishes the look of pores, imperfections and fine lines. This face primer also controls shine to help makeup glide on skin and last longer. Whether you are wearing makeup or not, the gel texture is said to leave your skin velvety smooth and dewy. Plus, it does not need "drying time," so it is great for people who are always on-the-go.
Formulated with olive oil and dimethicone, it provides emollience and coverage to the skin without the sticky feel or heaviness. However, both ingredients are comedogenic (can clog pores). Olive oil is moderately comedogenic, while dimethicone's ability to trap moisture means it can also trap sebum and bacteria, which may increase the risk of blackheads and acne breakouts.
Continue reading our comprehensive DHC Velvet Skin Coat review if you want to learn more about this makeup primer and to see if it is worth buying.
Special Offer
DHC Velvet Skin Coat
It claims to give an instant 'soft-focus' effect for a smooth and flawless makeup application. The gel texture diminishes the look of pores, imperfections and fine lines. This face primer also controls shine to help makeup glide on skin and last longer.
Overview
DHC is the top direct skincare brand from Japan and is now one of the world's top health and beauty brands. The company is known for its olive oil-based skin care and make up. It was established by businessman Yoshiaki Yoshida in 1972 when he discovered an extraordinary grade of olive oil in Spain. DHC started with just three core products. DHC labs in Tokyo are recognized for creating innovative formulas that are considered "a break from the norm."
This silicon-based makeup primer was launched a few years back and has several good reviews. Many customers love how it prepares the skin before foundation because it instantly creates a smooth, flawless and glowing effect. It is also said to leave skin soft and not oily. However, if you check some of the negative reviews, disappointed customers mostly complain about not filling in the pores and lines as expected. According to DHC Velvet Skin Coat Reviews this product is a waste of time and money because it does absolutely nothing except clog pores.
How to use: This face primer is easy to apply. Simply smooth the powdery-gel primer evenly over your face and neck. Apply makeup as usual.
What Are The DHC Velvet Skin Coat Key Ingredients?
Olive Oil:

It is rich in age-defying antioxidants and hydrating squalene. It can also penetrate deep into the skin, providing long-lasting moisture. However, olive oil is moderately comedogenic (grade 2), which means it can clog your pores that increase your risk of acne.

Dimethicone:

It forms a slick film over your skin that functions as a skin protectant and conditioner, meaning it prevents water loss by creating a barrier on the skin. However, because of its coating and trapping property, it can also trap bacteria, skin impurities, and sebum, which may cause blackheads and pimples. Also, prolonged exposure to dimethicone can increase skin irritation.

Cyclopentasiloxane:

A synthetically-manufactured silicone derivative that is commonly used ingredient in beauty products as a lubricant and conditioner. It provides fluidity that makes the primer easily spreadable.

Silica:

It absorbs oil and sweat, so makeup lasts longer.
Pros and Cons of DHC Velvet Skin Coat
Leaves your skin feeling soft and fresh.
Brightens your natural skin.
Helps remove dead skin cells so your skin will stay refreshed for hours.
Only have to use this product once a week.
This silicon-based face primer has not undergone a clinical test to prove its effectiveness and safety
According to some customer reviews, it can be drying for combination skin It contains ingredients that can cause skin irritation, especially with prolonged or frequent use
Some of the ingredients are comedogenic, which makes the formulation not suitable for reactive skin or acne-prone skin
Dimethicone is non-biodegradable, so it contributes to marine bioaccumulation that is bad for the environment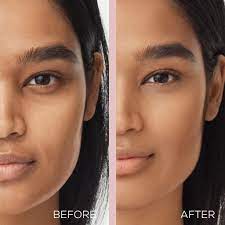 FAQ's
What Is The Price And Quantity Of DHC Velvet?
Ans: DHC Velvet Skin Coat is available in two sizes: 0.18 oz. tube costs $7.50 while 0.52 oz. tube costs $22.50. Prices may slightly vary depending on the seller or retailer.
How to Use Velvet Skin Coat?
Ans: Following your regular skincare routine, smooth velvet skin coat primer evenly over your face or onto areas of concern, including fine lines and visible pores. Use alone or follow with the usual makeup application.
What Does Velvet Skin Mean?
Ans: Acanthosis nigricans is a condition that causes areas of dark, thick velvety skin in body folds and creases. It typically affects the armpits, groin, and neck. Acanthosis nigricans tends to affect people with obesity.
Should You Buy It?
Ans:
This silicone-based primer's several rave reviews are quite persuasive. The hype makes you want to go buy this primer to finally achieve a smooth and flawless look. Generally speaking, this is an OK primer, but that's about it. It may work for some skin types, but it can cause skin irritation, blackheads and zits in acne-prone skin and sensitive skin.
It may not also be able to cover or smooth out dark spots, deep wrinkles and large pores. Overall, we do not recommend buying this primer because it is too pricey for what it does not do.
Does It Come With a Guarantee?
Ans: Return policy is not mentioned on the official website.
The Final Word
For an all-day smooth, matte finish, the makeup primer Velvet Skin Coat quickly reduces the appearance of pores, fine wrinkles, and flaws. In contrast to silica, which absorbs extra perspiration and oil, it offers antioxidant defense against daily environmental assaults. It has a transparent powder-gel consistency and glides over the skin with the feel of velvet. It is healthy for your skin in addition to feeling fantastic. Moreover, while silica soaks up extra sweat and oil, organic olive oil is used to nourish the skin.