What Is Fresh Umbrian Clay Purifying Mask?
Fresh Umbrian Clay Purifying Mask can be used as a treatment for pores, for daily deep cleaning, or a spot treatment for blemishes. It is manufactured by Fresh, which also manufactures and distributes products that be used to take care of the skin and lips, as well as fragrances. Their products are available both in the US, UK, and other countries as well.
Special Offer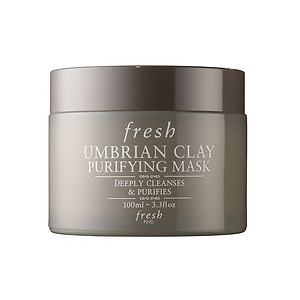 Fresh Umbrian Clay Purifying Mask
Fresh Umbrian Clay Purifying Mask is a mineral-rich clay mask and face wash for all skin types that cleanses and minimizes the appearance of pores and shine.
Use spoon enclosed in the product to mix the mask with the sandalwood oil, lavender water, and chamomile flower. Apply to clean, dry skin.
To use:
As a spot treatment: apply to affected area, allow to dry, rinse off.
As a mask: apply to skin. Leave for 3-5 minutes, and rinse.
As a deep cleanser: apply a thin layer to damp skin, rinse.
What Are The Fresh Umbrian Clay Purifying Mask Key Ingredients?
Umbrian Clay
Purifies and balances skin, delivers nutrients to skin.
Chamomile Flower
Contains skin-soothing properties.
Lavender Water
Soothes skin.
Sandalwood Oil
Diminishes skin stress.
Glycerin
Increases moisture levels and prevents further dehydration.
Butylene Glycol
Preservative that resists humidity and ensures products stay moist.
Xanthan Gum
Increases viscosity in creams and lotions while allowing products to thin out when shaken so they can be more easily spread. Prevents oil separation.
Grape Seed Oil
Balances oily and dry patches in skin. Contains vitamins C, D, and E. Contains polyphenols that fight skin damage, which are anti-inflammatory and prevent outbreaks of acne. Tones skin and cleans breakouts.
Pros and Cons of Fresh Umbrian Clay Purifying Mask
Three-in-one treatment that purifies the skin, decreases size of pores, leaves skin looking matte, and can be used as a spot treatment.
Contains Umbria clay, which is rich in vitamins, minerals, and antioxidants that promote healthy skin.
Fresh Umbrian Clay Purifying Mask enjoys positive customer reviews.
Does not clog pores or contain sulfates, phthalates, or parabens.
Contains linalool, which is known to increase skin sensitivity to sunlight.
Although research results for this product are disclosed, the brand does not state if it was studied in-house or by a separate entity.
The list of ingredients provided doesn't include amounts.
Contains fragrance, as lavender is one of the ingredients.
Guarantee
Fresh provides a return policy that lasts up to 60 days from product purchase, with separate processes for store and online purchases. Authorized sellers may also have return or exchange policies.
Final Verdict
Fresh Umbrian Clay Purifying Mask contains a variety of vitamins and minerals that benefit the skin. Research conducted on the product shows favorable results, but the brand doesn't state sample sizes, or how the testing was conducted. A variety of masks are available that can provide more thorough information about their testing and research processes.