What Is Madara Purifying Foam?
Madara Purifying Foam is marketed as a gentle, yet effective foaming cleanser, which delves deep into the skin to remove makeup and other impurities. This foaming cleanser does not strip away oils in the skin or leave dry patches.
We'll start off by going over the details and biography from the official product description so you get an overall feel of the product. Then we'll go on to compare and contrast what makes this product shine and what customers tend to have issues with when using this particular product. From there, we'll be going over how to use the product and how often you should be using it, as well as the active ingredients in the product.Closing the review we'll give you our honest opinion of the product and the guarantee for if you end up not being happy with your purchase.
Special Offer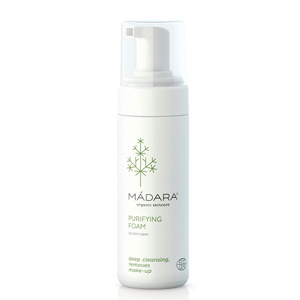 Madara Purifying Foam
Madara Purifying Foam is marketed as a gentle, yet effective foaming cleanser, which delves deep into the skin to remove makeup and other impurities.
Foaming cleansers often feel great while you're using them, but many of them cause you to experience the same outcome, dehydrated skin. Madara Purifying Foam claims that its gentle, yet effective, formula won't dry out any dehydrated patches on your skin or cause oily patches to worsen.
This product uses natural and organic ingredients, such as Northern Yarrow Extract, to lift away dirt and other impurities, leaving you with purified, clean skin. This formula is even gentle enough to use around the delicate eye area.
The manufacturer suggests for best results, gently apply Madara Purifying Foam to pre-soaked skin during your morning and evening skincare routines. Gently massage the product into the skin and rinse away with warm water. Follow up with your preferred moisturizer and an SPF during the day.
Madara Purifying Foam retails for approximately $24.00 per 5.0 oz. of product on several lesser-known skincare retailer sites.
What Are The Madara Purifying Foam Key Ingredients?
Northern Yarrow Extract:
This ingredient sweeps away dirt and grime from the skin.
Glycerin:
May help skin retain moisture while reducing inflammation but also can cause skin irritation to sensitive skin.
Lactic Acid:
It helps to eliminate skin hyperpigmentation to promote skin brightening. Although, it can lead to Burning, itching, stinging, redness, or irritation may occur. If any of these effects persist or worsen, tell your doctor or pharmacist promptly.
Benzyl Alcohol:
Alcohols with low molecular weights the bad-for-skin kind can be drying and sensitizing.
Pros and Cons of Madara Purifying Foam
This foaming cleanser is gentle enough for use around the delicate eye area. Although, it leads to irritation and itchiness!
This product does not dry out the skin or strip it of any necessary oils.
There are little to no customer reviews available pertaining to this product.
It's difficult to order this product outside of the UK.
There's little information pertaining to this product's ingredients and how they benefit the skin.
This product also leads to redness!
It also leads to burning sensation!
Guarantee
Madara Purifying Foam is available on several lesser-known skincare retailer websites. The one website that does sell this product to customers outside of the UK is very cryptic about its return policy. In order to make a return, you must e-mail customer service with your original proof of purchase and reason for return. It does not indicate whether or not you will receive a refund or exchange.
The Final Word
Madara Purifying Foam claims that its gentle formula will rid your skin of makeup, dirt, and impurities without causing dry patches or causing an uptick in oil production on the face. Although this may sound like a promising product, there are several issues that you should consider before purchasing.
Although this product is formulated with vegan-friendly there are still ingredients present that may cause irritation. Alcohol and other fragrant ingredients are included in this formula, and may cause issues for those with sensitive skin. Madara products are also relatively unknown in the skincare industry and are difficult to purchase in the United States. There are also very few customer reviews available online, and it's difficult to tell if any of them are from legitimate third party websites. We'd strongly recommend that you consider continuing your search for a gentle cleanser that easily removes makeup without using unnecessary irritants.