What Is Nuxe Micellar Cleansing Oil?
The nuxe micellar cleansing water with rose petals claims to thoroughly cleanse the eye and face area. It also promises to remove makeup in the most gentle way possible, even the waterproof ones. It also aims to get rid of sun protection residues along with dust, dirt and other possible contaminants on the skin. As opposed to other cleansing oils that leave the skin dry and damaged, this micellar oil promises to leave the skin radiant, soft, smooth and hydrated.
As you remove your makeup and cleanse your face, the micellar oil promises to let you indulge in the scent of rose petals.
If you think that this is the micellar oil for your needs, then you need to read this review!
Nuxe Paris Skincare was founded by Alize Jabes who uses her instinct in guiding her to discover beauty. She believes that her instinct is her new power and that it is the type of strength that we should all listen and to as well as nurture and celebrate.
Following her instinct, she established the company which now has 45 patents under its belt. The company is also spearheaded by over 650 employees and is operating in 75 countries all over the world. In addition to that, they are also the owner of 11 subsidiaries all over the world.
At the heart of all the skincare solutions that they develop are plant extracts that are rarely used in developing skincare formulations. Such extracts include Passionflower, Orange Blossom, and Daylily which they claim is the trio that fights different signs of aging.
To enjoy the nuxe micellar cleansing water benefits,you need to dispense 2 pumps of the oil into dry hands. Rub your palms together in order to warm the oil. Massage the oil all over your face using your fingertips. You can also apply the oil using a cotton pad. Make sure to apply this only on dry face. Rinse it off using plenty of water and then dab it dry using a soft towel. We recommend to have a patch test before applying on skin as it may cause skin irritation on sensitive skin.
Special Offer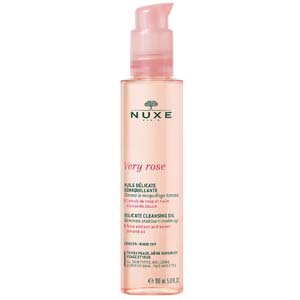 Nuxe Micellar Cleansing Oil
The nuxe micellar cleansing water with rose petals claims to thoroughly cleanse the eye and face area.
Amazon Site Walmart Site
Pros and Cons of Nuxe Micellar Cleansing Oil
The formula helps to remove dirt but may cause skin irritation or dryness.
The scent used, Rose, is formulated for sensitive skin.
The micellar oil is free of parabens.
The micellar oil contains fragrance which is highly irritating.
The price of the product is quite high for just a cleansing oil.
Many users claim that the cleansing power of the oil is not enough to remove all types of makeup.
Others claim that the cleansing oil left their skin dry, as opposed to what the company claims.
They also claim that the product caused acne breakouts.
What Are The Nuxe Micellar Cleansing Oil Key Ingredients?
Some of the key ingredients in the formulation are as follows:
Rosa Centifolia Flower Extract
This contains a few antioxidants that can aid in smoothening and hydrating the skin. It can also help tighten pores and reduce inflammation.
Carthamus tinctorius Seed Oil
This contains high amounts of omega fatty acids can remove dirt and oil and prevent dryness. However, there are conflicting studies and clinical trials about this oil.
Tocopherol
This is vitamin E and can soften and condition the skin. An allergy to vitamin E can result to hives, bruising and bleeding.
Caprylic/ Capric Triglyceride
This works as an emollient, solvent and dispersing agent in most skincare products.
Price & Quantity?
The nuxe rose micellar water is available a for a price of £15.50 (approximately USD 19-25). You can purchase it from the official Nuxe website, but it is available on various retailer sites as well.
Guarantee?
All Nuxe products come with a guarantee. Their return policy states that you can return all items within 14 days after the date of delivery if you were not satisfied with its results. But for your item to be eligible for a refund or an exchange, it has to be in its original condition, unopened and unused.
Should You Buy It?
This oil claims to do many amazing things for the skin. It claims to cleanse and remove makeup without drying the skin. However, it contains fragrance that is extremely irritating *even the natural ones). In addition to that, many of its users are not satisfied with the cleansing ability of the oil, and they claim to use another type of cleanser to thoroughly remove all the makeup residue, dirt, and oil on their skin.
We highly recommend that you choose a micellar oil that is strong enough to remove all residues and dirt on the face but gentle enough to keep the skin soft and hydrated.