What Is Sk-II Facial Treatment Cleanser?
SK-II Facial Treatment Cleanser is advertised as an ultra-hydrating gentle facial cleanser that conditions and freshen the skin. It also claims to leave the skin thoroughly cleansed, conditioned, and silky smooth. It comes in a creamy formula that lathers into a thick cleansing foam that's effective in removing makeup and purifying and hydrating the skin.
For SK-II Facial Treatment Cleanser How To Use instructions, just apply on wet face, lather, and rinse with lukewarm water.The formula contains SK-II's unique Pitera concentrate, an extract derived from a species of yeast used in sake brewing. Pitera is packed with amino acids, organic acids, vitamins, and minerals said to be beneficial to the skin although no scientific study has proven this yet.
This facial treatment cleanser comes from the Pitera Essentials collection and product line along with other products designed to nourish the skin and give it a radiant glow. It is said to address skin issues such as uneven skin tone, dullness, dryness, and aging signs.
For a more in-depth SKII Facial Cleanser review, please continue reading below!
Special Offer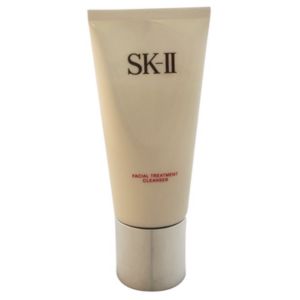 Sk-II Facial Treatment Cleanser
Sk-II Facial Treatment Cleanser is marketed as an anti-aging skincare treatment, which is meant to rebuild the skin from the inside out.
SK-II is a renowned Japanese beauty brand launched in 1980 and was developed after Japanese scientists who were trying to find natural ingredients for beauty products observed that the hands of the elderly workers in a sake brewery were still clear, soft, smooth, and young-looking. Later, they discovered that the strain of naturally occurring yeast used in fermenting sake was responsible for this effect. So, they did their research and isolated this type of yeast, giving birth to their Pitera essence.
The Pitera Essentials Collection that includes the Facial Treatment Cleanser SK II may have been launched later since the earliest reviews are dated on 2014. The company claims that the active ingredients in all their products work to provide visible improvements after only one month of use, although no clinical studies have been conducted to prove this yet.
While SK-II roots from the love and appreciation of natural ingredients, however, it was involved in a controversy in 2006 where some of their products imported to China were said to contain chromium and neodymium traces, which are banned materials harmful to the skin.
Relatable – Clinique Take The Day Off Cleansing Balm
What Are the Sk-II Facial Treatment Cleanser Ingredients?
Galactomyces Ferment Filtrate (Pitera):
Pitera is a bio-ingredient derived from the yeast responsible for the fermentation process in sake brewing. It is claimed to support the natural skin cell renewal and regeneration process.[1]
Salix Alba (White Willow) Bark Extract:
This ingredient is a naturally soothing, anti-inflammatory and conditioning agent and astringent known to contain salicylic acid that exfoliates pores to remove dead skin cells. It also aids in cell regeneration and skin rejuvenation. However, it can also lead to allergic reactions on people who are sensitive to aspirin.[2]
Rosa Canina (Dog Rose) Fruit Oil:
: This oil promotes the healing of burns, sun damage, and wounds. It is also rich in antioxidants, flavonoids, and vitamins A, D, and E that help against wrinkles, acne, hyperpigmentation, and free radical damage. However, topical use of this oil can lead to mild to severe allergic reactions characterized by the appearance of hives, rashes, and itching or watery eyes.[3]
Butylene Glycol:
This ingredient is a colorless organic alcohol used as a solvent and as a conditioning agent. This ingredient can cause a rashes and other forms of irritation in individuals with sensitive skin.[4]
Pros and Cons of Sk-II Facial Treatment Cleanser
The cleanser has a thick, creamy, and smooth consistency but foams quickly.
It has a mild, refreshing scent.
It is a good gentle cleanser although not as good as you would expect for the price.
It is much more expensive than other similar gentle cleansers.
It tends to dry out the skin with continued use.
You can buy cleansers that work just as well or could even do a whole lot more for only a fraction of the price.
It may not be able to remove base makeup properly.
It can trigger allergic reactions, irritation, redness, and blotchiness on sensitive skin.
You May Like This – Eve Lom Cleanser
FAQ's
What Is The Sk-II Facial Treatment Cleanser Price And Quantity?
A: Every 106 ml (3.6 oz) tube of the cleanser costs $75.00 from the company's official website. However, prices may vary on other retail online stores.
How do you Apply Facial Treatment Cleanser?
A: Start with wet skin and work a pearl-size amount of cleanser into a rich lather. Gently cleanse by massaging thoroughly over the face and neck. and Rinse off with lukewarm or cool water.
Is SK-II good for acne?
A: it's the absolute best for oily or acne-prone skin. It purifies and gently exfoliates without drying.
Does SK-II remove dark spots?
A: SK-II's GenOptics brightening skincare line helps you clear dark spots and achieve spotless skin in just three steps.
Should You Buy It?
A: SK2 Facial Treatment Cleanser is a natural-based gentle facial cleanser that contains many beneficial ingredients including Pitera which is unique to the company. However, upon researching about the ingredients, some have been identified to be potential allergens. This could lead to mild to severe allergic reactions and skin irritation. While the cleanser is really mild and gentle for all skin types, it can still cause dryness and irritation of sensitive skin. Many users also complain that its actual effects do not meet the high standards expected for its hefty price.
Does It Come With A Guarantee?
A: When buying from the official product website, the company offers a satisfaction guarantee. They will give refunds for items returned unopened in their original packaging within 30 days of delivery. In case of damaged or defective products, a return procedure must be followed to receive a refund.
Final Thought:
Sk-II facial treatment cleanser is a foaming facial cleanser that gently removes makeup, dead skin cells, pollutants, oil, dirt, and/or cleans out pores on the skin. This cleanser is definitely the kind of cleanser with a very mild clean scent and transforms into a milky foam texture when rubbed on the skin with a bit of water. This product has high demand in the international market.