As a trendy woman, what you choose to wear on your feet says much about you. Additionally, what you wear can make you stronger, faster, and more coordinated. The best sneakers for women with great print can complement your every occasion and directly influence your mood. Remember that if you fail to wear the right sneakers for girls for your feet, for your gait, and for your hips, things can quickly go awry. For this reason, it is good for you to learn some of the best women sneakers and get one for yourself. Here are some women fashion sneakers to look out for:
1. 2017 Nike Air Max for Women
These amazing sneakers for women use a technology that has been around for over 40 years. Their Air-Sole unit is something to look out for. They come with an upper fly-mesh and multisurface traction making them ideal street casual for summer. These sneakers for girls can be worn to the gym and can act as perfect running shoes. They cost $190.
Related: FASHION SNEAKERS FOR WOMEN: FALL IN LOVE WITH STYLISH SNEAKERS
2. Adidas Pure Boost X
These women fashion sneakers have stolen the hearts of many trend loving girls. They come with Boost technology that gives energy back with every step. They also have a floating arch designed to hug the foot. These sneakers are available in a wide range of colors to choose from. They cost $65.
3. Women's Guide Saucony 9 Running Shoe
The Guide Series by Saucony has for many years been a best seller and truly delivers "supportive and plush" ride. These sneakers feature a proprietory technology known as EVERUN which provides a lively cushion. They go for $47.
4. Charged Bandit 2
These sneakers are seamless and super stretchy. The manufacturer Under Armour is renowned for creating two-piece midsole with charged cushioning that offers a soft and firm heel-forefoot for comfort. The charged cushioning midsole also offer firm support in all the required places. Its bright pink color will make sure that all eyes are on you. The sneakers are priced from $85.
5. Gel-Kayano 23
These sneakers are produced by ASICS and are ideal for almost every occasion. They are made with high abrasion rubber that make them last forever. If you prefer a glove-like fit, these sneakers are for you. They are available in numerous color options and are priced at $116.
6. Brooks Women's Glycerin 14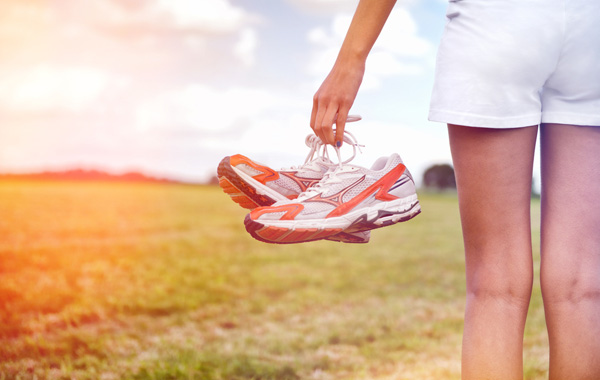 Brooks' Glycerin model offers enough support and comfort. These sneakers come in multicolored soles that are not just for looks. Each sole zone provides a remarkable impact as you walk across the street. These sneakers for girls are ideal for track or road. They are priced at $120.
7. Gel-Noosa Tri 11
This is the most colorful shoe you'll come across on the market. Additionally, the shoe comes with more technological advances than any other on the market. Its Propulsion Trusstic Technology is something you have to experience. It is designed to provide super traction even on a wet surface. It is priced at $83.
8. The Hoka
These sneakers are specially designed for women with hip, knee, or foot issues. They are renowned for their cushion support and unique styling. They can be worn on almost every terrain. You will love the way your feet will feel inside these trendy best women sneakers. The Hoka are priced at $94.
9. The Wave Creation 18
If you are an overpronator and require arch support, the Wave Creation 18s are for you. They are high-cushion sneakers that will provide you with the ultimate comfort. The "Wave" refers to a tested flexibility technology that company has worked on for many years to perfect. These trendy women shoes are priced at $94.
10. Fresh Foam 1080
These sneakers are a product of New Balance. The brand is known for making use of tested data to create the ultimate shoe in flexibility, security, and comfort. Additionally, NB relies on Ortholite sock liners to make you feel like you are walking on clouds. These sneakers for girls cost $64.
11. Supernova Glide 8
These sneakers from Adidas are renowned for their energy return. This means that you can comfortably have them on your feet for longer. They also allow feet breathability and come with a superior grip regardless of the condition of the surface. This implies that there is no room for slipping. The sneakers cost $60.
12. Air Zoom Pegasus 32
There is no breaking in with this sneaker. It comes with an inter-sleeve partial mesh that perfectly hugs your foot. It is comfortable, and you'll feel good about yourself each time you wear it. The manufacturer, Nike, is known to design some of the best sneakers for women on the market. These sneakers go for $65.
13. The XR Mission
These sneakers are great for every occasion. You can wear them in any weather be it muddy, wet, or dry. They have a Quicklace system that allows you to get them on and off very quickly. Besides being easy to get on and off, they are super comfortable. They go for $75.
Related: 11 TYPES OF SHOES EVERY GIRL MUST HAVE IN HER WARDROBE
14. Brooks PureConnect 4
These sneakers are lines with around 24 cushion oval pods that independently reposition with every strike. The repositioning allows your feet muscles to move more gradually unlike with rigid, stiffer soles. Besides strengthening your feet, these sneakers look and feel awesome and have bands running across your instep to help you maneuver comfortably. These sneakers cost $100.
Conclusion
The best sneakers for women are those that can be worn on all occasions. Additionally, they should be lightweight and feel comfortable. Lightweight sneakers make it easy for you to take quicker and frequent steps, which helps improve your efficiency. Choose your sneakers from leading brands such as New Balance, Adidas, and Nike if you want something great. Also, choose your sneakers depending on what you intend to match them with. You may want to go for sneakers with a protective rubber that extends across the front toes for additional comfort.