Summer is the perfect time to go on vacation. After all, the sun it at its brightest, it is school break, the climate is absolutely perfect, and there are plenty of activities that you can enjoy during this season. For sure, you have plenty of trips lined up for the season.
But if you are one busy person, you may not have the time to spare for all these festivities and the closest that you can get to enjoy the summer is to go on a weekend trip. And if we may say, a that is not a bad idea at all! Going away during the weekend can give you the change of scenery you need to break away from the monotony of your busy life and will allow you to recharge and re-energize.
But just like on any trip, packing is one problem you will encounter when going on a weekender. What should you bring? What should you leave behind? Or the most important question of all—what weekender bag for women should you use? Well, we are here to help you find the answer to the last question. Below are some woman's weekender bags that you may wish to look at.
The Types of Weekender Bags
Duffel bags
Aside from its stylish circular shape, duffel bags are the weekender bag of choice for many women because it has plenty of storage compartments, helping the user to be more organized in packing things. In addition to that, this bag is also the largest of the weekender bags you can ever encounter, so it will definitely come handy for you. However, this bag is not recommended if you will be spending a great deal of time at the airport as it can be a bit of a hassle to lug around the crowded place. This one is more recommended for staycations or road trips.
Tote Bags
This one is very portable and easy to bring with you wherever you go. However, it offers only limited space as compared to duffel bags. A number of items that you can place inside a tote bag will be good for just about a one to two-night stay.
Rolling Bags
This type of bag is not that easy to store nor are they portable but they offer more structure as compared to tote and duffel bags, so it is recommended if you are planning to bring a few important items or delicate things like gadgets. This type of bag is recommended for people who will be traveling via plane. Since the bag has wheels, it would be easier for you to bring it with you wherever you go.
Related: 13 TRAVEL ACCESSORIES TIPS THAT WILL PREPARE YOU FOR ANYTHING
Expandable Travel Bags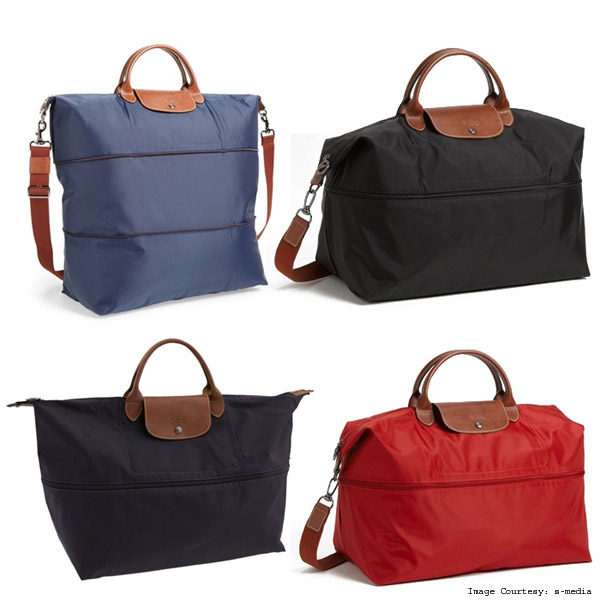 This one is the most versatile of all types of weekender bag. AT first look, it may seem like your usual shoulder or hand bag, but it has this amazing feature wherein you can extend the compartment, allowing you to bring more items! This is the perfect type of bag if you are planning to do plenty of shopping while you are away! It is also great for mommies too!
The Styles to Look Out For
Thanks to the increasing popularity of staycations and short weekend getaways, weekender bags now come in a variety of styles, colors, and designs. If you wish to determine what are the latest styles in the market today, these are as follows:
Leather Bags
Up until now, leather has become one of the most preferred materials for a weekender bag. That's because the material is quite durable. In fact, it can be able to retain its shape and are quite resistant to wear and tear as compared to other materials in the market. But more than that, the classic and timeless appearance of leather gives off a touch of elegance to the bag.
Wool and Cotton Bags
If you want something laid back and casual, this is the type of weekend bag for you, but please bear in mind that this type of bag cannot be able to retain its shape and are at high risk of water and stains.
Nylon and canvas bags
These are probably the most versatile type of weekender bags in the market (and they are also highly affordable!). In addition to its durability and ease of maintenance, nylon, and canvas bags come in different shapes and designs so you can easily find one that will suit your personal style the best!
Striped Weekender Bag
There is something about the nautical theme that will make you feel like you are in paradise. Since a sailor is always on the go, you will surely feel every bit like a traveler when you opt for this type of bag. Most striped weekender bags come in a blue and white color that is easy to style and pair with.
Related: 12 AMAZING CLOSET ORGANIZATION IDEAS FOR YOUR DREAM CLOSET
Minimalist weekender bag
If you are the type of person who wishes to keep things simple, then the minimalist bag is for you. This bag comes in a No-muss, no-fuss design and is often available in neutral plain colors like brown, black, white and dark blue.
Floral Printed Weekender Bags
What is summer without flowers? Nothing! If you are the type of person who loves all things colorful, loud and vibrant, then you should opt for weekender bags printed with big, bright and colorful flowers! It will surely go well with your summer ensembles.
Animal Printed Weekender Bags
This weekender bags will definitely bring your wild side! The weekender bags that you can find nowadays come in different animal prints like zebra, leopard, tiger and a whole lot more!
If you are already feeling overwhelmed with packing for your trip, these cute weekender bags are here to your rescue. The best weekender bags women will help you to not just keep your belongings safe and secure—they will also allow you to travel in style as well! So, which of these bags do you think will suit your personality the best? Do you have any other bag suggestions for a weekend trip? If so, please share them with us below!
"Hope you find the post helpful and we excited to hear what you think of it!"