What Is Estee Lauder Perfectionist Pro Rapid Firm + Lift Treatment?
A new youth-activator solution that fights gravity, Perfectionist Pro Rapid Firm + Lift Treatment from Estee Lauder claims to instantly improve multiple facial zones, including cheeks, around the eyes, jawline and laugh lines for a natural, more lifted and firmer look.
Formulated with high concentration of acetyl hexapeptide-8, its fast-acting formula soaks deeply into skin to boost its natural collagen and elastin production, which strengthens its support network. The company has daring claims in terms of results. It promises to hydrate, brighten and rejuvenate the skin instantly and get more lifted and firmer facial contours in just two weeks.
Based on Perfectionist Lift Treatment reviews, it works pretty well in giving skin a hydration boost and making it plump and baby-like after only three days; face also looks more naturally-contoured. But because this product is on the expensive side, it should surpass your expectations. Unfortunately, different skin types react differently to this anti-aging serum. Some reviews say it did not improve deeper wrinkles. It also contains undesirable ingredients that you do not want to see on the ingredient list of a luxurious serum such as this one. Check out our all-inclusive Estée Lauder Perfectionist Pro review.
Special Offer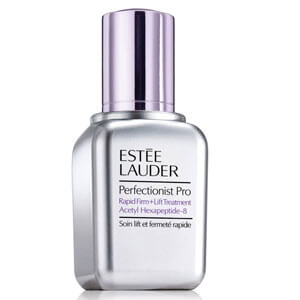 Estee Lauder Perfectionist Pro Rapid Firm + Lift Treatment
Estee Lauder Perfectionist Pro Rapid Firm + Lift Treatment is an excellent eye cream for fine wrinkles and dark circles. This eye lotion for brightening features vegan collagen, genuine gold, a triple vitamin C complex, and antioxidants.
Why Choose Estée Lauder Perfectionist Pro Serum?
As mentioned on its website Estee Lauder was named after its creator – a French Chemist named Josephine Esther (became Esty and eventually Estee). The company was founded in 1946 and has long been recognized as technologically-advanced in bringing innovative skin care, makeup and fragrance to the market. Estee Lauder has gained a global reputation for luxury and elegance. Its products are sold in more than 135 countries.
Perfectionist Pro Rapid Firm + Lift Treatment was just launched early this year, yet it is garnering customer reviews on various online stores. It is said to make your skin visibly hydrated, luminous and renewed right after application, and transforms it into silky smooth, baby-soft complexion after three days. It also claims to firm and lift facial contour and visibly reduce fine lines and wrinkles in just two weeks.
How to Use Estee Lauder Perfectionist Pro Skincare?
As suggested by the manufacturer Dispense three to four pumps and smooth over face after cleansing and before applying a moisturizer. Avoid your eyes. Use in the morning and evening. It is recommended to limit sun exposure and use sunscreen while using the product and the week after.
What Are Estee Lauder Serum Ingredients?
Acetyl Hexapeptide-8
Also referred to as Argireline and AHA-3, this neuropeptide is believed to impede the release of neurotransmitters and relax the facial muscles, which reduce the appearance of expression lines and wrinkles. However, it is a recently discovered ingredient with limited clinical evidence to prove its effectiveness[1].
Dimethicone
[2]
It has the ability to seal in moisture to keep skin hydrated for a longer time. However, this trapping property can also trap dirt, oil and bacteria, which can make skin susceptible to irritation and inflammation.
Cucumber Fruit Extract
[3]
Known for its astringent and anti-inflammatory properties. It also provides skin with a surge of hydration.
Sunflower Seed Extract
[4]
Aside from its rich nutrient profile, it helps protect the skin because of its antioxidant content.
Algae Extract
[5]
It is claimed to have nutritive properties that help improve the skin's qualities.
Caffeine
[6]
This component is for eliminating excess water, which can help reduce puffiness and bags under the eyes.
Pros and Cons of Estee Lauder Perfectionist Pro
Made for quick firming and lifting results.
Softens the look of fine lines and wrinkles.
Makes skin radiant and corrects uneven skin texture and tone. However, it lacks in it clinical evidence.
Claims are not supported by a clinical evidence.
Customer reviews are not as many as other firming/lifting serums.
Requires continuous application of sunscreen as long as you are using this serum because of AHAs.
Expensive.
Contains undesirable ingredients like PEGs and phenoxyethanol (preservatives) that may cause symptoms like redness, itchy skin or inflammation. Silicones have adverse effects to marine life.
Estee Lauder Perfectionist Pro Before and After – See Results
Guarantee?
Our Perfectionist Pro Lift Treatment review confirms that this serum comes with a satisfaction guarantee. You may return the unused portion and the company will be happy to refund your purchase. But it is suggested to read all the terms and conditions carefully before adding any product to your cart.
FAQ's
What does Estee Lauder Perfectionist Pro Rapid Firm + Lift Treatment do?
A: Estee Lauder Perfectionist Pro rejuvenates skin for a brilliant and hydrated shine. This strong equation assists skin with feeling smooth, full, and child delicate. It likewise assists with decreasing the appearance of pores, fine lines, and wrinkles.
What Is Estee Lauder Serum Used For?
A: This leap forward, the quick penetrating equation reinforces your skin's imperative encouraging group of people, for a generally more energetic, lifted look. Various facial zones — along the jawline, cheeks, and, even stubborn laugh lines—feel firmer. In a flash: Your skin is brilliant, hydrated, and rejuvenated.
What is Estee Lauder Perfectionist Pro used for?
A: Perfectionist Pro Rapid Firm + Lift Treatment rejuvenates skin for a radiant and hydrated glow. This powerful formula helps skin feel smooth, plump, and baby-soft. It also helps to reduce the look of pores, fine lines, and wrinkles.
Is Estée Lauder good for dark spots?
A: When it comes to dark spots, we all want them gone – and fast. Estee Lauder's Dark Spot Corrector is one of the best on the market, and here's why: it contains both melanin-inhibiting ingredients and exfoliating ingredients to help brighten and even out your skin tone.
Does Estee Lauder have a vitamin C serum?
A: Estée Lauder's exclusive, breakthrough complex of brightening ingredients includes two potent 98.8% naturally-derived Ferments plus Vitamin C. A renowned brightening, anti-aging, and all-around skin-boosting active. It works in the deepest layer of the skin's surface to help reduce the look of dark spots.
Is Estee Lauder considered high-end?
A: Estée Lauder is a luxury cosmetic manufacturer and seller of makeup, skincare, fragrance, and hair care products with big brands under its umbrella, namely MAC, Clinique, La Mer, and Aveda.
What age group is Estee Lauder Perfectionist Pro for?
A: ANY AGE! I worked with Estée Lauder for 4 years and I started using this when I was 18 I will be 26 in a couple of months and have never gone a day without using this! It is my total go-to product! I will say age 16 to 106, it will be suitable for every age group and skin type.
What Is Estee Lauder Perfectionist Pro Price & Quantity?
A: A 1.7 oz. bottle of Estee Lauder Perfectionist Pro Rapid Firm + Lift Treatment can be purchased online for $108.
Does Estee Lauder Perfectionist Pro Rapid Firm + Lift Treatment Worth Purchasing?
A: Overall, this is a good anti-aging formulation. It claims to be made with beneficial actives. However, it is expensive and there are many similar formulations that are being sold at a much lower price. This product is still worth trying although more effective alternatives can be bought at this price range.
Estee Lauder Perfectionist Pro Review – Customer Reviews
Final Verdict
According to Estee Lauder Perfectionist Pro reviews, customers are torn between loving and hating this product. Some customers thought it feels very hydrating and there is some instant plumping effect upon application. Some say that their skin really felt soft and plump in three days. Unfortunately, some say it is not as amazing as what you'd expect for a serum this pricey.
Estee Lauder Perfectionist Pro Rapid Firm + Lift Treatment was not effective in smoothing out deeper lines. Looking into the ingredients, it's also heartbreaking to know that it has potential skin irritants, pore-clogging and possibly toxic chemicals like PEG-8 and phenoxyethanol. Urea is a permeation enhancer that allows toxic chemicals to enter the body through skin.