Murad Age-Balancing Night Cream Description
In this review, we will be going over every detail you'll need to know before you decide to purchase a new addition to your skincare routine. We'll start off by going over the general description of the product above, then we'll move on the positives and negatives we've researched on this product. We'll then cover the remaining details about the brand, how to use the product, and what we personally think when it comes to whether or not you should purchase this product. Let's get started!
Murad Age-Balancing Night Cream uses a blend of essential fatty acids and shea butter to lock in intense hydration over night. This product is meant to renew dry, dull skin, while retinol helps to reduce the appearance of aging. Phytoestrogens improve the skin's elasticity and help to smooth textured skin. However, no substantial evidence is available to prove it is effective.
In a 30-day study conducted by Murad, 100% of women said their skin felt more hydrated, and 96% of women felt their skin looked and felt firmer.
For best results, apply Murad Age-Balancing Night Cream liberally to the face, neck, and chest during your nightly beauty routine. Avoid contact with the eyes. Murad recommends implementing this product as the third step moisturizer in any Murad Resurgence night regimen.
Murad Age-Balancing Night Cream retails for $77.00 per 1.7 oz. of product on several well known beauty retailer websites and Murad's own website.
Special Offer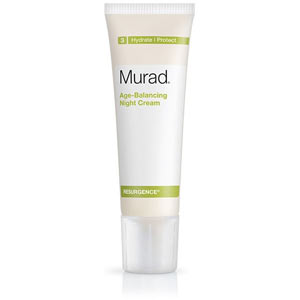 Murad Age-Balancing Night Cream
Murad Age-Balancing Night Cream is marketed as an ultra-rich, overnight hydrating cream that is meant to give you soft supple skin, while minimizing the effects of hormonal aging.
Murad Age-Balancing Night Cream Ingredients
Essential Fatty Acids and Shea Butter
– These ingredients provide and lock in intense moisture and fight against dry, dull skin.
ntioxidants
– These ingredients help to repair damage caused to the skin by free radicals.
Phytoestrogens and Retinol
– These ingredients improve elasticity while addressing the most obvious signs of aging while you sleep. However, it may cause Dryness and irritation.
Pros and Cons of Murad Age-Balancing Night Cream
This product is formulated without sulfates and phthalates. However, it can irritate certain skin types.
This dermatologist recommended moisturizer product is developed and tested.
98% of women saw an improvement in the overall health of their skin after 30 days.
This product is out of stock on several websites.
Customers claim this product is so heavy, it feels suffocating on the skin.
This moisturizer is prohibitively expensive.
Recommending To Purchase
There are several issues with this overnight treatment. First of all, this product is prohibitively expensive. Murad even suggests implementing this moisturizer into a nightly regimen with several more of their own products, which are as equally expensive. Several other problems with this product can be found within the customer reviews. Customers claim this night cream is simply too heavy, and feels very uncomfortable on the skin. Several customers even said they felt the desire to wash it off before falling asleep. Customers also claimed that this moisturizer left their skin feeling dry and flakey, most likely due to the retinol and other age fighters within this cream. For such an expensive moisturizer, this product should have more skin repairing and soothing ingredients in it. We would suggest looking for a night cream with a more reasonable price tag, and more hydrating ingredients.
Guarantee
Return policy is not mentioned in official website.