What Is Neutrogena Light Night Cream?
Neutrogena Light Night Cream, US $12.99 for 2.25 oz., invites you to experience skin renewed overnight. This product is also an ideal addition to a mature skin regimen.
In this Neutrogena Light Night Cream review, we will be going over every detail you'll need to know before you decide to purchase a new addition to your skincare routine. In this review we'll start off by going over the general description of the product above, then we'll move on to the positives and negatives we've researched on this product. We'll then cover the remaining details about the brand, how to use the product, and what we personally think when it comes to whether or not you should purchase this product. Let's get started!
Special Offer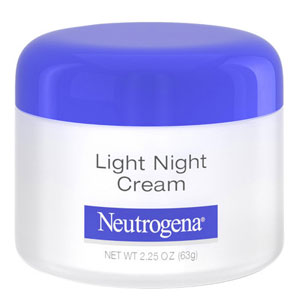 Neutrogena Light Night Cream
Neutrogena Light Night Cream is a light yet effective overnight cream that provides an immediate surge of moisture and nourishment to the skin.
Overview
Use Neutrogena Light Night Cream with your evening skincare regimen. Do not apply on skin that has not been freshly cleansed and toned. Follow proper layering when using in combination with other products, that is, thinner, lightweight products like serums first then, gradually move to other products in the order of thickness.
Always perform a patch test prior to full face application. Use the product on the side of your face. Leave overnight and observe the following morning for any signs of skin irritation. When you see redness, swelling or other signs of an allergic reaction, do not use the product.
Avoid getting this product into contact with your eyes.
For best results, always wear sunscreen in the morning to prevent new skin damage from forming.
What Are The Neutrogena Light Night Cream Key Ingredients?
Sesame Oil:

Rich in linoleic acid that enhances this ingredient's natural anti-inflammatory properties, as it floods the skin with nourishing minerals that promote healthier, smoother skin.

Octyl Palmitate:

A powerful emollient that helps rehydrate your skin. However, it may cause irritation or allergic reaction.

Panthenol:

Also known as Vitamin B5, it easily penetrates your skin as it promotes better skin synthesis.

Tocopherol:

Also Vitamin E, is rich in antioxidants so it protects your skin from the outside as it deeply nourishes your skin from deep within. However, can cause rashes on the skin.
Pros and Cons of Neutrogena Light Night Cream
Lightweight and non-greasy.
Easily absorbent.
Instantly hydrates skin however it can cause skin irritation.
Facilitates skin healing.
Product is made up of a very slim list of ingredients that fails to make it a truly multi-functional skincare product
Product is mostly moisturizer, and does not contain any ingredient that will give your skin improvements that will last longer than an occasional, short-term plumpness
Product will do little, if at all, to fade age spots and improve the appearance of hyper pigmented skin
Product contains Polyethylene Glycols (PEG), known to be highly toxic and at a high risk of becoming contaminated with 1,4-dioxane
Product contains parabens, proven to mimic hormones which eventually get in the way of normal organ functioning and which has been shown to have the ability to be passed on from mother to child
Product contains Triethanolamine, potentially carcinogenic and which also can be irritating to the skin
The Final Word
Skin health is a universal goal among all women and men who care enough for their skin. It's not easy to achieve without employing help from qualified products. Neutrogena Light Night Cream may help you achieve your healthy skin goals or, it may not.