Turkey neck, as many people would call it, is one of the most common signs of aging. If you have noticed that you're the skin in your neck is starting to get all wrinkled and saggy, you are most probably freaking out.
But hey, the sagging and wrinkling of your skin did not happen overnight. This may be a result of years of neglect, lack of proper skin care or even, genetics. Whatever the reason is, there is one thing that you should understand-you can find a way to get rid of it. In fact, here are some of them:
1. Perform Facial Exercises
If you sleep on your side, the pressure of your skin against your pillow may lead to wrinkles. One of the best ways on how to get rid of neck wrinkles caused by this factor, the best thing that you can do is to do facial exercises that would require you to tilt your head, stretching the neck and holding the position for 5 seconds. These simple movements can help to tighten and sculpt your neck.
2. Apply a Neck Cream
Another common cause of neck wrinkles is too much sun exposure. This is because the harmful UV rays of the sun break down the elastin and collagen which are two substances that keep skin firm and flexible. To address that, you need a cream that is specially designed to stimulate collagen and elastin production to restore the elasticity and youthful look of your neck.
When choosing a neck cream, take a look at the ingredient list. Make sure that it contains ingredients like Squalene, Hyaluronic Acid and different types of Peptides as these ingredients can help boost the elasticity and firmness of the skin. They also boost the synthesis of collagen which can help prevent sagging skin.
Related : 5 THINGS THAT YOU DO EVERY DAY WHICH CAUSES WRINKLES UNDER EYES
3. Use Sun Protection
Before you step out of your home, arm your skin with sun protection by applying sunscreen with a minimum SPF of 15. Keep in mind that one of the main causes of wrinkles is UV damage so by protecting your skin from the harmful UV rays, you can be able to prevent new wrinkles from developing and help reduce the visibility of the existing ones.
4. Use a Neck Mask
If you have recently lost a lot of excess weight, you may probably end up with a turkey neck. For this, a neck mask would come handy. When choosing a neck mask, opt for one that contains advanced peptides to help reduce the appearance of wrinkles and amino acids that will restore the elasticity and firmness of your neck.
5. Try Dermal Fillers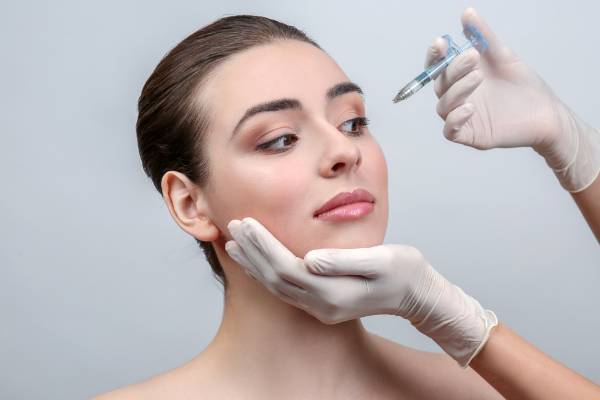 If you want a treatment that will give you instant and visible results, then dermal fillers are highly recommended. These fillers contain hyaluronic acid and are recommended if the lines in your neck are already deeply etched in. As mentioned above, hyaluronic acid helps skin to absorb more water for that plumped and moisturized look. But more than that, it can also stimulate collagen and elastin production.
6. Use Facial Rollers
One of the best ways on how to get rid of neck wrinkles is to keep your skin firm and toned. The facial rollers that you can find on the market today are built for this very purpose. As the roller glides across your wrinkled skin, it improves lymphatic drainage and boost blood circulation which eliminates the skin puffiness, smoothens out wrinkles and jumps start your facial muscles.
In addition to rollers, another device that you can use to tone and tighten neck skin is a facial toner which produces a vibration that delivers the same results as rollers.
7. Exfoliate
Exfoliation is just like having a scrub, only more intense, rougher and deeper. The purpose of this process is to get rid of dead skin cells and pave the way to revealing a fresher and younger looking layer of skin. With the dead skin cells out of the picture, you can allow the healthier-looking layer of skin to shine through. It also boosts skin cell regeneration, making the skin look clearer and smoother and reducing the appearance of fine lines and wrinkles in your neck.
No one wants to have a neck that looks like their grandmother's but this is one sign of aging that you will experience at some point. Lucky for you, you do not have to resign yourself to a life of turtlenecks just to conceal it. Follow the tips mentioned above and bid goodbye to wrinkles on your neck!
"Hope you find the post helpful and we excited to hear what you think of it!"