Yes, bob cut hairstyles are seemingly difficult to pull off. For a lot of women, not everyone believes they can look bomb with short hairstyles. However, finding the right bob haircut can invoke an increased self-esteem. Bob haircuts, contrary to popular belief that only a few people can wing it, is actually a timeless hairstyle. This means it can look great on everyone, provided that facial characteristics, hair type, and personality are considered accordingly.
Here are the most current styles of 2017 best bob hairstyles you can choose from:
A. Bob Hairstyles For Fine Hair
Those people who have fine hair has to live with the challenge of making their hair appear thicker and more alive. Bob haircuts are perfect in crafting an illusion of a thicker mane. The trick to finding the right type of haircut for short, thin hair is to consider adding texture and edges. Messy hair with loose waves is a great trick for example. Using proper highlights can also help create an appearance of a fuller hair. Some tips for mid-length and short bob cut hairstyles are:
For people who have straight hair, good for you! Your straight hair is perfect for experimenting. If your primary concern is being thin-haired, you can try using highlights to add some faux volume to your look. Try using some brown strips and chunky blonde colors to perfect your chic and stylish hairstyle.
Your number one issue with fine hair is the fact that the strands do not have enough volume. Another trick for a short length bob to look thicker is to use both highlights and lowlights. You can know which color to use, by using a color two shades lighter than your hair color for highlights and a color two shades darker than your hair color for lowlights.
Use the right blowdrying method. Begin by flipping your hair over until most of the strands are dry. Afterwards, flip your hair back and blow dry the rest.
Related: 5 Easy Old Fashioned Hairstyles That Are Always In Style
Bob Hairstyles For Fine Hair Ideas
If you have fine hair, take a look at these amazing style ideas
1. Short Hair: Layered Bob Haircut
Layers are the easiest way to add volume to fine hair. Finding the right mix of long and short pieces and making them work together is not that hard. The shorter pieces will help add volume and maintain the illusion of a longer hairstyle. To style a layered bob haircut, you can try using dry shampoo at the ends of your clean hair.
Texturizing your hair can really compliment and do wonders for this particular short bob hairstyle.
2. Short Hair: Wispy Short Bob
This is probably one of the simplest short bob hairstyles. The fun part is that it is so easy to manage. By simply bumping the ends, you will end up having a fun and flirty look at what could have been a boring bob cut hairstyle. Adding the wispy effects certainly breathes an air of freshness, as well.
3. Medium Length: Angled Bob
Short angled bob cut hairstyles are a wee bit hard to pull off. Blunt cuts, in general, do not have enough room for volume. With short hair, you have not enough area to work with. Medium hair angled bob that is hovering a little below the chin area is your best bet with thin hair. The back seems full regarding volume, but the front area is clean and sleek. Angled bob frames the face properly, so if you have full cheeks and thin hair, this can work really well for you.
4. Medium Length: Wavy Asymmetrical Long Bob
Thin hair is an ideal canvas for bobs with bangs. Even girls with round faces will look super fab in this bob cut hairstyle. Sweeping the bangs to one side can lengthen one's face. Style your bangs in a way that it will blend with the longer side of your hair rather than the other one. This is another way to play up a round face and make it appear more lengthened and angular. Bob cut hairstyles spritzed with sea salt spray is a fun combination that can thicken the hair and mix in a beachy vibe.
Related: 10 Not -To- Miss Hair Trends This Winter
B. Bob Haircuts For Thick Hair
Being blessed with thick hair is a true gift! You will be the envy of plenty of women all over the world. A luscious head of hair is the dream. Different hairstyles will work for you. All you need to be concerned about is how to properly maintain your gorgeous mane. If you want to try short 'do and speed up your morning time routine, here are some bob cut hairstyles to choose from:
5. Short Hair: Pixie Cut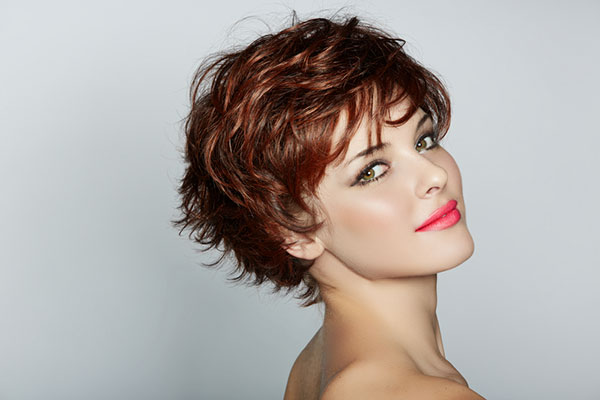 Look like a total cutie with your pixie. Having thick hair enables you to get crazy with your hair. The secret, however, is to find a good hairstylist. You can suggest a particular razoring technique that can help you channel Charlize Theron's frosted and slicked back hair.
6. Short Hair: Sassy Inverted Bob
Straightened hair looks great with short bob haircuts for thick hair. The sleek style showcases the natural thickness of your hair and emphasizes its volume. It is similar to angled bob, with the back cut pretty short at the beginning of the nape. The rest is curled inward and have angles in the front. This is probably one of the most go-to hairstyles of power women. See Victoria Beckham.
7. Midlength: Choppy Bob
This is a nice short to medium length hairstyle. The longest part of the hair needs to be at least close to shoulder length.To keep up with what is current, try to dye your hair in pastel shades. You will look super cute. To style a choppy bob, you can slather some volumizing mousse on your towel-dried hair. Dry it out some more, using only your fingers. No comb needed. Lastly, twist the ends with a straightener and keep the major hair partition in place.
With a lot of fresh twists and takes on this classic, bob cut hairstyles are here to stay. Why not join in the bandwagon and give in? Pretty sure there will be a particular hairstyle that will work for you.
"Hope you find the post helpful and we are excited to hear what you think of it!"