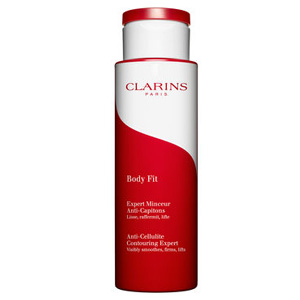 CLARINS BODY FIT ANTI-CELLULITE CONTOURING EXPERT REVIEW
CLARINS BODY FIT ANTI CELLULITE CONTOURING EXPERT DESCRIPTION
Clarins Body Fit Anti-Cellulite Contouring Expert is marketed as a cream-gel formula that absorbs quickly into the skin to help
reduce the look of cellulite
, while it visibly lifts and firms the hips and thighs. In this review, we will be going over every detail you'll need to know before you decide to purchase a new addition to your skincare routine. In this review we'll start off by going over the general description of the product above, then we'll move on the positives and negatives we've researched on this product. We'll then cover the remaining details about the brand, how to use the product, and what we personally think when it comes to whether or not you should purchase this product. Let's get started!
Overview
Clarins Body Fit Anti-Cellulite Contouring Expert was created based on 60 years of contouring expertise. This body treatment is powered by eight plant extracts, including quince leaf extract. These ingredients work together to target the appearance of cellulite, visibly firming and smoothing the hips and thighs[1] for a more aesthetically pleasing look. However it contains alcohol which causes skin irritation.
For best results, apply Clarins Body Fit Anti-Cellulite Contouring Expert using Clarins' Self-Massage Body Contouring Method that is included on the product insert.
INGREDIENTS
Clarins Body Fit Anti Cellulite Contouring Expert Ingredients
Caffeine:This ingredient is meant to help jump start weight loss.
Water Mint:This ingredient is known for its invigorating aromatic properties, digestive properties, and ability to treat headaches.
Quince: This Asian fruit has a delicate fragrance. This is one of eight extracts included in this innovative body treatment[2], however details about the other seven are not widely available.

PROS
Clarins Body Fit Anti Cellulite Contouring Expert Pro's
The alcohol in this product provides a temporary tightening effect.
This product is widely available from reputable websites.
This product is meant to hydrate and soften the skin while it reduces the look of cellulite.However it contains alcohol too which causes skin dryness.
CONS
Clarins Body Fit Anti Cellulite Contouring Expert Con's
This product is prohibitively expensive.
This cream contains fragrance and irritating menthol.
There is no substantial research available to back up Clarins' claims about its ingredients.
It contains alcohol which causes skin irritation.
What is the Price and Quantity of Clarins Body Fit Anti-Cellulite Contouring Expert
The quantity of Clarins Body Fit Anti-Cellulite Contouring Expert is 6.9 oz. available in a bottle where the retail price of Clarins Body Fit Anti-Cellulite Contouring Expert is $70.00.
The problem with this product is that there is no substantial evidence to back up the claims that the ingredients included can do anything about cellulite. Although Clarins goes into minor detail about the plant-based ingredients included in this product, it does not describe how it actually addresses cellulite. A majority of this product is made up of water and slip agents, which does nothing to address the look of cellulite. The alcohol and mint included in this product may create a tightening sensation and a tingle that makes it feel like it's working, however, these ingredients are mostly an irritant to the skin. This product also includes unnecessary fragrance, which may further irritate those with sensitive skin. Lastly, Clarins does participate in animal testing. We do not recommend purchasing a product as expensive as this without any solid research to back up the claims. There are plenty of products on the market today that have well-researched ingredients at a fraction of the price.
Does Clarins Body Fit Anti-Cellulite Contouring Expert Provides Guarantee?
If you are not happy with your purchase for any reason, you can receive a 100% money back guarantee as long as you return the product with a receipt within 30 days of purchase. You may receive store credit after 60 days.
When the skin begins to mature, the use of a rich, deeply-penetrating treatment is essential. Many moisturizers contain ingredients that condition and moisturize the skin, but those which actually reach the skin cells deep below the surface are the most effective. Encouraging the production of natural oils is also important as is finding a moisturizing treatment that provides a protective barrier on the skin to keep oils and moisture locked in. Using products with these ingredients ensures the skin has a plumped, smooth and line-free appearance, even as it continues to age.
Below you'll find some of our best Hyaluronic Acid Serum formulations on the market today, in our opinion:
Best Cellulite Creams
Product
Intensely Hydrates Skin & Improves Collagen
Effectively Guard Against DNA Damage
Reduces Inflammation & promotes Even Tone
100% Money Back Guarantee
Read Review

Dermology Cellulite Cream

(Editor's Choice)

Read Review

Revitol Cellulite Cream

Read Review

Madara Anti Cellulite Cream

Read Review

Celluvin Anti Cellulite Cream

Read Review

Celluvexin Anti-Cellulite Cream

Read Review

Boots No7 Smooth & Improve Cellulite Treatment

Read Review

St. Ives Cellulite Shield Gel Creme

Read Review

Trucella Cellulite

Read Review

Sisley Cellulinov Cellulite Cream

Read Review

Ahava Mineral Shaper Cellulite Control

Read Review
**This is a subjective assessment based on the strength of the available information and our estimation of efficacy.
*Result may vary. The information contained in this website is provided for general informational purposes only. No medical claims are implied in this content, and the information herein is not intended be used for self diagnosis or self treatment of any condition.
Disclosure of Material connection: Some of the links in the post above are "associate sales links." This means if you click on the link and purchase an item, we will receive commission. Regardless, we only recommend products or services which we use personally and/or believe will add value to our readers. We are disclosing this in accordance with the Federal Trade Commission's 16 CFR, Part 255: "Guides Concerning the Use of Endorsements and Testimonials."