What Is Choose Dermalogica Daily Microfoliant Exfoliator?
Dermalogica Daily Microfoliant is a rice-based enzyme powder which activates on contact with water to smooth the skin, balance uneven skin pigmentation, and accelerate cell renewal.
In this review, we will be going over every detail you'll need to know before you decide to purchase a new addition to your skincare routine. In this review we'll start off by going over the general description of the product above, then we'll move on the positives and negatives we've researched on this product. We'll then cover the remaining details about the brand, how to use the product, and what we personally think when it comes to whether or not you should purchase this product. Let's get started!
Special Offer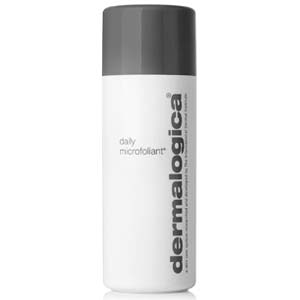 Dermalogica Daily Microfoliant
Dermalogica Daily Microfoliant is a rice-based enzyme powder which activates on contact with water to smooth the skin, balance uneven skin pigmentation, and accelerate cell renewal.
Overview
Dermalogica Daily Microfoliant is the best daily exfoliant, which is gentle and activates upon contact with water. This product works thanks to the combination of rice bran and rice extract, which gently microfoliates the skin's surface to facilitate penetration of this product's skin brightening complex.
Papain Enzyme and Salicylic Acid also work together to help dissolve excess surface cells. The Skin Brightening Complex is made up of Licorice and Bearberry to help even skin tone over time.
According to manufacturer says, for best results, dispense about a half a teaspoon of Dermalogica Daily Microfoliant into very wet hands in order to create a creamy paste by rubbing hands together. Next, apply the paste to your face in circular motion, using a light hand around the eye area. After one minute of gently massaging the product into the skin, rinse off thoroughly.We recommend to have a patch test before applying on skin as it may cause rash on applied area.
This targeted treatment retails for $103.00 per 75gm of product on several popular beauty retailer websites.
What Are the Dermalogica Daily Microfoliant Ingredients?
Papain Acid
This ingredient is a fruit enzyme, which works as a natural exfoliator.[1]
Salicylic Acid
This ingredient promotes cell turnover, which may help with scaling or overgrowth of skin cells on the skin.[2]
Rice Enzymes
This ingredient nourishes and prevents tightness and flakiness of the skin to reveal a natural glow.[3]
Citric Acid
This ingredient is an antioxidant and exfoliant that helps protect from free radical damage and remove dead skin cells while also encouraging cell regeneration. However in rare cases it can cause allergic reactions like irritation and rashes.[4]
Dermalogica Daily Microfoliant Before and After – See Real Results
Pros and Cons of Dermalogica Daily Microfoliant
This micro-exfoliator is meant to be gentle enough for daily use but it may cause rash or irritation on skin.
This product is fragrance free.
Several customer reviews indicate this exfoliant works well for those with sensitive skin.
Many customer reviews indicate that the product caused them to break out due to the known irritants included in the ingredient list.
Several customers do not like the consistency of this product after mixing it with water.
The loose powder contained in the packaging spills easily and is hard to apply.
What Do the Reviews Say?
FAQ's
Q: Is Dermalogica Daily Microfoliant recommended to purchase?
A:
This product is problematic for several reasons. There are known irritants in this formula, including essential oil of grapefruit peel. Additionally, the benefits that would normally come from applying enzyme papain and salicylic acid are rinsed away from the skin before they can do much good. Papain is also known to be rather unstable, and may not do much good by the time you apply the product to your face. Essentially, you will get a very mild
exfoliating experience from using this scrub
, and the application process can be very messy if you aren't careful. There are plenty of products on the market for a more competitive price that include AHA and BHA exfoliants and can do a much more thorough job than this formulation.
Q: What are the steps to using daily exfoliant dermalogica?
A: We suggest utilizing your Microfoliant two times every week to begin with. This can positively be expanded on the off chance that the skin is answering great to the shedding. Any other way, you might keep utilizing it two times every week regardless get results.
Q: Is it good to use dermalogica microfoliant every day?
Ans:
Dermalogica's daily
microfoliant is a delicate yet successful shedding item reasonable for regular use, even on touchy skin.
Q: Does dermalogica daily microfoliant work for acne?
Ans: Dermalogica Daily Microfoliant contains salicylic corrosive, a BHA exfoliant that assists with disposing of skin break out and shedding the undesirable development of dead skin.
Q: How dermalogica daily microfoliant work?
Ans: Accomplish more splendid and smoother skin with Dermalogica's Daily Microfoliant. A famous peeling protein powder that actuates upon contact with water, this strong, yet delicate powder face scour assists with night complexion, clears imperfections, and lessens the presence of pores.
Q: Is dermalogica daily microfoliant good to use before or after cleansing?
Ans:
Proper exfoliation starts with clean skin – and that means the Dermalogica Double Cleanse, starting with PreCleanse and finishing with your prescribed
Dermalogica cleanser.
These two-way steps are
the best way to remove make-up
, excess oil, and other impurities so that your exfoliant can do its job.
Guaranteed?
In order to return a purchase, you must contact customer service. It is unclear if you will receive your money back for a returned order.
The Final Word
Dermalogica daily microfoliant exfoliator expects to keep you from pores, uneven texture, and acne and blemishes as a delicate rice-based powder chemical that peels the skin while noticeably lighting up, smoothing the surface, and clearing obstructed pores. Also, it is useful for normal, combination, and oily. Don't bother stressing over this item's authenticity. It influences the skin so great that no other recipe would be able. Dermalogica daily microfoliant scrub is by and large a protected skincare item.
Accomplish more splendid, smoother skin consistently with this notorious peeling powder. Rice-put-together powder actuates with respect to contact with water, delivering papain, salicylic corrosive, and rice compounds to clean skin flawlessly. Eliminates dulling surface garbage and levels complexion. Delicate enough for everyday use to quiet skin and for a more splendid face.