Most people have no idea how to choose the best belts for women. Moreover, it is disappointing to note that some women take for granted the benefits of having a great belt. Fashion belts for women can make your outfit look great. However, a wrong belt choice can leave your otherwise stylish outfit in a total mess. Consider familiarizing yourself with trendy women belts for dresses if you want to look good. These tips will ensure that you get your belt game on point.
How To Choose The Right Belt
1. Ensure That Your Belt Of Choice Compliments Your Style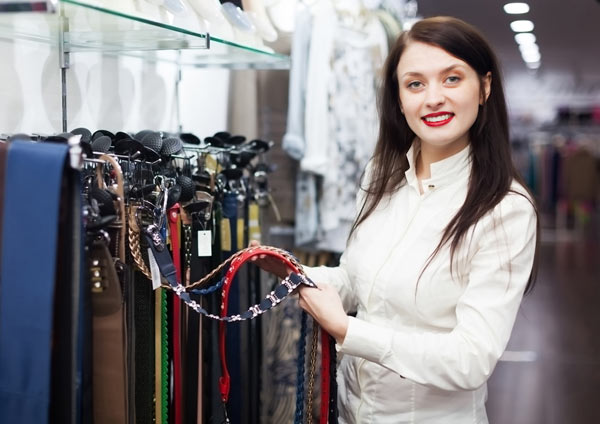 The worst mistake you'll ever make is going for a belt that doesn't compliment your style. Always ensure that you wear a belt that is in line with your outfit. Although belts for women may appear versatile, they can be very specific and coming across the right one can prove even harder. To successfully find the right belt, you need to start by identifying your personal style. Similarly, determine the look you are hoping to achieve with a particular outfit. Once you've defined your personal style and the look you want to achieve with your outfit, look for the belt that will enhance that style. Don't expect to get an awesome result by mashing two different styles together.
2. Go For The Right Width
Your ideal belt should match your width. Don't go for a thick belt if you have short torsos. If you are a woman with longer torsos, thick waist belts will look perfect on you. Thick waist belts will help shorten your upper body. Additionally, thick waist belts will make your long torsos look more proportional. Conversely, if you are a short waisted woman, consider looking for thin belts because you are more likely to look better on them. One thing about thin belts is that they won't cover up your midsection.
3. Consider Your Belt As a Piece Of Jewelry
If wearing an antiqued, big chunky gold jewelry isn't your thing, don't purchase fashion belts for women with antiqued, big chunky gold buckles. This does not mean that you should match your jewelry with your belt buckle. However, make sure that the two feel like they are the same thing.
4. Get The Length Right
Choosing a belt with the right length is important. Ideally, ensure that your women belts for dresses of choice perfectly fit in the central hole. Belts with shorter lengths might look stubby. Additionally, going for longer belts may make the tail not to lie flat on your body. Longer belts have the tendency of sticking out and being knocked with every move of your arm. You don't want such for your best belts for women, therefore; don't be in a rush when buying a belt. Instead, take time to shop around to ensure that you get the length right.
Knowing When To Belt
1. Tops
Never belt a top. Additionally, blouses, cardigans, t-shirts, sweaters, and tunics you decide to leave untucked don't need belts. Belting these outfits only ages you. Additionally, belting these clothes may look awkward, and you don't want that. If you are looking to emphasize your waist in a particular top, consider tucking it into a skirt then belting it.
2. Jeans And Pants
If you choose to wear pants that comfortably rest on the hips and don't come with belt loops, consider not wearing a belt. Wearing a belt on such an outfit will only cause trouble. You will spend the entire day trying to keep it on your waistband's center without success.
Related: SNEAKERS FOR WOMEN WITH GREAT PRINT CAN COMPLEMENT EVERY OCCASION!
3. Dresses
Only wear a belt on your dress if you are looking to add a bit of visual interest and extra shape. However, be more careful if you are making room for some shape where there isn't. Using women belts for dresses to create waist only results to bunching together of fabric. This changes the draping of the dress making it look sloppy.
4. Skirts
Fashion belts for women look beautiful on high-waist skirts. Make sure that the skirt's middle band is snugly resting on your natural waist to avoid the sliding around of your belt.
5. Coats
Always wear belts that come with their coats and never replace your coat's belt with your idea of a good belt. Fashion magazines try doing this only to end up looking conspicuous and labored. Your outfit should always feel natural and easy.
Belt Styling Tips
1. Hip Belts Versus Waist Belts
Your belt will draw attention to the body part it lies across. Usually, waist belts are viewed as the most flattering since they highlight your smallest body part and make you appear slimmer. However, hip belts can as well do the same if they are lightly covered on both sides. This implies that if you wear a lower-rise pair of jeans with a hip belt, you'd want to show off, just tuck in your shirt's front so that the sides and the back of your belt are covered. Otherwise, tuck your top all round and wear a opened jacket leaving the front middle section visible.
2. Knotting a Long Belt's End
Do this with your casual outfits. Just ensure that your belt is soft and long enough so that it properly lies without sticking out at some odd angle. Additionally, your belt shouldn't awkwardly dig into you.
3. Matching Your Belt With Your Shoes
Matching belts for women to shoes isn't wrong. However, you don't have to do so since matching will only make you appear pulled together and polished. Additionally, it can be a conservative look. If you want something fun and casual, mismatching is better.
Conclusion
When choosing fashion belts for women, pay attention to the size and length. Also, ensure that you pick the right belt style. More importantly, consider knowing when or not to belt. You don't look forward to looking good by just throwing some belt on your outfits, whether it's a ball gown or cardigan.
"Hope you find the post helpful and we excited to hear what you think of it!"